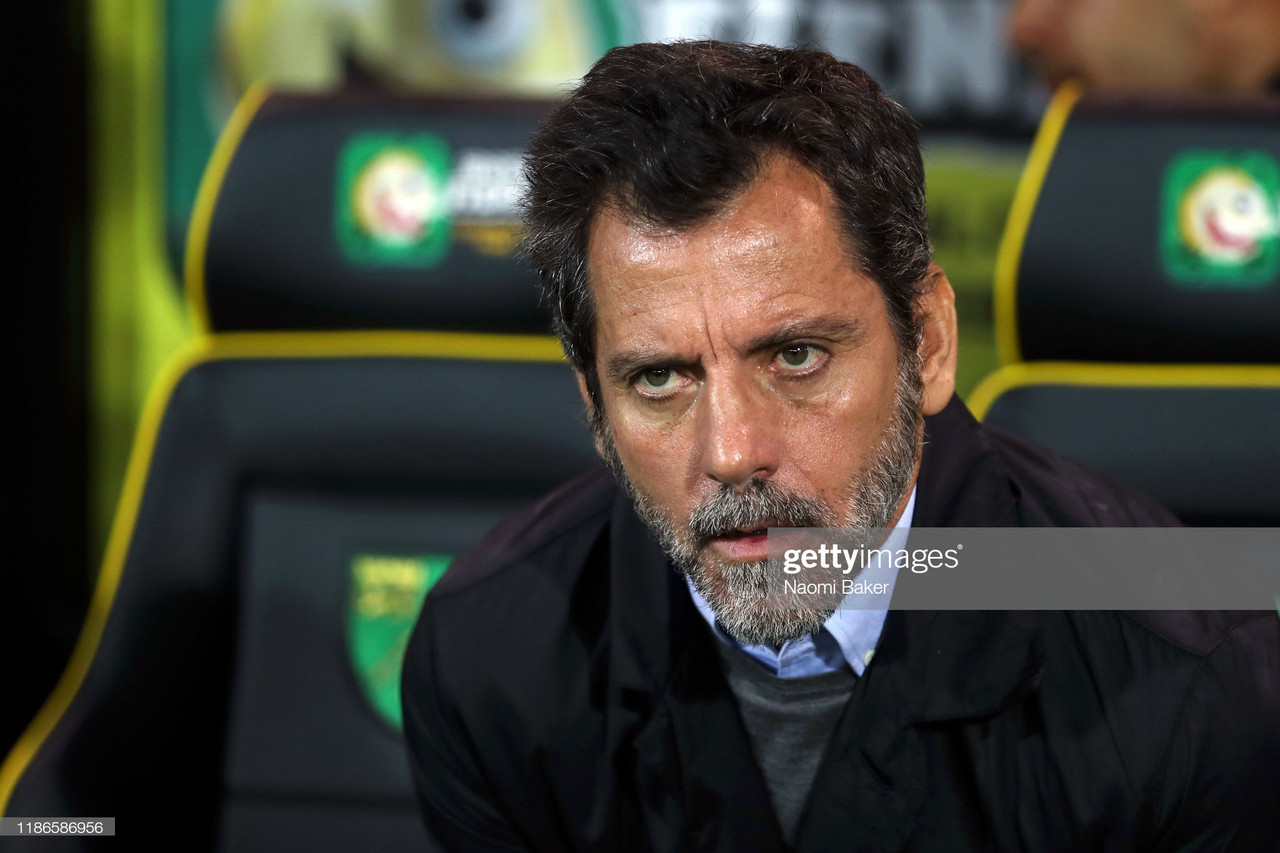 Two weeks can feel like a long time in football but for Quique Sanches Flores and Watford fans, it won't have felt like long enough, following a chastening defeat at home to Burnley on Saturday.
Watford had 15 shots to Burnley's 11 but were taught a lesson in clinical finishing by Sean Dyche's Clarets as their spark of confidence following their first win of the season away to Norwich City was quickly extinguished by a merciless performance from Chris Wood and Ashley Barnes.
Flores found himself without Christian Kabasele, Daryl Janmaat and Roberto Pereyra in the match-day squad, whilst Andre Gray returned to the starting line-up, alongside Adrian Mariappa and Kiko Femenia.
Two weeks on from victory over West Ham United, Dyche was able to select an unchanged side as Burnley travelled south in search of their first away win of the season.
Watford started the game the stronger. Gerard Deulofeu, Craig Cathcart and Femenia all went close but Nick Pope was in imperious form and continually thwarted docile Watford attacks.
In fact, the Hornets were the only side showing any sort of attacking intent in the first half as Jose Holebas, Will Hughes and Abdoulaye Doucoure found space at will but Watford were unable to capitalise on their dominance. It was to prove fatal.
Following further missed opportunities by Deulofeu, Etienne Capoue and Mariappa in the second half, it was Burnley who eventually opened the deadlock in the 53rd minute as the hosts failed to clear a corner.
Dwight McNeil curled a deep corner into the back post for Burnley as James Tarkowski climbed highest to head the ball back from the byline into the path of Chris Wood. Eight yards out, alone and on the volley, Wood made no mistake for his sixth goal of the campaign, firing past Ben Foster into the Watford goal in what was Burnley's first shot of the match.
VAR, Peter Bankes aided Burnley's second in the 80th minute, reversing a decision by referee Paul Tierney but there weren't too many complaints from those with a Watford disposition.
A loose ball on the edge of the home box saw Ashley Barnes skip in ahead of an oblivious Holebas who duly swung a leg and brought the striker down as the Watford defender sought to clear the ball. Tierney initially waved play on as Watford countered but VAR brought the game back for the initial contact.
Barnes secured the win with his sixth goal of the season from the penalty spot, although Foster will have been disappointed to see the ball rebound in off the post as he get a strong hand to it.
An empty Vicarage Road saw Burnley quickly make it 3-0 in the 88th minute as Tarkowski took two attempts to beat Foster from six yards.
It was cruel, it was clinical, but it was exactly what Burnley deserved for their second half performance.
Actions speak louder than words
Before Saturday's game, Watford wisely presented a humble rhetoric for the media and public, one that suggested there was a lot more work to be done in the long Premier league journey ahead following their victory away to Norwich, but, unfortunately for all concerned, actions speak louder than words.
In Flores' pre-game comments, he said: "It is not right to say that because of one win we can now know that everything will be okay. We have to take those good feelings, of course, but everybody has to understand that these are steps along a longer journey through this long season."
After the final whistle, Flores echoed such sentiments in the post-match conference: "It's football. After winning at Norwich we didn't think everything was solved, but after defeat we don't think that everything was wrong. It's football, it's a long race and we need to be positive thinking about where we can improve."
Troy Deeney struck a similar chord before the game: "It's one game. Just one game that we've won. But it's a start… confidence is something you can't quantify, you probably can't control it either… it flows and it makes a massive difference"
It was a shrewd move from the Watford PR machine; lower expectations and you won't have far to fall when you fail.
But upon reflection, it only served to illuminate just how far Watford need to travel if they are to stave off relegation this season and, unfortunately for Deeney and the club, confidence can be quantified - in points. Much like Watford's standing in the Premier League, it's currently rock-bottom.
The issue is, they also don't show any signs of fight and resilience. Since defeat to Wolverhampton Wanderers, Watford have slid down the performance scales.
The Hornets have moved from seventh to 13th in quantity and quality of passing, fourth to eighth in number of shots, and ninth to 16th in big chances missed - because they just aren't creating them. Watford have also sunk back on the pitch, spending only 28% of games in their opposition's third compared to the mid-thirties from before Manchester City.
Words are cheap in present form.
All involved in the club are evidently calling for calmer minds to prevail, and there is still hope - Watford are slowly welcoming back additional attacking options in Deeney and Ismaila Sarr - but how patient will the board be if performances continue to decline?
Where's Daryl Janmaat?
After the game, Flores confirmed that Janmaat was missing through a swollen knee. His absence before the game was largely innocuous, but 90 minutes and three goals later, it was palpable. His affliction had exposed Watford's own vulnerabilities.
This season, Janmaat has played eight, with no goals, one assist, one win, and two defeats. But without the Dutchman, Watford have lost five games this season, conceding 18 goals in the process.
With Janmaat, Watford have three clean-sheets, conceding only five, making 267 passes, and 24 crosses, with nearly one in three finding a Watford player. Without him, they are yet to achieve a clean-sheet.
Janmaat's defensive influence is best demonstrated in numbers. In his Watford career, Janmaat has a 73% tackle success rate, 347 clearances, 693 recoveries, and has won 600 duals.
In attack, Janmaat has only scored eight, providing 14 assists, but his high defensive line forces opposition midfielders to sit further back and reduce the space between themselves and defence. Furthermore, Janmaat's natural movement inside allows Deulofeu and Pereyra more room in which to operate out wide.
He is both a terrier and stallion in equal measure, a defensive stalwart and an attacking threat that gives his peers around him more confidence and creative freedom.
But perhaps most importantly, under current circumstances, Janmaat has been part of 42 victories and Watford sorely need one more on Saturday away to Southampton.
A weak chin and no knock-out blow
Going into the game, Watford had only scored four goals at home, comfortably the worst record in the league.
In trying to understand why, it is worth considering where Watford's shots are coming from.
40% of Watford's average 15.3 shots per game at home were from outside the box, the seventh highest in the league. Only 2% of Watford's total shots came from within the six yard box - the lowest in the league.
During the warm-up, whilst Burnley practiced shooting first time within 16 yards, Watford practiced playing the ball out to the wings and attacking the resulting cross. Needless to say, it was highly ineffectual as, time and time again, Watford's attacking line failed to hit the empty net.
The performance in the warm-up was soon reflected in the game itself. Watford had 62% possession to Burnley's 38%, 15 shots to Burnley's 11, and yet found themselves goalless, with only four shots on target.
Deulofeu was the only bright light in what was an attacking display reflective of the weather in Hertfordshire: gloomy, wet and grey.
Penetrating, fear-inducing runs by the Spaniard at the heart of the Burnley defence continued to cause problems but yet again Watford's 'magic man' failed to find that magic touch to accompany his marauding midfield creativity.
A powerful strike from 18 yards in added time at the end of the 90 minutes told the story of Watford's attacking performance as the ball rattled back off the Burnley crossbar and to safety.
Deulofeu could not hide his frustration at both his team's defeat and inability to score as victory again slipped from Watford's grasp, but what was more evident, was his fighting spirit, his drive against adversity.
And it was this need to fight that Flores chose to focus on in the post-match conference: "It's belief, it's belief, it's fight, it's fight, it's all these kind of things that we can do to help… We need to start again… we're fighting against elements"
But for all the will and rhetoric in the world, it was fight that was the key missing on Saturday, and if Watford are to avoid relegation this season, they are going to have to learn how to land a left-hook.