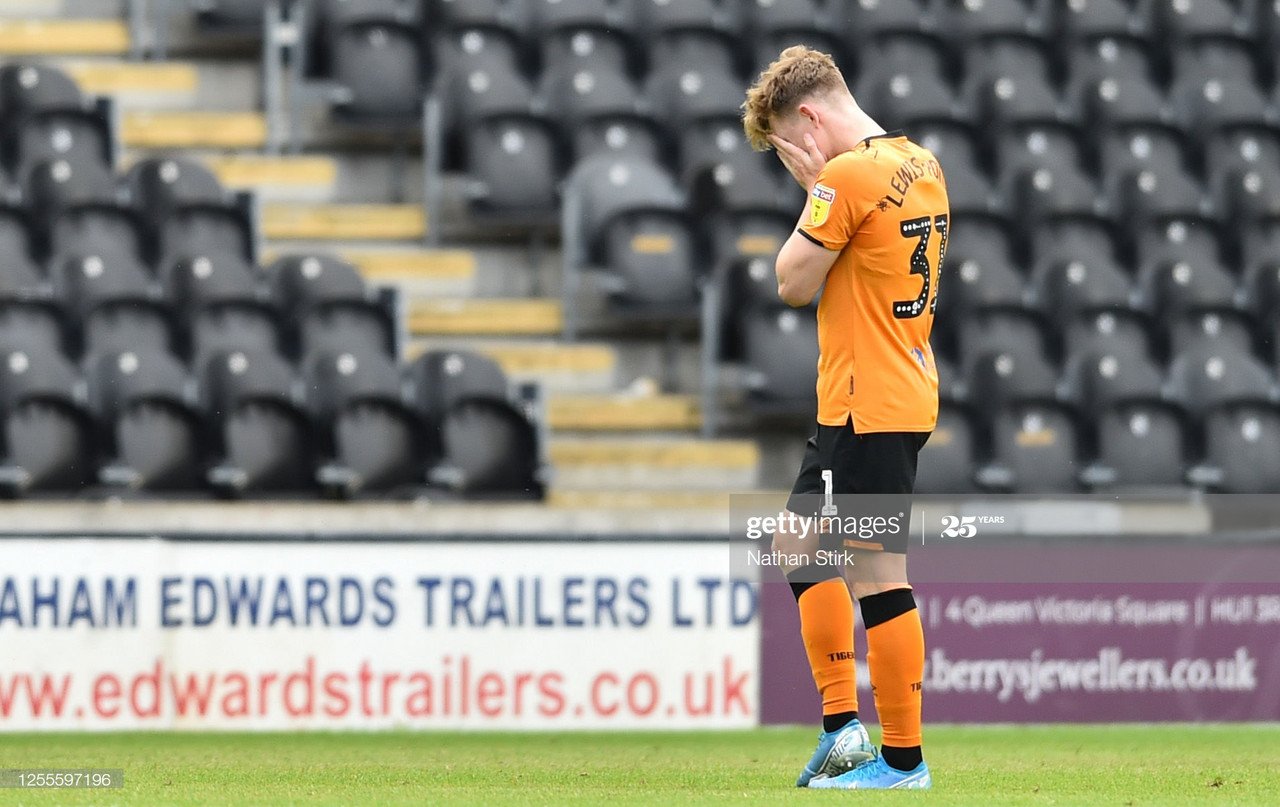 After only one win in seventeen games, Grant McCann's Hull City side are holding on for dear life to their Championship status with only three games to go of the season.
They currently sit 22nd in the table, two points off the bottom team Barnsley and one below 21st placed Charlton Athletic. There are nine points to play for, but the worrying trend for Hull since January has been the inability to defend early on in games. This is something Grant McCann must address in the remaining fixtures, or the Tigers will be playing League One football for the first time in fifteen years next season.
Grant McCann's team have a win ratio of almost 6% since January 11
Since the return to the league after the FA cup fixture at the beginning of January, the statistics are particularly bleak.
Played: 17
Won: 1
Drawn: 3
Lost: 13
Even on their own, those are pretty damning statistics. That works out to being almost a 6% win ratio. Hull's single win since January 11th came against Middlesbrough at the KCOM almost two weeks ago. The game was, in truth, a pretty poor spectacle for the Championship. Two bits of real quality won it for the Tigers - a free kick from Herbie Kane and a last minute finish by Mallik Wilks - who had previously not looked like creating anything for the majority of the game.
Hull have conceded a goal in the first 20 minutes in nearly half of their games in 2020
However, there are deeper issues in these games since the turn of the year that will have many Tigers fans worried for the away trip to Wigan Athletic on Tuesday evening. Namely, how early Hull City concede goals. Hull have conceded a goal in the first twenty minutes in 47% of their games since January 11th.
Brentford - Lost 1-5. First goal conceded: 12 minutes.
Swansea City - Drew 4-4. First goal conceded: 13 minutes.
Leeds United - Lost 0-4. First goal conceded: 5 minutes.
Stoke City - Lost 1-5. First goal conceded: 11 minutes.
Charlton Athletic - Lost 0-1. First goal conceded: 18 minutes.
Middlesbrough - Won 2-1. First goal conceded: 4 minutes.
West Brom - Lost 2-4. First goal conceded: 4 minutes.
Millwall - Lost 0-1. First goal conceded: 2 minutes.
It somehow gets worse, too. During the same aforementioned period, the Tigers have conceded 11 goals in total in the first twenty minutes. Fans will remember the 1-5 defeat to Stoke in particular as a stand out for the wrong reasons - 3 goals were conceded in no less than 18 minutes. This works out as 26% of their total goals against (41 in total) have come in the opening twenty minutes.
These figures and trends are surely being accessed by the management and statisticians team at the club. If this is the case, why do the Tigers make such poor starts to games? One thing is for sure - with Wigan, Luton Town and Cardiff City to come over the next week or so, Hull City will be relegated if this worrying trend is not reversed. There is a real possibility that they could even finish bottom - as even Wigan's twelve point deduction would put the Tigers level on points with their rivals if the Latics get the better of McCann's side. That is one record the Northern Irishman will not want to be lumbered with.