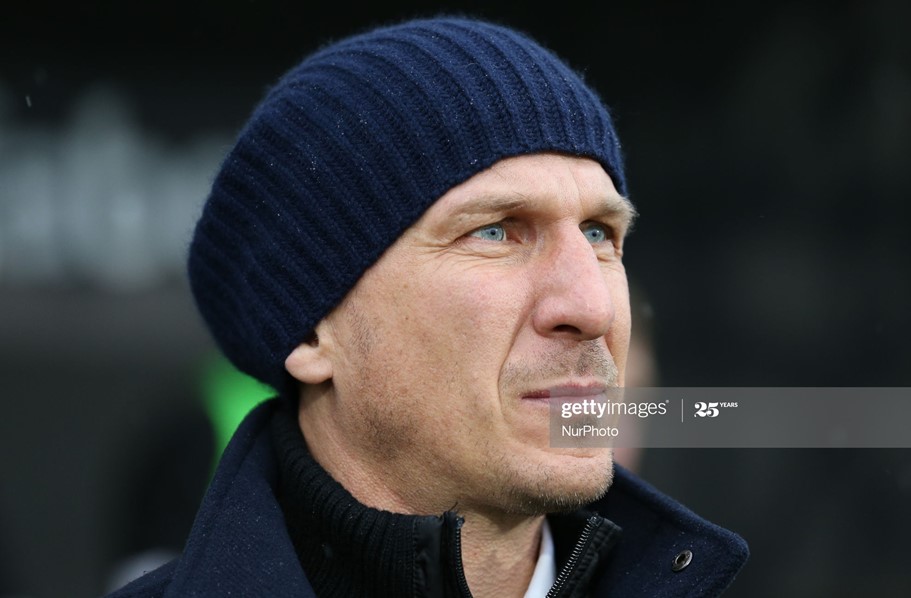 Gerhard Struber lauded how his Barnsley side "never give up" after an injury-time winner against Nottingham Forest saw them take their relegation fight down to the final day.
With just a couple of minutes left before their relegation from the Championship would be confirmed, Patrick Schmidt came up with the goal to give the Reds a 1-0 victory.
Barnsley are still in the trickiest position in what is effectively a four-way fight (not withstanding Sheffield Wednesday) with Wigan Athletic, Charlton Athletic and Luton Town to avoid the final two spots in League One.
But they are entitled to believe anything is possible in the final round of fixtures on Wednesday night having come back from the dead to keep their season going.
'Emotional explosion'
Struber ran onto the pitch in delight at the final whistle and he described the moment that the winning goal hit the back of the Oakwell net as "an emotional explosion in my heart."
The Barnsley head coach added: "My whole team worked so hard, we saw such a big effort to create chances and in the end to score goals. It was deserved, this victory.
"From the first second to the last second we had control, we had the game in our hand. We had spirit and the togetherness was a role model for a football team. We never give up. We believe until the last second we can score.
"In this situation it is not so easy, we work so hard for chances and we have had problems scoring goals. We don't lose the mindset, we always believe in ourselves. I think this was, in the end, a big moment for everyone when Patrick scored a goal."
Barnsley will need to win away at Brentford, who are in a final-day battle of their own for promotion, and hope various other results go their way to stay up.
Struber will want his side to focus on their own end of the bargain, and he is confident they can cause an upset at Griffin Park having impressed last week away at champions Leeds United.
"We know that Brentford is a massive opponent in the league, they have special players on the ball and play like a promotion team," he said. "But when we look back on Leeds and today, I think we have a big respect for Brentford but we are ready for a big fight, and I think with a similar performance it is not easy for Brentford to play against us."
Schmidt the unlikely hero
The winning strike came from 21-year-old Austrian striker Schimdt, coming off the bench to net only his third Barnsley goal.
Schmidt, who is usually relied on to make an impact off the bench, said:
"Everyone expects you to still score a goal but you don't get as many chances. As a striker you always have to be focused.
"For me personally, I'm not a player who wins a lot of aerial dues or is on the ball that often, but I had in my head to just be ready when the ball comes and kick it in. That's all I think about when I come on and I'm happy I had the luck that the ball came to me… I was ready and I put it in.
"It was such a big game. We knew that we needed to win. I'm so proud of the boys.
"We have to keep pushing for Wednesday because we are not done yet. We have to take the momentum and go again on Wednesday. That's all that matters."