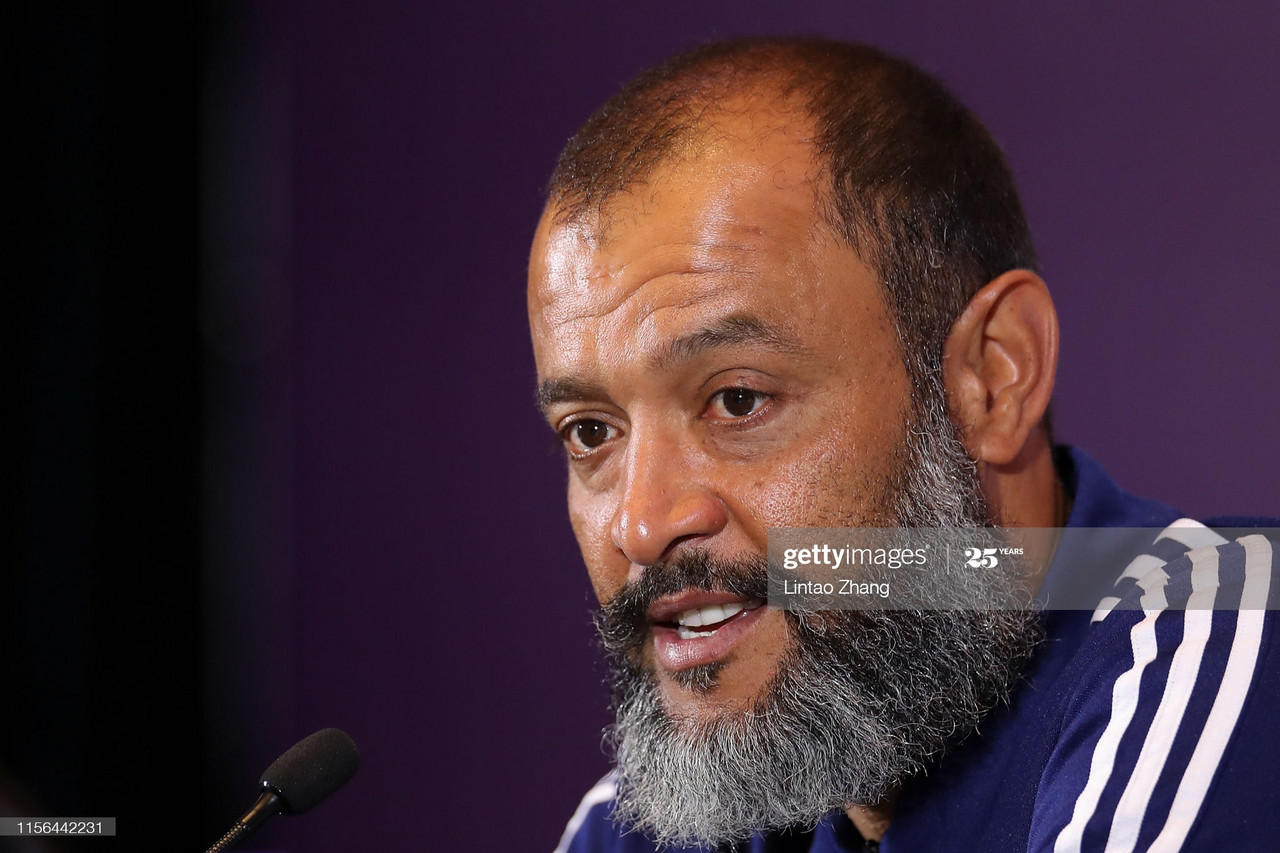 After opening the season with a win over Sheffield United last weekend, Wolverhampton Wanderers crashed out of the Carabao Cup at the first attempt after losing to Stoke City in midweek.
Nuno Espirito Santo's side now return to Premier League football and host Manchester City on Monday evening in what will be an extremely tough game. This will be Pep Guardiola's side's first league game after an extended pre-season break.
Although it was transfer news that took the headlines pre-match with the announcement of the signing of defender Ki-Jana Hoever from Liverpool and with Diogo Jota heading the other way to Anfield.
Here are five key quotes from Espirito Santo's pre-match press conference:
On Diogo Jota:
The Wolves boss confirmed rumours that Jota would be leaving the Wanderers to join Premier League champions, Liverpool. Espirito Santo paid tribute to the Portuguese forward after he played such a big part during his three seasons at the club.
He said: "Diogo is amazing, everyone knows that & the three seasons at Wolves What he did for us was fantastic. Things happen, he is going to the right place and he will never be forgotten especially by our fans, all the memorable moments that Diogo provided."
On Ki-Jana Hoever:
Heading the other way is Hoever who joins Wolves from Liverpool. The youngster can play at centre-back and a wing-back so he will suit the Wanderers play style.
Pre-match, Espirito Santo spoke about his new addition: "Ki [Jana Hoever] will join us," he said. "He's a young player who has potential and talent. It's up to us to get the best out of him."
The Wolves boss also revealed that Hoever will be ineligible to play in the game against Manchester City and also hinted at some more incomings.
He said: "Ki [Jana Hoever] is not eligible for Monday. He'll join us tomorrow, we'll integrate him. It's a small squad, he can give us good options. I'm really looking forward to working with him. But the squad is not closed and we need to work on that."
On other possible incomings:
With another arrival confirmed, Nuno was questioned if he was happy with his squad. With the sale of Jota bringing a large sum of money into the club and with some positions needing depth, Espirito Santo is keen to add more new signings.
He said: "We still have to adjust the squad and balance our squad better. We've identified our targets. Jeff [Shi] knows who is our target and where we need to work on the squad.
"We are trying to bring in new faces, it needs adjustments, we are working on that. We are doing things well and providing players to join big clubs."
On repeating their fast start:
Wolves had the game won inside six minutes last weekend in their victory over Sheffield United. Raul Jimenez and Romain Saiss scored the two early goals for a rampant Wanderers side.
Espirito Santo is keen to replicate that start and believes his squad will be capable of doing so. "I think every manager in the world would like to start games fast and score first," he said. "Every team, every manager has this wish.
"We know that it's hard, we did things really well but what is important is the game. It's a new game, a new challenge but I think the team is motivated and ready to start building and progressing on performance so let's look forward to a fast start again."
On Manchester City:
This will be Manchester City's opening fixture of the season, meaning Wolves have more experience of competitive football this campaign compared to their opponents. However, Nuno is still expecting a tough game and spoke about the amount of quality that the Citizens have.
He said: "You know the quality and talent of Man City's squad, it's amazing the quality of their players, their manager. It's going to be hard, it's going to be difficult, we expect a very tough match but we want to compete against a very tough team."