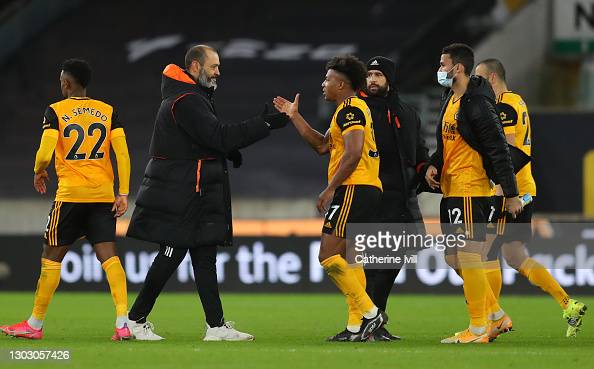 Wolverhampton Wanderers made it back-to-back wins in the Premier league for the first time since October, which was also courtesy of another 1-0 over Leeds United. This latest clash was another very closely fought encounter, with neither side holding back.
The only goal of the game came from a thunderbolt shot from Adama Traore, which smashed down off the crossbar and was unwittingly knocked in by Leeds goalkeeper, Illan Meslier, with the goal going down as an own goal.
The game was very entertaining considering the lack of goals, with both teams having a total of 33 shots. Patrick Bamford was denied an equaliser after being ruled offside by the slightest of margins.
The win allows Wolves to jump above Leeds in the Premier League to 11th, with their eyes looking more towards a top table finish now rather than a relegation battle.
Fantastic performances from both keepers
Both Rui Patricio and Meslier played incredibly well between the sticks, even with the unstoppable own goal. Meslier was in fine acrobatic form to pull off a brilliant one handed save early on, preventing Pedro Neto from scoring what would have been a lovely curling long range effort.
Leeds came close after a shot from near the byline by Mateusz Klich hit the foot of the post, with the ball falling to Pascal Struijk who volleyed the ball towards goal, only for Patricio to spring into action and palm it away.
Meslier was called into action several times by Nelson Semedo, who found himself in the Leeds box on several occasions, only for the Frenchman to keep the Wolves full-back out each time.
Marcelo Bielsa and his side were again prevented an opener by another remarkable save from Patricio, who was able to keep a powerful header from Liam Cooper out after a menacing ball in by Raphinha.
The Leeds keeper was an unwitting goalscorer for Wolves, with Traore's thunderous strike crashing so fast down off the crossbar that Meslier could not react in time to prevent the ball from bouncing off him and into the net.
The last chance of the game fell to ex-Wolves player Helder Costa, who managed to get the ball down in the Wolves penalty area and get a shot away, only for Patricio to be again on hand to keep it out.
Inverted wingers more dangerous for Wolves
It was a great night for both of Wolves' wingers Traore and Neto. With both now operating on opposite side to normal, we saw a lot of runs going inside rather than down the outside.
This meant that Neto and Traore could strike at goal on their favoured sides, which gave both their best chances of the game, with Traore's ultimately finding the net.
In previous games, their runs have gone down the line and towards the byline, which would then mostly fizzle out to nothing. Wolves striker Willian Jose is still yet to bag a goal himself for his side, but the Brazilian was crucial in creating space for both Neto and Traore to operate.
With this approach, Wolves were very hard to stop and it is fair to say that both the Wolves wingers are up there with being the most dangerous in the league in their positions.
A solid defensive performance
As you may have heard, Leeds are a very attack-minded team, with the potential to completely overwhelm teams and create scorelines that resemble cricket ones rather than football ones.
Their 5-0 destruction of West Bromwich Albion in December was a good example of what they are capable of. Tonight though, Wolves made Leeds look ordinary in front of goal, with captain Conor Coady being as resolute as ever in the middle of it all.
England manager Gareth Southgate watched the encounter from the stands and he will no doubt be keeping Coady in mind if he does indeed decide to go with a back three for the Euros in the summer, with the Wolves captain very much in line to apply his club role for his country again.
Semedo was equally as impressive out on the right hand side, with the 27-year-old becoming more and more impressive with each game for Wolves. Jonny Castro on the left was also fantastic, especially considering his long absence out due to injury. Is it a coincidence that Wolves are back in form when he is back in the side?
Romain Saiss and Leander Dendoncker also slotted in perfectly next to Coady in the back three, with neither giving Leeds much to work with on the night.
What a difference February has had on Wolves
Wolves boss Nuno Espirito Santo will be ever so thankful that the month of February came along when it did, with his side now taking 10 points from a possible twelve so far this month. Compare that to the measly 6 points that they acquired over both January and December and you can see what a difference the month has made.
The football is more positive, the team look more focused and of course Nuno is smiling again. It has been a tough period for all involved in the club, but the future looks bright for the side, with Wolves now only 7 points off 6th position and 14 points clear of 18th.
Take nothing away from the players and the coaching staff though, who have undoubtedly had their wills tested, especially when all seemed so bleak for the team not so long ago.
Nonetheless, Wolves have completed the double over Leeds, keeping a clean sheet too on both occasions. With Newcastle United up next, confidence will be high for the men in old gold, who will now look to launch an assault on the chaotic climate that is the top half of the table.