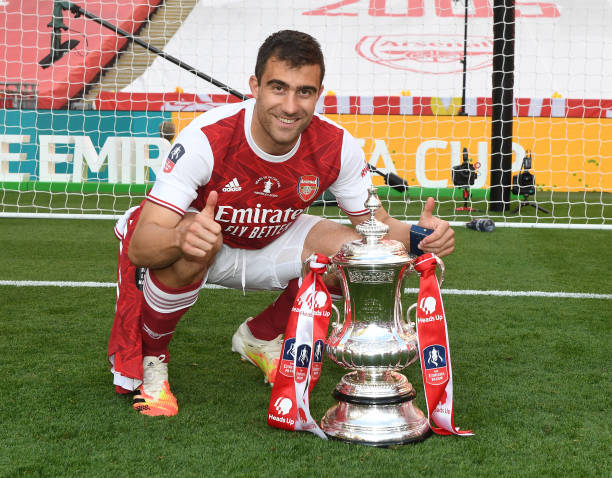 Despite not being involved leading up to his departure, Sokratis was a popular member of the Arsenal squad. He was close with the likes of Aubameyang going back to their time together in Dortmund and the likes of David Luiz and the other defenders.

He hardly played this season before he left in January but always acted like a modern professional, getting on with training without complaining unlike other members of the squad.
He wanted to leave and got his wish, going to his native Greece to play for Olympiacos. It was a peaceful departure, a good move for both parties but that relationship will be put on hold when Sokratis faces Arsenal for Olympiacos in the Europa League round of 16 on Thursday night.
As the clash approaches Sokratis has spoken ahead of the game about his time at Arsenal, joining Olympiacos and the game.
Keeping in contact with Arsenal teammates
"I still speak a lot with the people at Arsenal because I was there for two and a half years. I'm in touch with the players.
"I spoke with them and they are excited that we play against each other. I'm close to a lot of them: Luiz, Xhaka, Aubameyang, Laca, Bellerin and also Cedric. I spoke with them and of course it's strange but I want to win, I want to go to the next round with Olympiacos. Friendship is one thing but qualification is another."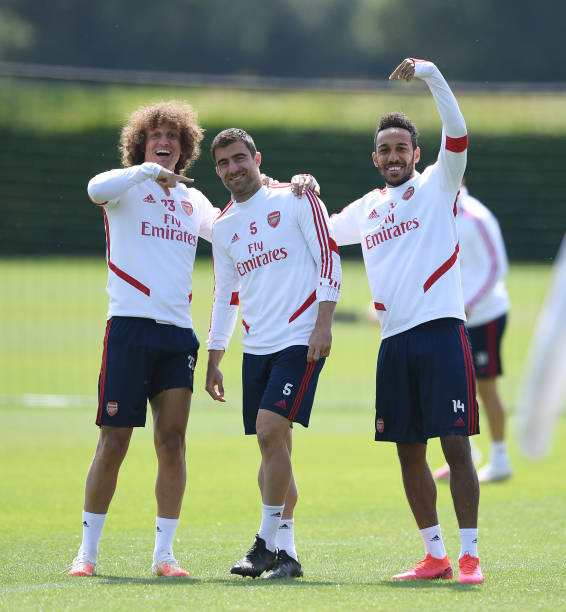 On being left out of the team
"It was difficult because I didn't have the chance to play because I wasn't included in the squad list. I had some offers to leave in the summer but it didn't happen in the end and I accepted that I had to be outside the list.
"I did my training and I gave my best for the team, I was professional until the end. It was also difficult because in all my career I have played regularly. I played almost 70 games for Arsenal in two years, but when you are in a team you have to put the team first, and yourself after. I accepted this, I was professional and I didn't complain to anybody."
On Arsenal's season
"In England it's very difficult because the league is very competitive and if you don't start well it's difficult to change your form.
"I believe that all my ex-team-mates are very good players and over the next few months if they change some things and continue to work hard on the training ground they can be very successful."
On if he has given his teammates an insight
"We didn't speak a lot. We already have good coaches who analyse how Arsenal play and know their advantages and weaknesses. I think in today's modern game Arsenal know what we can do and what we cannot, thanks to analysts and other tools."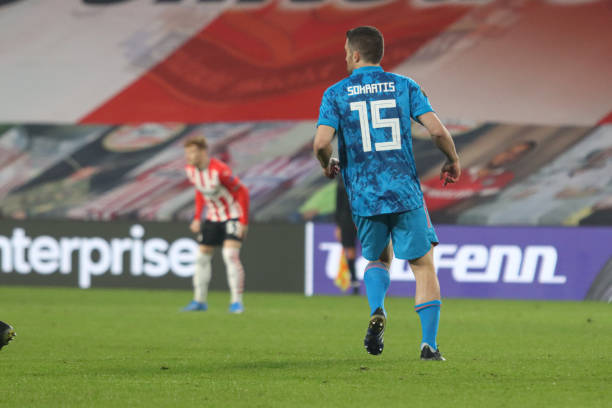 Arteta on Sokratis
Mikel Arteta has also spoken about facing his former player on Thursday speaking about his time at the club coming up against him.
"Papa is such a good character and a very popular player here. He was liked and loved by everybody and it was a pleasure to work with him.
"He's such a pro and he knows what we try to do, but there isn't a magic formula and I'm sure he will try to do his best. We will do the same."
Context of Thursday's game
Thursday is an important game for Arsenal for so many different reasons. Most crucially with their poor league position the Europa League is the Gunners last hope of any success this year.
It would be a disaster if Arsenal aren't playing in Europe next year so they have to win the Europa League in order to be playing European football next year.
They will also want to banish the demons of last year when Olympiacos beat Arsenal at the round of 32 stage. The defeat was a horrible one to take for the fans when Arsenal were beaten by a last minute winner and the whole team will be looking to avenge last year's result.