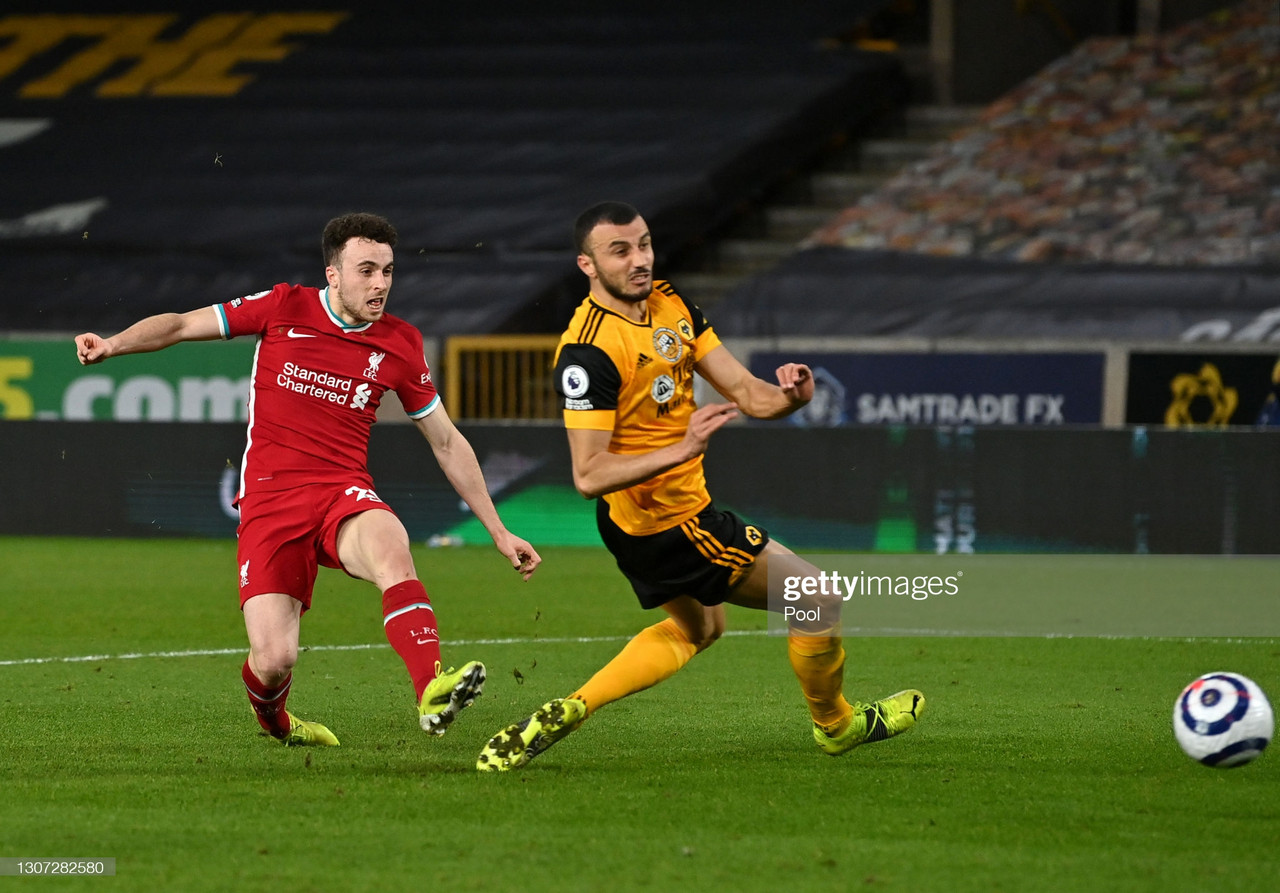 Wolverhampton Wanderers welcomed the current Premier League champions, Liverpool to Molineux, their title defence has staggered since Christmas, but they managed to see off a bright Wanderers side and run out 1-0 winners.
Both teams went close in the early exchanges of the game, with Nelson Semedo having two attempts but squandering them both, whilst Sadio Mane also went close inside the first 10 minutes.
Diogo Jota, the former Wolves man, scored the only goal of the game in first-half stoppage time with a low effort that squirmed past Rui Patricio's dive. Despite late pressure from Wolves they were unable to make their chances pay off in the closing stages.
The main talking point of the game though was Patricio's head injury in the 88th minute, after a collision with Conor Coady inside the Wolves box.
Traore on form despite loss
Adama Traore seemed to have re-found his form from last season on Monday night, terrorising the Liverpool defence all night with his speed and agility, if it hadn't been for a couple of last-ditch challenges he may well have registered his first goal involvement of the season.
Traore has failed to get involved as much as he did last season this year. Traore kept running all night and didn't stop until the final whistle went. Pedro Neto wasn't up to his usual tricks against Liverpool though, with Andy Robertson keeping him quiet throughout the 90 minutes.
Jota returns to sink Wolves
On his return to the Black Country, Jota scored a goal that decided the result, coming back to haunt the team that let him go, for a fee that now looks small, back in September.
Jota has formed a partnership with Mane and Mohammed Salah, a connection, like what he had with Jiménez and Traore at Wolves, especially last season. Jota's goal was his 10th of the season in all competitions, he got 16 last season for Wolves and there is no doubt that they are missing his attacking menace.
Wolves have been left wanting in the attacking department ever since Jiménez's injury, Nuno may now be ruing his decision to let Jota leave last season, as they could really use his attacking prowess at the moment.
Willian Jose continues to start
Willian Jose has not done much since his January loan arrival from Real Sociedad, he has failed to register a goal in any competition having played 10 games so far. Whilst normally teams can allow for new signings to bed in, Wolves really needed Jose to hit the ground running and pick up the burden left behind by Jiménez.
Wolves will no doubt be looking for more attacking options in the summer, even with the return of Jiménez and Fabio Silva still learning his trade despite his great potential.