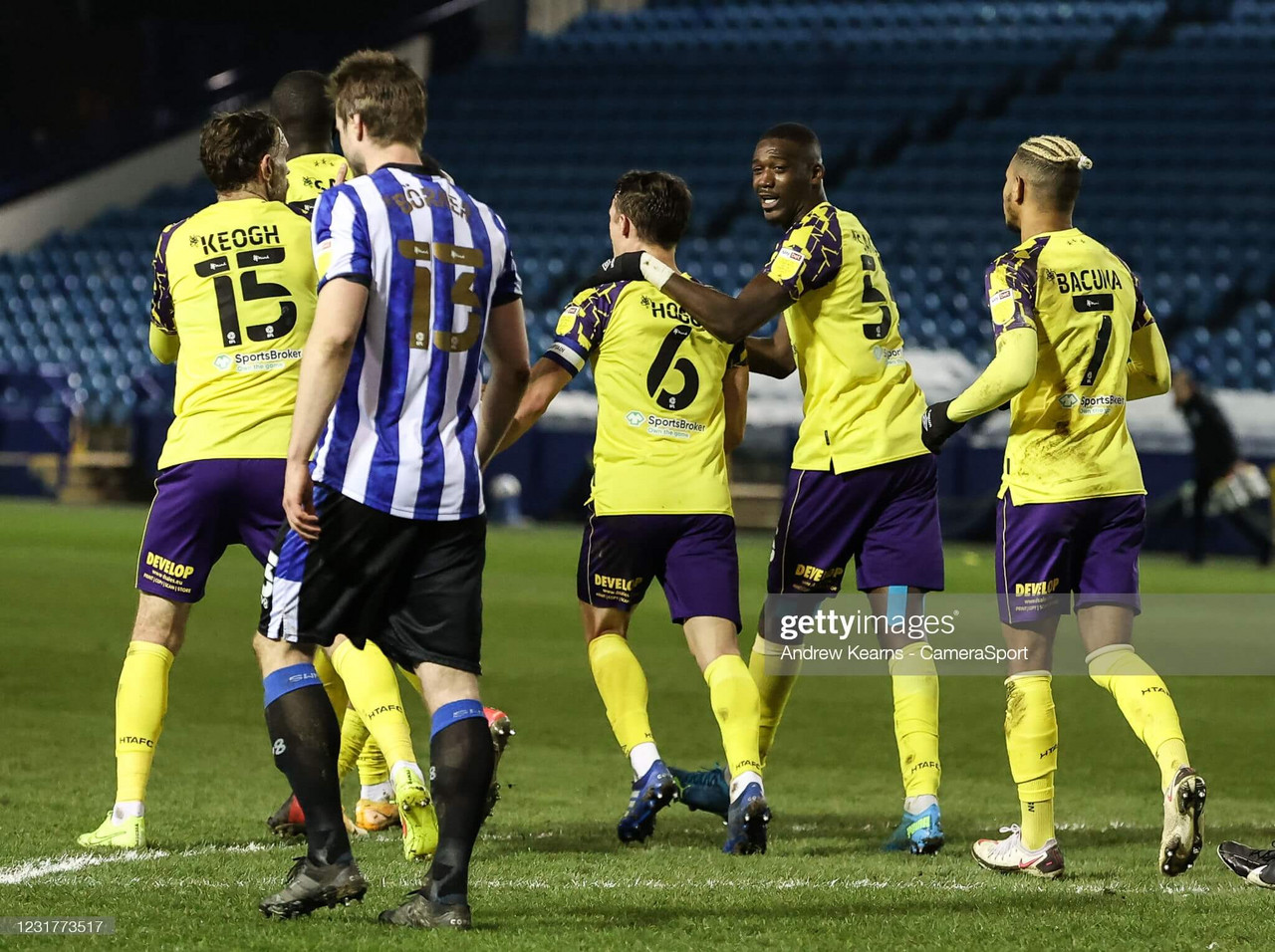 Huddersfield Town took a point in the right direction against Sheffield Wednesday, a 31 mile trip away from home to Hillsborough on Wednesday evening. The Terriers had to come from behind in the game, an ugly deflection in Wednesday's penalty area bundling the ball into the net after Isaac Mbenza's free kick was flicked goalwards by Naby Sarr. The Wednesday 'keeper denying Sarr's effort only for the rebound in go in off Callum Paterson.
The less than attractive performance puts them a point closer to safety, after their last outing against QPR, where they won by just the solitary goal on Saturday afternoon at the Kiyan Prince Foundation Stadium. Town are now up to 17th in the league table, now 10 points the difference between themselves and Rotherham United in the relegation zone.
Ryan Schofield: 7/10 - Huddersfield's keeper had an assured game, keeping his team in it in the dying ends of the game. Even though he didn't register three clean sheets in a row, he was pivotal in the Terriers securing a vital point in search of escaping from the drop zone. His save in the 86th minute was excellent, staying big and denying Paterson who was one on one on goal. Carlos Corberan has praised Schofield's recent performances as very important and much improved in the teams recent results.
Naby Sarr: 6/10 - Sarr played out nicely from the back and often pushed forward in attacking positions when needed. He looked good, composed on the ball, although he didn't have much to do all night in defence. Town did concede, and Sarr potentially could have done better after being shrugged off pretty easily by Paterson who was played through by Jordan Rhodes on the left hand side.
Richard Keogh 6.5/10 - Keogh wasn't troubled all game but made an important block late in the first half, sitting in nicely at the back and having a solid game. His passes through the lines were instrumental in Town's passing from the back, as he looked to find the gaps and expose Wednesday's midfield. Keogh has plenty of experience within the Sky Bet Championship. This clearly worked in his favour as he showed once again he still has it in him as a veteran, although his playing career is slowly coming to an end.
Rarmani Edmonds Green 6/10 - The least effective of the defenders was the number 35. The youngster, aged 22, still has most of his playing career ahead of him, still learning the trade at this stage is very valuable for his career in the long term. Playing alongside Keogh and Sarr would have given him a great deal of confidence, a learning experience which could prove to be enormous for the youngster going forward. He will have more to give, no doubt about that.
Pipa 7.5/10 - Pipa is one of Town's best players and consistent week in week out. The midfielder holds the ball very nicely going past defenders at pace and bringing others into play dangerously. He was a handful all game, driving at the defence but making sure the team also kept the line share of possession during transitional parts of the game. He was very good in the wide areas looking to get in crosses when he could but also using other parts to his game through his personal attributes.
Jonathan Hogg 6.5/10 - Back from injury Hogg had a calm and smooth game on his return. Fitting into central midfield he knows his role and the football Corberan demands. The number six watched from the sidelines as he was injured, taking time out in the process to gather himself. His fresh legs were clear for all to see on the pitch, a breath of fresh air to the squad. Clearly he is a first team player based on just his work ethic alone.
Lewis O'Brien 7/10 - The midfielder has a wonderful left foot, spraying the ball out wide and centrally at comfort. He made sure he kept the Terriers in the game controlling the pitch at his pace. Showing determination, passion and playing for the crest he always gives his maximum on the pitch throwing himself automatically into the good books of Corberan. His presence around the squad rubs off positively, driving and motivating others to show the same intensity when called upon to action.
Demeaco Duhaney 6.5/10 - Playing out of position in midfield, his usual spot is at the back. The so called defender found himself experimenting in his new position. Duhaney has shown his talents in a short amount of time, indicating he has the right credentials to be a top talented footballer in the future.
Juninho Bacuna 7.5/10 - A player with great potential in forward areas, always a handful for defenders, his versality causes defences problems. All game he probed the defence to get sucked in, once he had the ball at his feet, although he wasn't wholly instrumental with his final decision making. Bacuna, taking from his brother Leondro Bacuna of Cardiff City, is a true professional, a big boost for the Terriers when he is on his game. His great attitude doesn't just show in his football but also through his characteristics as a person off the pitch.
Duane Holmes 6.5/10 - Holmes might be one of Town's smallest players in terms of height, but his speed is remarkable. His energy was always going to be a problem for Wednesday who needed him to have an off day to get anything from the game. Although both teams settled for just a point, Holmes kept knocking on the door but couldn't produce the magic as he had done previously against Swansea City at the John Smiths Stadium.
Fraizer Campbell 6/10 - We all know the capabilities Campbell has, having played in the top flight. But as his playing days are coming to an end he seemed very lethargic in his performance, often going down injured in various ways. Looking to hang up his boots very soon he will looking to better performances to make sure he finishes off his career with a bang. Finding it hard to control the ball up top all game was the story all night for the number 22. If he had been on his game, Town may have sneaked all three points away from home.
Richard Stearman 7/10 - When Stearman came on, he ensured the backline stayed solid and compact with no spaces between the lines for Wednesday to exploit. Stearman kept the ball more consistently than any other playing during that period to try and see the game out from the 81st minute onwards. He kept his composure and looked to be aggressive when he found space at the same time.
Isaac Mbenza 7/5.10 - Mbenza was the individual who played a massive part in Town's equaliser. A focal point for the team in the build up, it was his free kick which initiated the path to the goal. With plenty of power in his laces the Belgian international is very dangerous when in form and showed exactly the impact he can have when coming off the bench.
Aaron Rowe 6.5/10 - Rowe made a brief introduction in the game in stoppage time. There wasn't enough time for him to make a full impact, but he did ensure the team clinched onto a vital point in the late stages of the contest. Rowe is a highly rated player in his youth, nurtured through the academy system at Town.
Yaya Sanogo 7/10 - Sanogo was very good when coming on, getting closer to Wednesday's box and being alive to the second balls. He looked full of enthusiasm and motivated to give his best to the team. His intensity levels were second to none as he looked really sharp in his play up front.