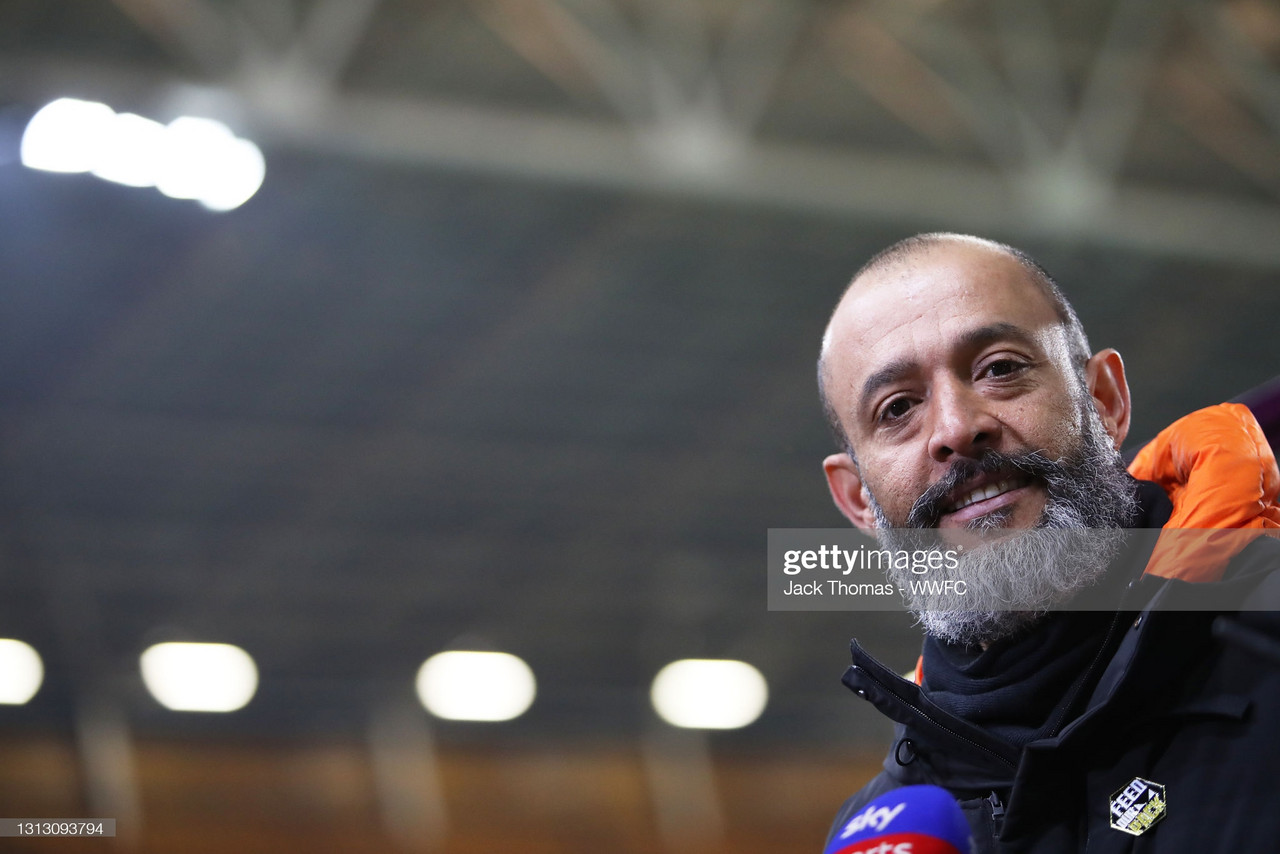 Wolverhampton Wanderers boss Nuno Espirito Santo saw his team dispose of Sheffield United and send them into The Championship on Saturday night in a Premier League tie showcasing Willian Jose's first top flight goal.
Nuno spoke to the press after the encounter.
On Jose's first top flight goal
Nuno was evidently and understandably delighted to see his newest striker grab his first goal in the competition and says that he can only improve from here.
"Very good. He works very hard for the team, he links the game, he drops his lines, and the goal was missing. He had achieved in the previous game, but it was not allowed, but today it was, and I think he can grow from there. The obligation of scoring is not only the strikers, I think we have to produce more, we have to find better lines, to give the advantage for the strikers.
"He joined us very fast and immediately it was about getting him to know the idea and I'm very glad he found his goal today and he can grow and keep helping us."
On Sheffield United's relegation
Paul Heckingbottom's side are the first side to drop into the second division of English football this season, Nuno was quick to show his admiration for the Sheffield side.
"Huge admiration. We started together in the Championship, they were always a very good opponent. They achieved the promotion next season, Chris Wilder, their first season of Sheffield United was amazing, the same group of players. I have a big admiration for the result. The character for this group of players is immense so I'm very sad, but this is football and for sure they'll react and bounce back.
"I still remember the first time we faced them and we lost there. Very good team. Chris is no longer there, but he had a big part in getting them promoted and now it's Paul and I have admiration. I wish them all the best."
Crunch time is upon us in the English game and Nuno knows that the results are important, especially at such a crucial time.
"It's always the same, we achieved a good result today, not the best performance, so let's focus on the performance because next weekend we have a very tough one here at Molineux.
"We will try to improve until the end of the season because finishing well can give us a good foundation for what's coming in our future. A lot of aspects inside our game, and the young players that we have to improve, because we're going to need them."
On Returning to a Back Three
Nuno opted for a returning back three for the clash against The Blades with Willy Boly, Conor Coady and Roman Saiss the three defenders of choice. Nuno explained why he returned to this approach.
"It's a decision that we made based on the squad, based on the complicities of the players. Small details that determine many options. Many decisions that we have to take. It's not about the system, it's more about the idea, the approach for the game that we have to build on. Having two systems can be very good for us.
"We were always balanced. Sheffield United are a very tough team to play, they involve many players in attack on the wide areas, but we were able to control that. It was due to tasks and to character to stick to those tasks and play the game, so on that aspect I'm very pleased."
On needing to create more chances
A win and a good three points for Wolves shows that there is still some creative prowess amongst the squad, Nuno still believes there needs to be a big improvement on the amount of chances created per game.
"It was not the best first-half. It's been like that, but we've been able to react for the second-half. I think we did much better, the aggression was there, we fought more of the ball, we increased the tempo on our circulation, so we improved.
"We have to realise that we always play tough opponents, so some periods of the game they are stronger than us, and we can't play the way we want, but it's about reacting and adjusting, and getting on the front foot like we did in the second-half."