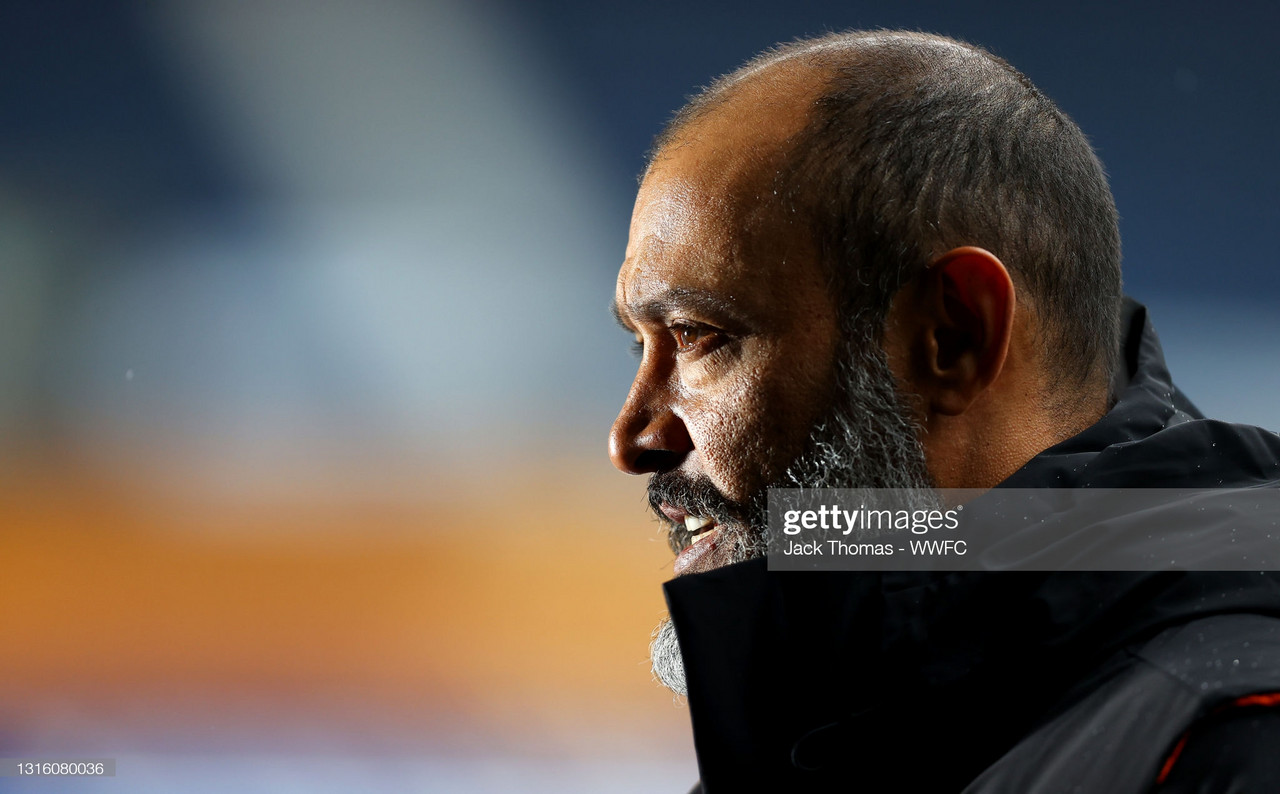 Nuno Espirito Santo provided an insight on a frustrating evening as Wolverhampton Wanderers succumbed to a late equaliser against likely relegated West Bromwich Albion.
The Wolves boss spoke to the media after the match to detail his thoughts on the events of the game.
The midlands club found their prospects once again hindered by wayward finishing and no cutting edge to compliment a consistent threat on the West Brom goal.
"We controlled it from the beginning. We had some good moments. We did a good game.
"We should have done better in particular moments. We created many chances to have the final pass and final touch better. West Brom fight very hard. It's hard to play because they're very physical.
West Brom have been all but relegated following the stalemate, and would require a flawless return of four wins out of four to defy the unfathomable possibility of playing top-flight football once again next season.
West Brom have now only lost one of their past five fixtures in the league, but Espirito Santo will surely will bemoan his players as they fail to capitalise on the final play of a game yet again.
On his side's sway
The Portuguese manager was impressed with elements of his sides overall play throughout the match as they maintained 58% of the possession and showed improvements on the incisiveness of their passing; something which has eluded Wolves in recent fixtures.
Wolves started the match the brighter and amassed 20 shots to West Brom's 10, but failed to add clarity to their goal before half-time and squandered a wealth of chances.
Espirito Santo and Sam Allardyce contested throughout the game, with the latter seeing his side grow into the game after a poor start.
West Brom were indeed rewarded with a late goal as Wolves remain without victory in their last 10 away games against their rivals – since a 4-2 win in 1996.
"They went for a back three and then Sam changed again. I think we started really well and controlled the game. After the change of West Brom we had momentum until the end of the first half.
Fortunate strike for Silva
Fabio Silva scored a fluke goal to put Wolves ahead on the brink of half-time, but the club faded somewhat after the interval and conceded when West Brom's January signing Mbaye Diagne headed in.
Silva netted the fourth goal of his Premier League tenure and put in a worthy performance as Raul Jimenez continues his lengthy rehabilitation following a skull fracture suffered against Arsenal in November last year.
There was however an extreme slice of luck for the player in delivering the strike, with replays showing that Baggies defender Kyle Bartley's attempted clearance ricocheted off the standing leg of Silva, fortunately looping into the back of the net.
"Fabio Silva was good. We had a lot of young players. We want them to work hard. Fabio did, he had goal and a couple of chances that required better finishing. Against West Brom, it's good to give him the experience of the physicality the Premier League requires.