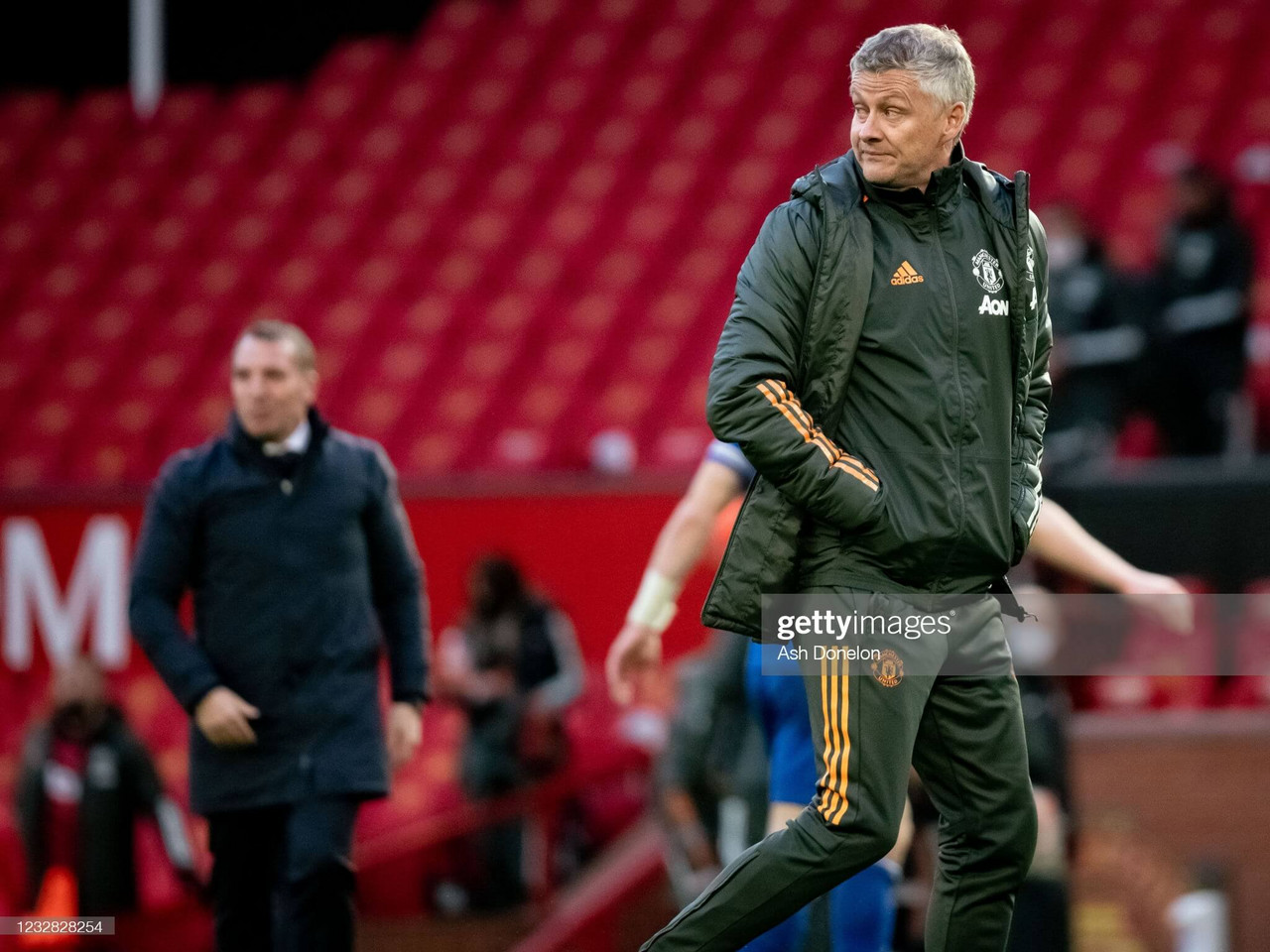 Manchester United welcome Liverpool to Old Trafford on Thursday for a clash with wider implications than just bragging rights in their historic rivalry.
United know that a win would seal second place in the league, their joint-highest finish since Sir Alex Ferguson retired, while also knowing that a win would all but end Liverpool's hopes of a Champions League finish this season.
Manchester United manager Ole Gunnar Solskjaer faced the press ahead of the big game.
(All quotes are from @UtdReport on Twitter)
On Edinson Cavani
Aging marksman Edinson Cavani secured his status as a fan's favourite earlier this week by renewing his deal at Old Trafford for an extra year.
The Uruguayan has hit a purple patch of late, scoring eight goals in his last eight games for the club. When asked about his influence on the team, Solskjaer said:
"I think we've seen the last few months what we can expect [from Cavani] and what we've wanted from him. Next season, he'll come ready. He'll be fit when he comes pre-season."
He continued: "He [Cavani] comes in every day, he does everything right. The boys will look at him. He gives us a no.9 position. I don't know how many games we'll get out of him but, of course, he's one of the best no.9s in the world at the moment."
On Harry Maguire's injury
Harry Maguire has been a mainstay in the United back line ever since his move from Leicester City in 2019, playing every single minute of league action available since joining.
However, following an injury picked up away at Aston Villa, United are now having to make do without their captain and leader. When asked about the extent of the injury, Solskjaer said:
"I'm hopeful that he might be ready for it [Europa League final]. I don't think he'll play in the league again before [the end of the season]. We'll do everything we can to get him ready for the final."
He continued: "You always try to look after players long-term. If he's [Maguire] fit, he'll play for us, if he's not he won't. As I said, we're hopeful that he's ready. If he's ready for us, he'll probably be ready for the Euros."
With a first European final in four years coming up later this month for United, Solskjaer and his team will be anxiously awaiting the results of Maguire's recovery.
On the Leicester team selection
Solskjaer caused uproar among short-sighted pundits and rival fans alike by naming a much-changed lineup against Leicester City to combat United's unnaturally hectic schedule.
Solskjaer was accused of 'disrespecting the top four race' by giving starts to youngsters Amad and Anthony Elanga, while leaving out the majority of his best players while Leicester went on to win 2-1, all but securing their Champions League spot next season.
In response to the criticisms, Solskjaer said: "My job's for Manchester United. My concern is the Man United fans, what they think about my team, what they want from my team and that we come together as one. I'm sure what Man United is."
With his senior players now rested and ready to go again, expect a full-strength side to be played against Liverpool on Thursday.