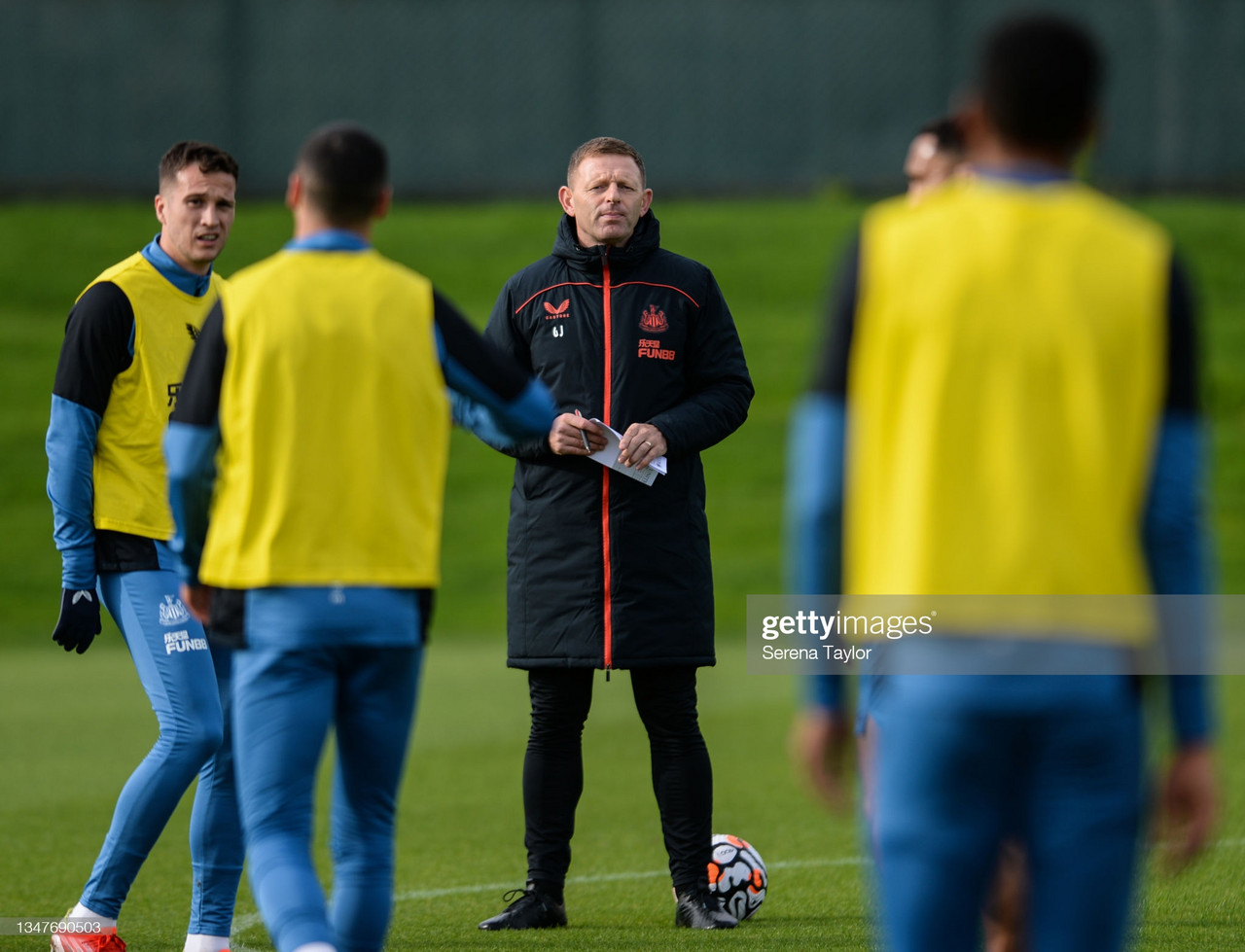 After Steve Bruce was finally dismissed by Newcastle United's new owners on Wednesday, assistant head coach Graeme Jones was elevated into the gig as caretaker boss while the search for a new manager rumbles on in the background.
Jones confirmed in this afternoon's press conference that he will be taking charge of The Toon's next two Premier League fixtures against Crystal Palace and Chelsea.
When Jones arrived on Tyneside half-way through the season last year, overnight results immediately improved, with fans raving over his obvious impact after United's impressive victory over Everton at Goodison Park in particular.
However, poor results – that he oversaw alongside Bruce – have had pockets of supporters wondering just how much influence Jones has had on The Magpies squad during this turgid start to the season, where they remain winless in the league after their opening eight games.
Jones' stock has rose massively since his days of managing Luton Town, highlighted on a national level when he was picked by Gareth Southgate to help coach the England squad for this summer's Euros.
With the 51-year-old now clearly the sole man in charge on Tyneside for the time being, does he have something to prove during his tenure as interim manager?
A chance to shine
Ever-since Jones arrived back at his boyhood club in January, it seemed that when the side won, Jones was praised, and when they lost, the blame was put at the door of Bruce.
Tomorrow – and next week's game against the European champions Chelsea – gives us the opportunity to see just how much of an impact Jones has had on the team selection and tactics when Bruce was in charge.
If the likes of Fabian Schar and Jamal Lewis were to return to the side tomorrow – two players that have not had a look in under Bruce this season – it would lean towards Jones having little to no influence in the game day selection while working under the former head coach.
In the pre-match media briefing, Jones did not give any indication towards his starting line-up tomorrow.
"I'm not going to disclose shape or personnel," Jones said.
"Over the last three days, every single player has had the same experience tactically both on and off the ball. Whatever side I decide to go with tomorrow will all be ready."
Despite Bruce departing, and the majority of his backroom staff set to follow suit once a new manager is in place, it was revealed this afternoon that Jones has been given assurances from Amanda Staveley and Mehrdad Ghodoussi regarding his long-term future at the club.
The news all but but confirms that he will be part of the backroom staff of whoever takes the reigns of Newcastle in the near distant future, but may accelerate the rumours of Belgium manager Roberto Martinez being the man to take over from Bruce in the process, a man who Jones has worked very close with in the past at a number of clubs.
An opportunity to do himself and the new owners a favour
You only had to listen to a small section of Jones' pre-match media briefing to realise just how much it means to him on a personal level to manage Newcastle United tomorrow afternoon.
"My ambition is simply to do the best I can for my football club.
"I am motivated in a totally different way to anywhere I have ever been.
"I came to the football club as a four-year-old watching Supermac, then I was a supporter watching Kevin Keegan in the Gallowgate End. I know the culture of this football club, whether I was here or not I am interested in the club's results," Jones said.
"I've had a lot of accomplishments in my career. I've been to a Euro's final, I've won an FA Cup and have a bronze medal at the Olympics but nothing comes close to being Newcastle manager, nothing," he added.
It would only be natural for him to be emotional ahead of such a monumental day in his career, but Jones refuses to take his mind off anything but the task in front of him at Selhurst Park tomorrow.
He said: "My mother and father aren't with me anymore, so I've managed to stay very professional. I haven't gone anywhere emotionally.
"I'm sure they'll be looking down on me, but it's just about trying to focus on the game."
The performance against Tottenham Hotspur on Sunday – barring the opening 10 minutes – summed up the club not just under Bruce, but the 14-year reign of Mike Ashley: underwhelming and unacceptable.
Another shocking display tomorrow could just fast-track a managerial appointment dubbed as one of the most important in the club's history – something that needs to be examined with a fine-tooth comb.
But if Jones can rally the club he stood watching on the terraces as a boy to their first win of the season, he could buy the new owners some much-needed time, and turn the tide on the football pitch in the process...