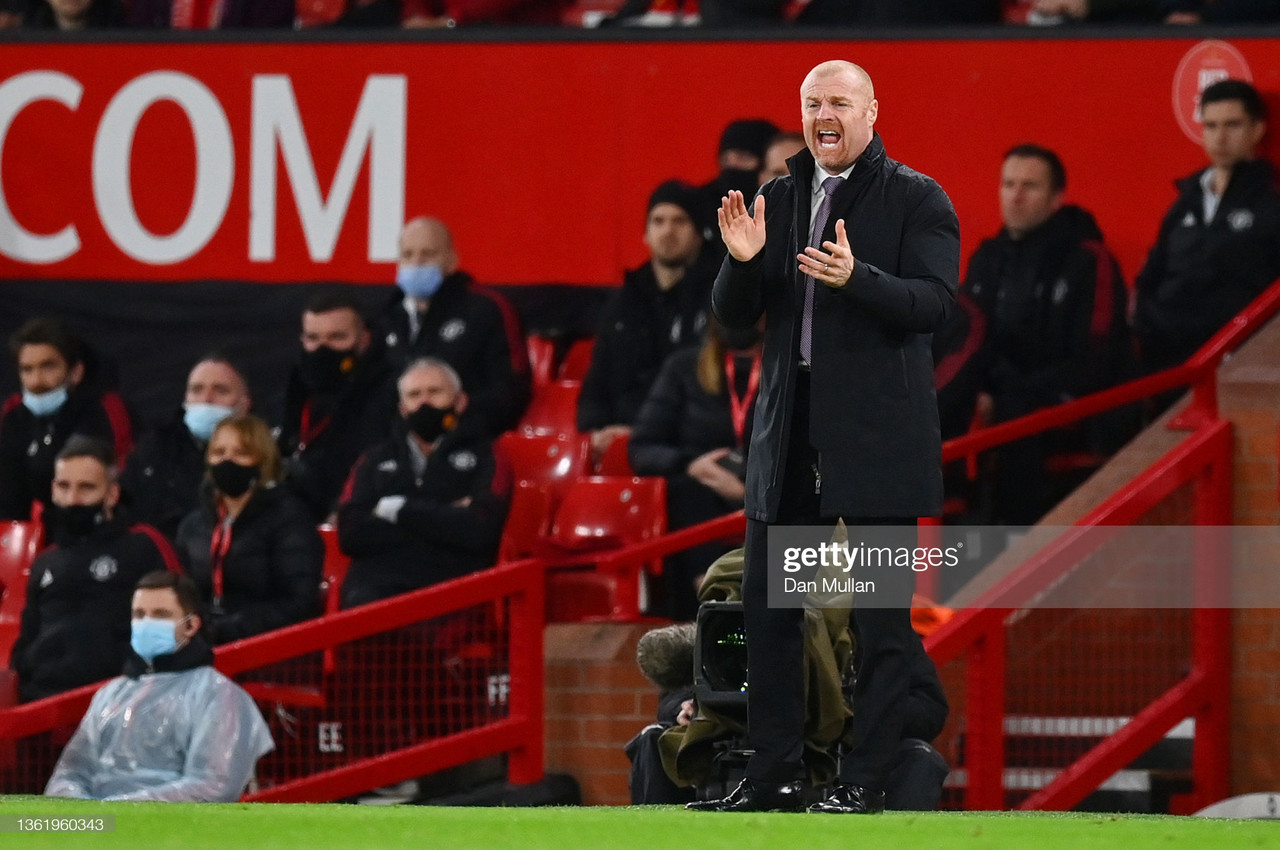 Sean Dyche was left feeling a sense of deja vu after Burnley fell to a 3-1 defeat against Manchester United.

The Clarets competed honestly and diligently but they were left to rue some sloppy defending and poor final-third play with Cristiano Ronaldo and Scott McTominay getting in on the act.

The result leaves Burnley languishing in the bottom three, however, Dyche's men do have three games in-hand due to a series of postponements earlier in the month.

On the game
Dyche was frustrated with the fact that his defenders couldn't get a block on two decisive McTominay strikes. The Scot curled home a strike from the edge of the box and a shot from a similar position directly lead to the Ronaldo goal.

"The frustrating thing for me is that we could have made two blocks on the edge of the box and we didn't," he admitted.

"I was quite pleased with the performance generally, we are a little bit stretched with Covid and injuries.

"Aaron Lennon did well. There were some good performances but the details are killing us.

"We created chances, we kept the ball at times, but the details are massive."

On making improvements
Dyche must feel like a broken record when it comes to his post-match assessments but the Burnley boss spoke more openly about how to make those new steps forward.

When asked about what needs to happen for a future improvement in results, Dyche said: "Continued analysis, feedback, reminders.

"The players know what they are doing. You are not teaching or coaching a load of children, you are coaching players who are well established in the Premier League.

"They often know the mistakes they have made and it's just there has been too many defensively at times this season, other times – generally – we have been tight.

"Offensively, it is [about] that calmness, clarity [and] belief in what you doing in that attacking third.

"The change in the big moments comes when you play with a bit of freedom, it is hard to explain, but with a flow and being clear minded to find that pass or finish.

"We just look a bit edgy going into the final third at the moment. We are losing that calmness at times and we did tonight.

"We got into some great situations but we just needed a bit more calmness and awareness and then you find yourselves a better quality of chance and it enhances the chances you can take."

On Vydra and Lennon
One big decision was the placement of Aaron Lennon as a second striker, and that decision was vindicated with his well-taken goal. Eyebrows were raised with Matej Vydra, a natural forward, on the bench but Dyche played that decision down.

He said: "[Vydra] is still carrying a groin hernia situation which needs to be looked at but he is soldiering on. We are trying to balance out that and the physical side of things.

"[Lennon] has played there before and has done a little bit with us in pre-season and has done a bit in training with us over the last 18 days and we have liked what we have seen and he delivered a very good performance.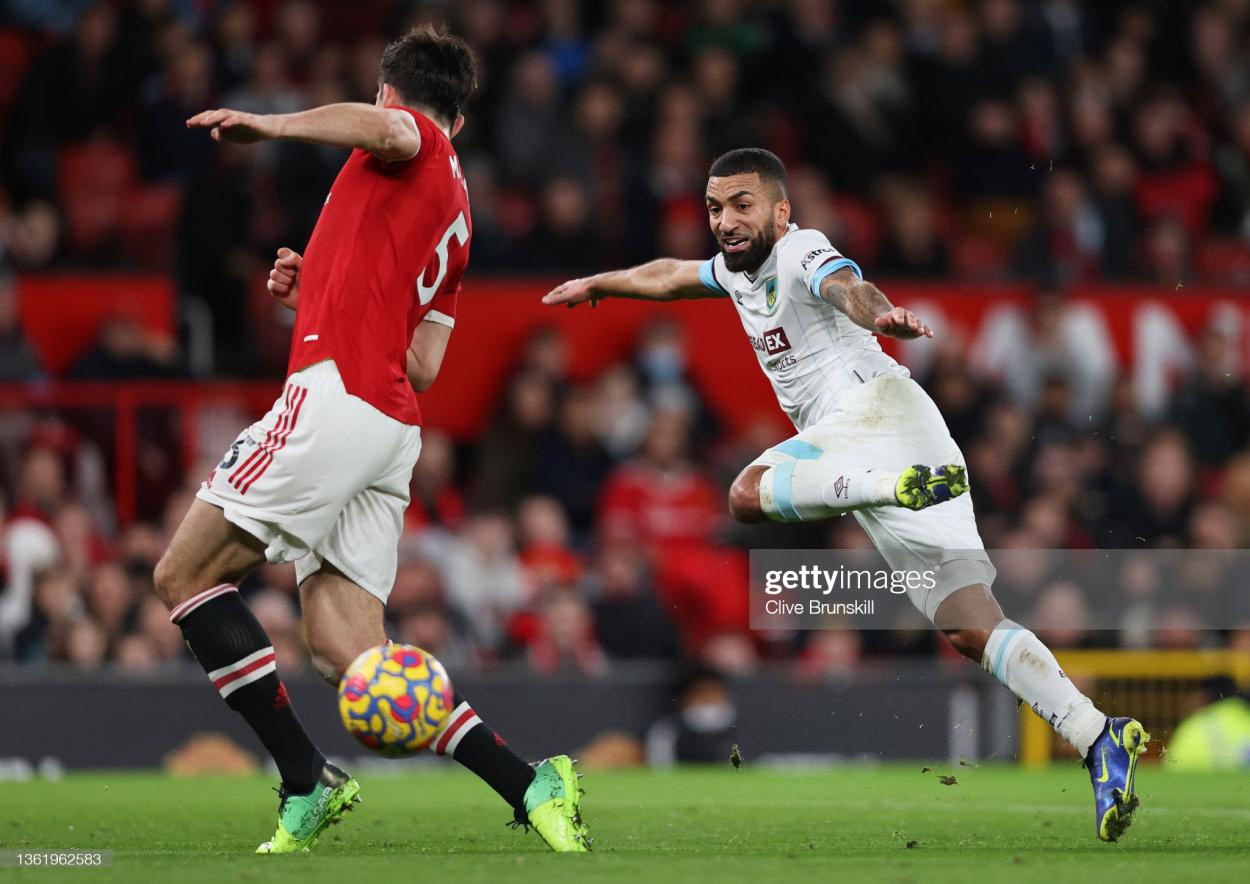 "We are trying to work with the side in different ways to score goals and look more of a threat and I thought we did tonight.

"We came to Old Trafford and that is probably one of the highest chance rates we have made here, certainly quality wise, and we had a lot of the game which is not easy.

"A lot of signs are suggesting we are doing the right things but the details are so important. The Premier League is full of details and you have to get them right, particularly at both ends of the pitch."

On Covid-related challenges
Few managers have been as relaxed as Dyche when it comes to the pandemic-inspired challenges.

Some would argue that Burnley could have had this match postponed if they had wanted to. They couldn't fill their substitutes bench and still had to call upon young academy talent Bobby Thomas to make up the numbers.

"Everyone's got a challenge at the moment, we don't want to over-egg that," he said. "We've lost who we've lost, and a couple of those will come back, so when they do, that adds to us.

"We might get Maxwel back around it, we'll have to see, [Ashley Barnes] and Connor Roberts are too far away, but it's the challenge of what's happening at the moment.

"I don't put that down to the performance, because I thought the performance was right, particularly some of the chances we created - it's not east to come here and create chances, so a lot of that side was right.

"But I'm talking about the details again and we've got to keep working and keep focusing on the details at both ends of the pitch.

"Whatever the rules are, whatever the Premier League requires is up to them. we just try and look after ourselves and do things as we see fit, we're not judging anyone else for sure."