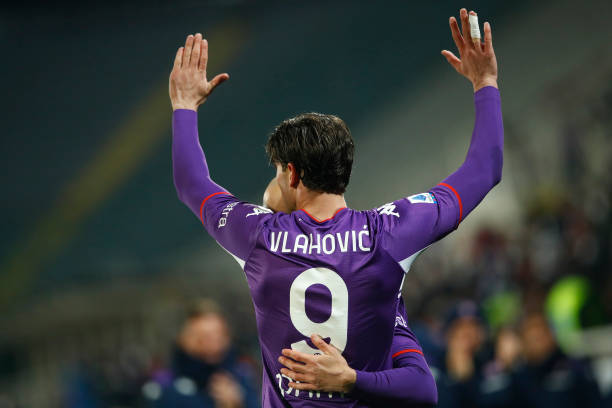 The talk surrounding Dusan Vlahovic and a potential move to the Emirates has dominated the Arsenal sphere this January.
Reports say Arsenal approached about the promising striker back in October and are desperate to make the move happen in January — to leap-frog competition in the summer — and are willing to pay a hefty price.
What's more is current striker Pierre-Emerick Aubameyang is out of favour and second striker Alexandre Lacazette has less than six months left on his contract. Arsenal are looking for a new starter, no doubt.
But how good is Vlahovic? What are his strengths and weaknesses? And would he do well at Arsenal?
VAVEL followed the Fiorentina man over two games, against Genoa and AC Milan, and a catalogue of highlight videos to see what the hype is all about.
"Almost as good as Haaland"
Serie A commentator Per-Jarle Heggelund gave VAVEL a sneak-peak of just how good the wonderkid is, saying:
"He's almost as good as Haaland. Vlahovic is on that top shelf of players, the 'Bayern shelf'. If Arsenal get him, you can pop the champagne!"
Read the full interview here.
Vlahovic stands tall at 190cm and boasts great general physique. Receiving the ball at his feet and winning aerial duels with a defender on his back are among his strengths. Very much what Alexandre Lacazette is tasked to do by Mikel Arteta.
Other strong points include stamina and intelligent runs, such as finding spaces to drop into as well as when and how to make a run behind the defensive line. He's used to playing as a lone striker in a front three, a similar system to what Arsenal utilise, and he's a weapon on attacking and defensive set-pieces. Most impressively, though, is his finishing (more on that later).
Have a look at the Serbian's running pattern in Fiorentina's 6-0 smashing of Genoa recently: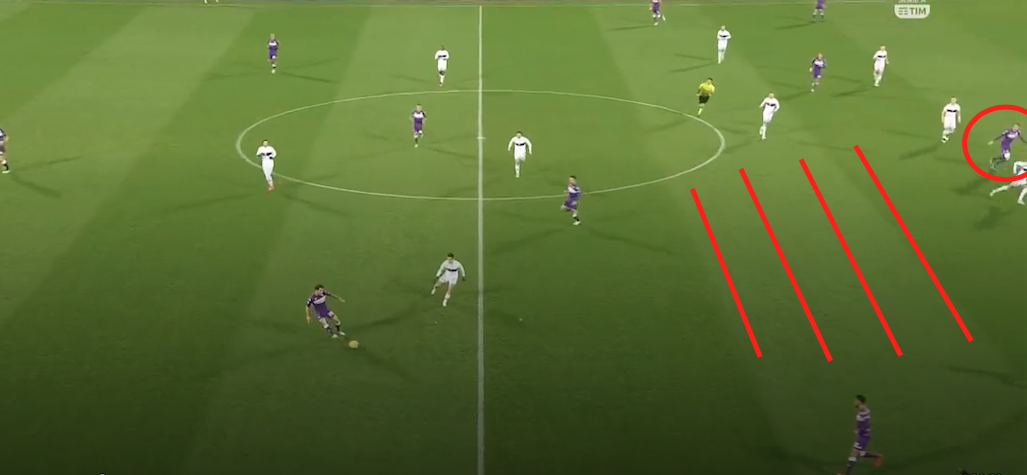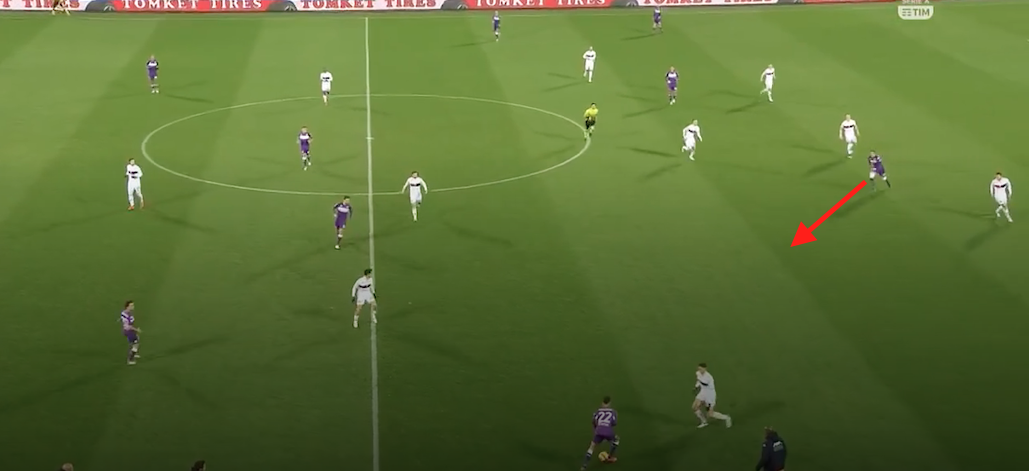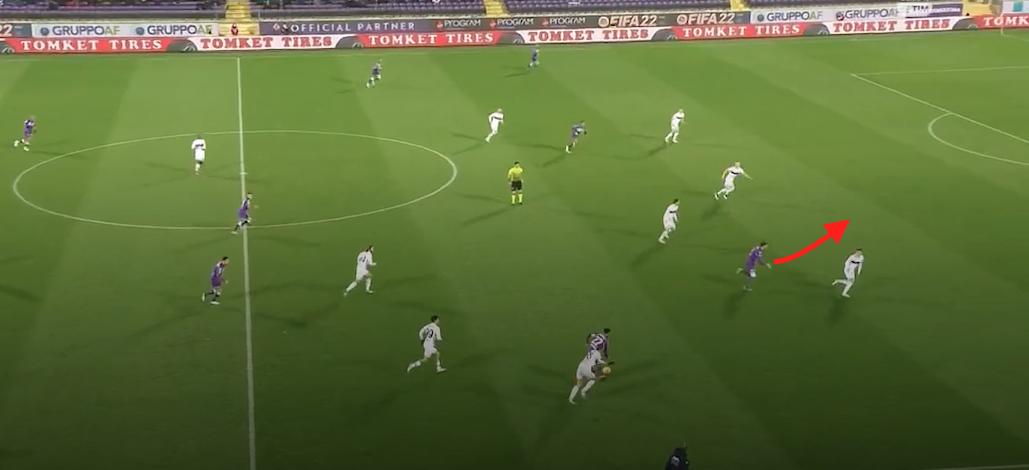 The striker's main purpose at Fiorentina, besides scoring goals of course, is to constantly offer an avanue in the build-up phase and be a target for through balls and crosses; to always be on the move.
The map below shows how the majority of Vlahovic's touches in their 4-3 win over AC Milan earlier this season were in the half-spaces, dropping deep to help Fiorentina's build-up.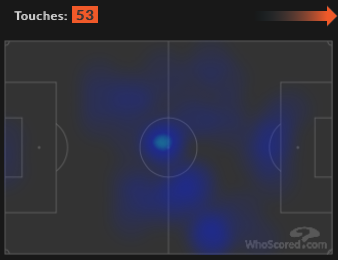 His role is similar to that of Erling Haaland at Dortmund. It's a profile that requires strength to battle defenders, stamina to do it over 90 minutes, a great first touch to keep possession in the build-up and effective finishing.
Vlahovic possesses three of those four attributes.
But...
The soon-to-be 22-year-old has not yet polished his first touch, an essential skill for a player of his profile — and an ingredient that Arsenal crave in their striker and build-up play.
Vlahovic will often touch the ball in a way that makes it bounce high and he has to use another touch to control it. Against aggressive Premier League defenders, this could be a problem.
Defensively, again similar to Haaland, he doesn't contribute much. Vlahovic is rather pedestrian when the opposition has the ball, jogging about, non-confrontational.
According to WhoScored, the Serbian attempted 0 tackles, made 0 interceptions and lost possession more than anyone on the pitch against both AC Milan and Genoa.
As for his personal character, we have to read between the lines. Vlahovic reminds a lot of Zlatan Ibrahimovic in how he conducts himself on the pitch: upset when he doesn't get the ball he wants, backheel passes, Panenka penalty kicks, confident.
He certainly comes across as ambitious and competitive.
A natural goalscorer
The Fiorentina super striker has scored 20 goals and assisted two in 24 games so far this season for The Viola.
The bulk of his goals (16) are with his prefered left foot and his collection of goals materialised within the 18-yard box, five of which were penalties. Three goals came from outside the box, one being a stunning free kick.
Overview of all goals: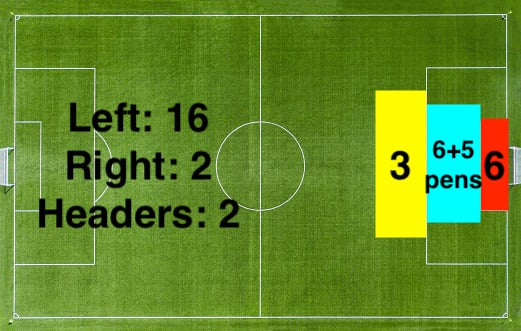 The Serbian's primary strength is his finishing and movement in front of goal. His shooting technique, at 21-years-old, is at the highest level.
Against both Genoa and AC Milan, Vlahovic had the most shots on his team by some distance (6 and 4).
He is certainly one of the top strikers in Serie A.
Is the hype justified?
In short, yes, Vlahovic is worth the marquee transfer fee it takes to bring him to north London.
Especially for Arsenal, who can't freely pick from the top shelf of strikers at the moment and need a focal point up front who can score AND help in building plays.
But don't expect him to bang in 20+ goals in his first season if he was to join a Premier League team. He still has to improve his first touch, and his athleticism likely won't be as great an advantage in England as in Italy. The striker is also young and might struggle to adapt to a new league and team.
That being said, his impressive determination, with time, will only improve his drawbacks.
If it's in the fourth minute on 0-0 or 78th minute on 6-0, Vlahovic's hunger for goals doesn't diminish. He just wants to score goals. A natural goalscorer.