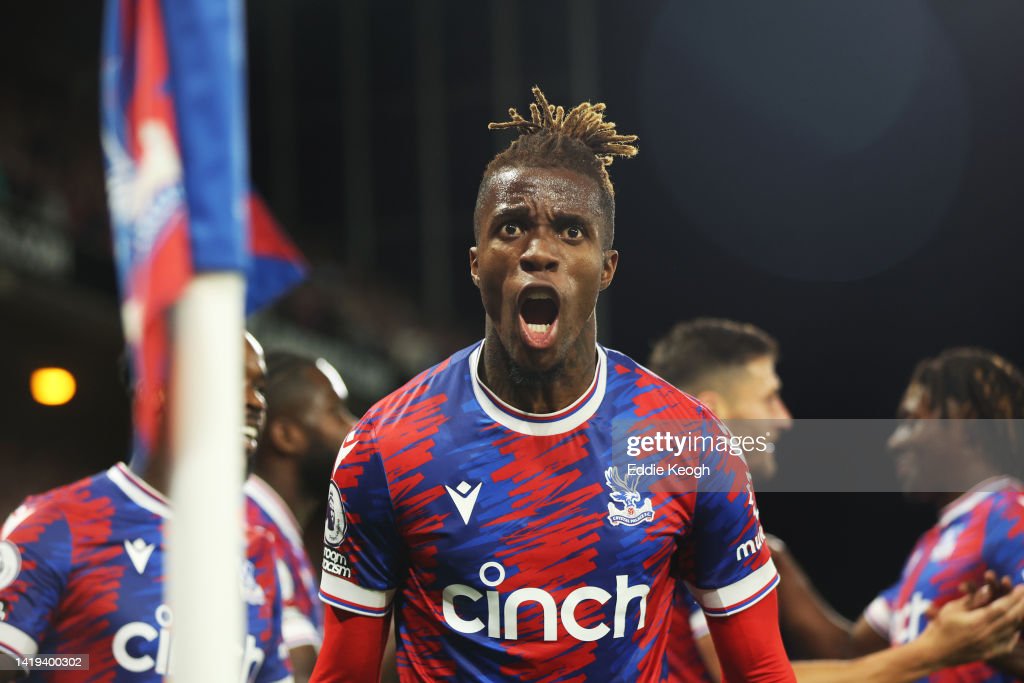 As the Selhurst Park crowd start to stand up, the ball is under the spell of Wilfried Zaha on the edge of the area. The Ivorian stays patient, looks up to scan his options, pulls away from the Brentford defence nonchalantly, and wraps his foot around the ball to curl a speculative strike into the net off the top right of the post.
It's a sight all too familiar for those associated with the red and blue of Crystal Palace - except this time, it felt a million times more precious.
While speculation grew over the potential departure of Palace's Croydon-bred magician off the pitch, a goal straight from the top drawer on it, followed by a passionate post-match interview, seemingly confirmed his status as an Eagles' player for at least one more season.
South London is Zaha's home. It has been since 2004, and whether it be his last dance or not, the prolific nature of his demeanour looks to remain at Selhurst Park beyond tomorrow's deadline day.
Chelsea and Arsenal, who are long-term admirers of the Ivory Coast international, are among the clubs rallying to secure Zaha's services before tomorrow's deadline.
It is a transfer story that happens every summer, and just as he did in the years before, he has played down the idea that such speculation is a distraction.
Asked how difficult it had been to ignore the speculation, Zaha replied: "It's not been difficult at all. I've just been focused on Palace in every game. I've gone to training, and I've enjoyed it.
"We've got a massive understanding, everyone understands me. It's different, it's like a family here."
Zaha is enjoying life under his new manager Patrick Vieira, and he has already scored four goals in the four Premier League games he has featured this season. With 14 more goals in all competitions across the campaign, he would reach 100 goals for Crystal Palace.
And Vieira is another of those at the club that feels the departure of the club legend is not on the cards. Dealing with the same question every week from the media, his answer never changes on the situation.
"I didn't even put that in my head," Vieira said. "I didn't even ask myself that question. I'm working with him every day and there is no doubt, there is nothing crossing my mind that something like that will happen.
"He never showed anything like that. The only thing he is showing is competitiveness on the field, doing well for the super club that he loves very much."
"Today, we needed something special to score a goal and Wilfried delivered," Vieira said, and when asked whether the speculation over Zaha's future had become a distraction he added: "None at all. We're used to it.
"When you look at his smile when he scored that goal, it says everything. The smile on his face tells you how much he loves this football club."
Frustration remains solely on the pitch
While his attention could shift to the interest that encumbers him off the pitch, Zaha's frustration remains on it as he underpinned bewilderment in his team's performance after the goal last night.
Although the Ivorian opened the scoring, he felt that Palace should have earned more from the game after Yoane Wissa equalled the scoring with two minutes of the ninety left.
He could not hide his disappointment as he told BT Sport: "I'm lost for words. Just one lapse in concentration, it ruins all the hard work. We literally just had to keep it tight.
"It's like as soon as we went in the lead we just started to defend. I don't see why we do that. If we just continue pressing on, I feel like we could've got a second and just ended the game. But we just killed ourselves in the end.
"We knew about their set-pieces and throw-ins but it's a thing where you've got to get through the first 30-35 minutes and then there is more space in the second half. Then there were more chances created.
"Our problem right now, which in due time we'll fix, is just last-minute goals. It throws away the whole performance.
"Today was not, by far, our best performance. But we should at least leave with all three points."
Crystal Palace face an exhausting trip up north to play against Newcastle United in their next Premier League fixture, which will present Vieira with an opportunity to iron out late complacency that has cost The Eagles valuable points already this season.