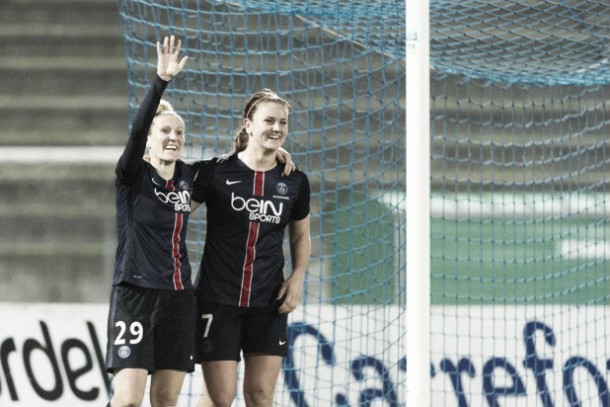 At the top, Paris Saint-Germain earned an impressive win against Juvisy, while Lyon and Montpellier drew. Elsewhere there were vital wins in the fight to avoid relegation for ESOF La Roche Sur-Yon and Saint-Etiénne. VGA Saint Maur had it worst and are left in a shambles, after their manager quit immediately after the game. Lindsey Horan has, according to rumours, played her last game for PSG. It has certainly been an eventful weekend in Division 1 Feminine.
ESOF La Roche Sur-Yon 4-1 VGA Saint Maur
La Roche Sur Yon ESOF was victorious against VGA Saint Maur, in this very significant match-up between two teams in the relegation zone. La Roche, therefore, earned some vital points in their fight for survival. VGA on the other hand, who were already one point behind today's opponents, remain second to last and increases the pressure on themselves.
From the get go it was clear that La Roche were in control. After roughly 16 minutes, Roche's captain Pauline Ripoche scored on freekick, but the rest of the game belonged to Audrey Nicolas, who bagged herself a hat-trick. The 26-year-old French midfielder scored her first goal after 27 minutes making sure that the half time score was 2-0 to the home side.
After the break, Nicolas added her second of the game, before Marlyse Ngo Ndoumbouk scored her ninth goal of the season shortly after, to make it 3-1. Audrey Nicolas then finished the rout by scoring her third goal of the day at the 76th minute mark.
After the game VGA's manager, Régis Mohar, announced that he was stepping down, and as a result the team has decided not to train for the next week. The decision has nothing to do with the result, but more the lack of support and funds for the women's team, according to Mohar himself.
Roche (4-4-2): Nerbonne ; Coudrin, Ollivier, Alberbide, Roux; Peslerbe (Liaigre 79'), Ripoche (catain.), Lemarchand (Pugnetti 25'), Nicolas ; Matéo, Fragoli (Baldé 87'). Entr.: Bousseau
Bench: Pugnetti, Liaigre, Marchadié, Baldé, Picaud
VGA Saint Maur (4-4-2): Carré; Berge, Hacard (Meflah 67'), Nowak (cap.), Konte; Chatelain, Zouga (Parpzycki 71'), Boumrar, Léocadie; Ngo Ndoumbouk, Salomon (Lenot 62').
Bench: Paprzycki, Lenot, Gomes, Meflah
Scores: 1-0 Pauline Ripoche 16'. 2-0 Audrey Nicolas 27'. 3-0 Audrey Nicolas 61'. 3-1 Marlyse Ngo Ndoumbouk 65'. 4-1 Audrey Nicolas 76'.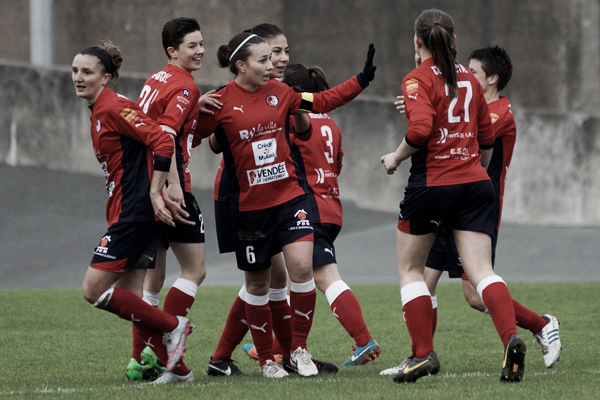 Rodez Avayron Football 2-0 En Avant Guingamp
With the win, Rodez Avayron keeps their good league campaign going while En Avant Guingamp is now just one point away from the relegation line. It wasn't until Laurie Chance netted her first goal of the season in the 62nd minute, after she got on the end of a cross from the right, that Rodez took the lead. In the 84th minute Flavie Lemaitre increased the home sides lead with a penalty goal.
Rodez (4-3-3): Garcia; Hoarau, Haupais (captain), Alard, Bornes; Barbance, Cugat, Cance; Saunier (Lemaitre), De Revière (Austry), De Sousa
Bench: Guellati, Lespinasse, Lemaitre, Austry, Niphon
Guingamp (4-2-3-1): Mainguy; Quéro, Debever, Lorgeré, La Villa; Dali-Storti, Diallo (captain); Douessin, Amani (Plaza), Robert; Oparanozie.
Bench: Gignoux, Bueno, Fleury, Plaza, Boishard
Scorers: 1-0 Laurie Chance 62'. 2-0 Flavie Lemaitre 84' (penalty).
Juvisy 0-5 PSG
As the score line suggests, PSG was dominant throughout most of the match. It was evident from PSGs starting line-up, that consisted of three starting forwards, that they wanted to attack. Despite only scoring on the brink of halftime via a goal by American forward Lindsey Horan, PSG had numerous chances in the first half that should have resulted in a goal.
The score-line at halftime could easily have been higher than 1-0. In the second half PSG capitalised on their dominance, and after 51 minutes, PSGs top scorer, Cristiane, netted her tenth goal of the season. Six minutes later Anja Mittag joined in and made it 3-0 with an accurate finish. In the 80th minute Kheira Hamraoui was subbed in, and she only needed six minutes on the field before she made it 4-0. Mittag finished of PSGs class display by adding her second of the day, to make the result 5-0.
With this win, PSG put pressure on Montpellier and Lyon at the top of the league (they met the following day), while distancing themselves to today's opponents, who are sitting in fourth place. PSG will be delighted with their showing today, but Juvisy will be asking themselves what happened.
After the game we saw a clearly emotional Lindsey Horan. Reports out of France suggests that it is because today was her last game for PSG. It was already known that she would leave for international duty after this game, but persisting rumours insists she are joining Portland Thorns in the NWSL, and will not re-join PSG after the winter break.
Horan has been dealing with injuries during her time at PSG, which have plagued her game, but herse;f, Mittag and Cristiane, were finally gelling as a trio It will be a big loss for PSG. Horan was also a fan favourite.
Juvisy (4-4-2): Benameur; Greboval, Tounkara, Dusang, Soyer; Cayman, Jaurena, Bilbault, Catala; Thiney (captain), Coleman (Diani 56')
Bench: Deville, Guilbert, Traikia, Diani, Coquet
PSG (4-2-1-3): Kiedrzynek; Delannoy, Georges, Erika, Boulleau; Seger (captain), Dahlkvist (Hamraoui 80'); Cruz Trana; Horan, Mittag, Cristiane (Delie 78', Ebere 90+2')
Bench: Ebere, Hamraoui, Delie, Cissoko, Berger
Scorers: 0-1 Lindsey Horan 45+1' (Assist: Cristiane). 0-2 Cristiane 51' (Assist: Anja Mittag). 0-3 Anja Mittag 57' (Assist: Shirley Cruz). 0-4 Kheira Hamraoui 86' (Assist: Anja Mittag). 0-5 Anja Mittag 88' (Assist: Shirley Cruz).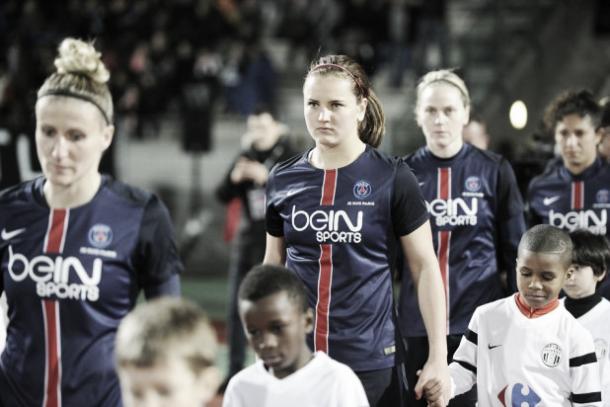 ASPTT Albi 0-3 Saint Etienne
Saint-Etiénne keeps up their good form, and is the only team to move up in the league standings after this round. ASPTT Albi on the other hand extends their poor form. Both teams have 23 points after the round, and are 3 points away from the relegation line.
Saint-Etienne started with what looks like four forwards, and everything suggests that they were pushing hard for a win. A sign of a team with confidence. After 22 minutes it paid off, when Julie Peruzzetto scored to make it 1-0 to the visitors. Before the goal, Peruzzetto had not scored in six consecutive league games.
Peruzzetto added to her goal tally when she scored her second of the day after 62 minutes. Audrey Charmutte, who was subbed in at the start of the second half, sealed the result in the 79th minute. Albi's 19-year-old defender Manon Cazes was sent off in the 90th minute after getting two yellow cards during the game.
Albi (4-4-2): Morais ; Gouineau (Renault 70'), Rouzies, Cazes, Arcambal (captain); Martinez, Condon (Lin 79'), Cervera, Cazeau; Solanet, Benlazar
Bench : Saint-Jours, Manuel, Schlepp, Renault-Frih, Lin
St-Etienne (4-2-3-1): Peyraud-Magnin; Cirry, Karlsson, Viguier, Gauvin; Gherbi, Clemaron (captain) (Blanc Gonnet 82'); Peruzzetto, Lavaud, Fleury (Chaumette 46'); Palacin (Titraoui 80')
Bench: Chavas, Chaumette, Titraoui, Sissoko, Blanc Gonnet
Scorers: 0-1 Julie Peruzzetto 23'. 0-2 Julie Peruzzetto 63'. 0-3 Audrey Chaumette 80'.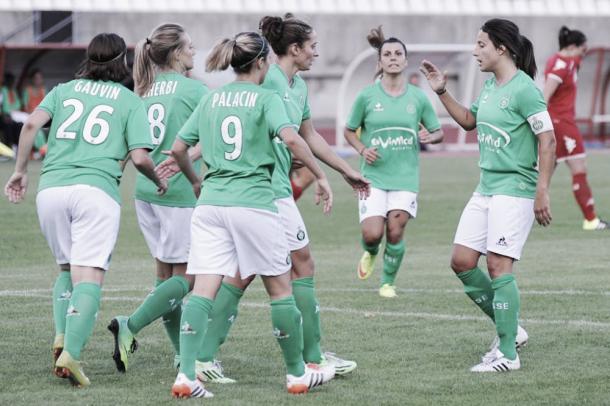 Montpellier 0-0 Lyon
There was many interesting match-ups in this round, but none was bigger than this game. Both teams entered the game undefeated, and it doesn't take a math genius to realise that, with a 0-0 result, both teams remain undefeated. Some of the talking points before the match, was that Amandine Henry and Eugénie Le Sommer were both on the bench, and that Lyon's captain Wendie Renard was back in the starting line-up. Henry was rumoured to have a knock, which explains her absence from the starting line-up.
By all accounts, it was a very physical game, between two teams who have both only let in one goal so far in the league. It is not often Lyon are prevented from scoring, so Montpellier has to be pleased with that. Lyon, as well, must be pleased by going to Montpellier, which is a tough place to play, and get points from the game, even if they are a team that are not used to dropping points. Lyon had several big chances, and will not be happy not to convert those, but they still have the advantage in terms of the league.
While not a lot happened on the pitch goal wise, Lyons assistant coach Yohann Vivier was evicted from the game. Just like any top game should be, this one was intense.
Montpellier (4-4-2): Philippe; Karchaoui, Agard, Gadéa (captain), Sembrant; Torrecilla, Utsugi, Torrent, Alves (Toletti 86'); Tonazzi (Léger 60'), Jakobsson (Asseyi 67').
Bench: Durand, Romanelli, Toletti, Léger, Asseyi
Lyon (4-3-3) : Gérard ; Mbock, Renard (captain), Kumagai (Henry 60'), Majri; Abily, Kaci, Necib (Lavogez 82') ; Hegerberg, Schelin (Le Sommer 46'), Thomis.
Bench: Henry, Le Sommer, Lavogez, D.Cascarino, Bouhaddi
Soyaux 0-0 Nímes Metropol Gard
Nîmes Metropol Gard earned their just second point in the league while Soyaux has to be disappointed not to get away from this game with a win, especially considering they were up by one (wo)man for 21 minutes, after Nîmes' Léa Rubio was sent off in the 69th minute.
Soyaux now have 23 points, just like Albi and Saint-Etienne, and are 8th in the league, three points away from La Roche, who are just below the relegation line. Nîmes has to be pleased with getting a point, given the fact that they have yet to win, and this was just their second draw this season.
They are still far behind the teams above the relegation line, but they diminished the gab a little with this result. Playing with ten (wo)men for 21 minutes and still getting a draw also shows their fighting spirit.
Soyaux (uncertain): Guérin; Dumont (cap), Awona (Koné 66'), Godard, Thibaud, Viana, Deschamps, Djebbar (Leroy 77'), Clérac, Blais, Bourgouin.
Bench: Boudaud, Belkacemi, Kone, Leroy
Nîmes (4-4-2) : Saez; Mahistre, Faure, Pervier (captain), Gayton, Montet, Rubio, Roux (Aparisi 82'), Kouame, Ramos (Parasme 77'), Oumeur (Tebbi 88').
Bench: Aparisi, Parasme, Tebbi
League table after Matchday 11