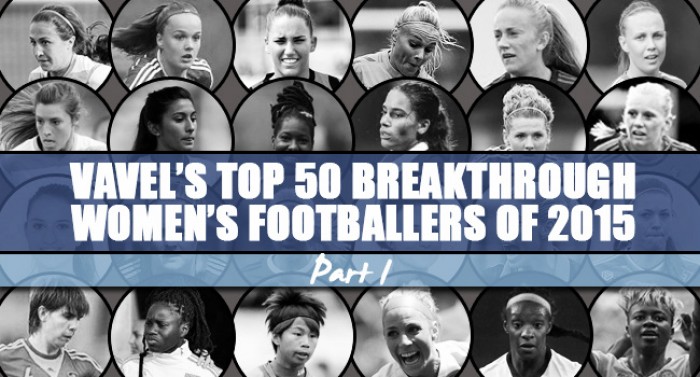 After the success of VAVEL's Top 50 Women's Footballers of the Year list, there has been another addition to the debate for who has shone most in 2015. There are, of course, some less high-profile players who rose to stardom and didn't make that cut, so find themselves here - on VAVEL UK's Biggest breakthroughs in Women's Football 2015.
The criteria on which this list is based is not age related. The only requirement was that this has been the year, that the player has gone to a new level. A breakthrough can be many things; it can be a young payer that has just broken onto the scene, but still has better years ahead of her.
It can be someone who has been prominent in her own country for some time, but has now gained more international recognition. It can also be a player that has shown her abilities for a number of years, but has added to that and who has had their best year to date.
There must be a big thanks to all of those who contributed to the list. There are so many women's football leagues that makes every single one impossible to follow in great detail, and so this compilation would not have been possible without those who watch some of the divisions that are harder to follow.
So without further ado, here are the first 11 randomly selected players who have made their breakthrough this year:
Beth Mead (Sunderland, England)
It could be argued that Mead had her breakthrough for Sunderland in 2014, when she impressed immensely in FA WSL 2. However, she is fully deserving of inclusion for this year's list, too. She has just continued to build on that strong season, only this time she is doing it in England's top division.
She ended the season as the league's top goal scorer with 12 goals in 14 games, and was key in ensuring Sunderland an impressive 4th place finish. Although this year has been great, she seems like a player that can kick on and build on this and we will most definitely hear more from the young English forward in the future.
Alanna Kennedy (Perth Glory FC/Sydney FC, Australia)
Despite her age, Kennedy has been a part of the set-up around The Matildas for some years now. In 2015 she was part of a Perth Glory team that finished the regular season on top of the W-League on top with a ten point gap down to the side in second. A large part of this was that the defence, which Kennedy was the main part of, only let in 10 goals. Perth reached the final before eventually being downed by Canberra United.
Kennedy's season gave her a ticket to the World Cup in Canada, where she put in solid display after solid display. Playing in all five of Australia's World Cup matches, starting four of them, she won all of her tackles, won 12 out of 17 duels and won every aerial duel bar one. She had a passing accuracy of 76% after completing 134 passes out of 177 attempts. When considering her performance, it is also worth noting that Australia were in the Group of Death with Nigeria, Sweden and eventual world champions, USA.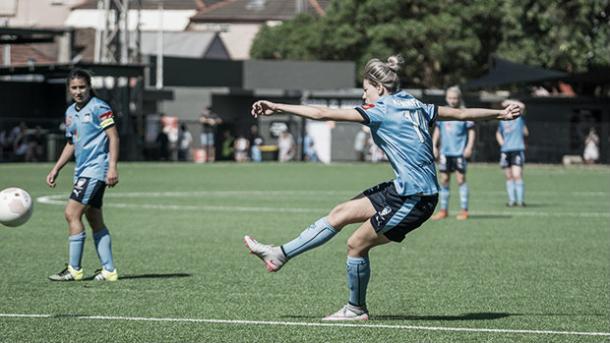 Julie Biesmans (Standard de Liége, Belgium)
This 21-year-old midfielder continues to impress each year. As a starter for both club and country, she has plenty of responsibility at a young age, and that shows in the way she plays. She is perhaps one of the most underrated midfielders around, and it is a little surprising Standard have been able to hold onto her for this long.
This year she has continued to add to her play, and her team, Standard Liege, won the joint Belgian and Dutch league, BeNe league, in the 2014/2015 season. Currently they are sitting in second place in the Belgian Super League, two points behind Anderlecht.
Sara Däbritz (SC Freiburg/FC Bayern München, Germany)
Making a move from a smaller club to the reigning champions can sometimes be a step too far for a young player, but not for Däbritz. She has continued her impressive form, and stands out as one of Bayern Munich's best players this autumn. The Bavarians dominated the Frauen-Bundesliga and this can, amongst other things, be attributed to Däbrtiz' strong displays.
She has shown this year that she has what it takes to lead the German midfield for years to come. Däbritz also featured for the German team that, disappointingly, finished fourth at the World Cup. However, Däbritz scored her first senior goal against the Ivory Coast during the group stages.
Hilda Carlén (Piteå IF, Sweden)
Other than earning her senior debut for the Swedish national team and a place in the Swedish World Cup squad, Carlen also led her club Piteå IF to an historic third place in the Swedish DamAllsvenskan. She was the standout goalkeeper in the league, and had her strongest campaign yet.
All of this also resulted in a 'keeper of the year nomination at the prestigious Swedish fotbollsgalan. However, Chelsea's Hedvig Lindahl ran away with that honour. Despite interest from several other clubs, Carlén decided to stay another year with Piteå and she will look to build on her impressive form for both club and country.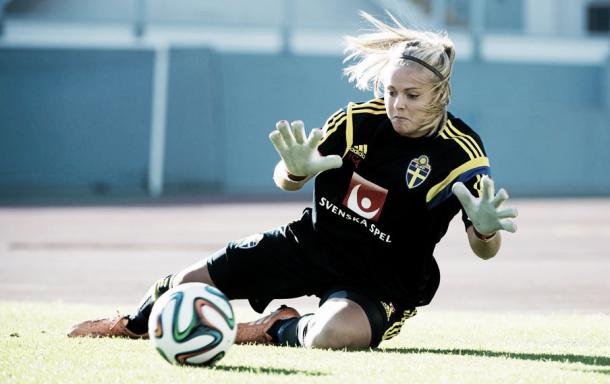 Mayumi 'Maz' Pacheco (Liverpool Ladies, England)
Liverpool had an injury-riddled season, which has meant some of their own development players have been given a substantial amount of playing time. One of them was Maz Pacheco. She is a product of Liverpool's own youth academy, and went from from under-17 player, to development player, to starting for the league team in a short space of time.
Despite her young age, she has stood out and many of Liverpool's fans believe that she was the best young player in the squad last year. Liverpool has many quality young players, so that is great recognition. The young left-back has also been getting regular call ups to various England youth sides. She has a great mentality and while this year has put her on the map, she has much more to offer in the coming years - one to look out for.
Stine Larsen (Brøndby IF, Denmark)
The 19-year-old defender has not only cemented her spot as Simone Boyes partner in the heart of the Brøndby defence, she has done the same for the Danish national team, keeping out strong players like Linköpings FC's Janni Arnth.
She has looked at home on the Danish national team during their European qualifiers and for Brøndby she has been part of a defence who has only let in six goals in 12 matches. Stine Larsen also had a strong part in Brøndby exceeding all expectations when they reached the semi-finals in the 2014/2015 Champions League. This season Brøndby, disappointingly, went out of Europe early.
Danielle Colaprico (Chicago Red Stars, USA)
Colaprico has had a strong rookie season after being picked as the ninth overall pick by the Chicago Red Stars in the 2015 NWSL Draft. Despite only being a 22-year-old rookie, Colaprico was one of the players to feature most for the Red Stars and she impressed immensely throughout the season. She did so well that she won the NWSL Rookie of the Year award, in a year where there were multiple good contenders for the award.
The defensive midfielder represented USA at U23 level when she participated in the Six Nations tournament, which she and the team subsequently won. She also scored during the tournament. She finished the year by being called up to the senior national team in November to participate in a training camp ahead of the USWNT's victory tour.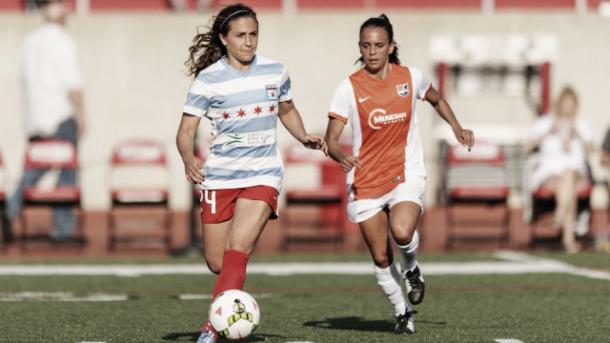 Cecilie Høegh Dekkerhus (Stabæk FK, Norway)
Dekkerhus represented Norway at the under-19s European Championships in Israel. And while Norway's showing wasn't the best, it did showcase Dekkerhus' talents. In addition to this, she has had a strong season with Stabæk and was named the best newcomer in the Toppserien by the clubs. This was her first full season in the best Norwegian league, and she has taken it by storm.
If her last name sounds familiar, it is because she is the sister of Cathrine Høegh Dekkerhus, who has represented the senior national team on several occasions. She was also highlighted as one of the candidates for Statoils talent price, which is given to the biggest talent in Norwegian football (men and women). Quite the personal year for the young Norwegian.
Griedge MBock Bathy Nka (Olympique Lyonnais, France)
In the summer of 2015, Mbock moved to Lyon from Guingamp for a fee of €100,000. In the women's game, this is a hefty sum. Especially if the player is someone who has been largely untested on the big stage. No-one could doubt Mbock had the ability to become a star, but it has surprised many how seamlessly she has fitted into Lyon's back three.
She has looked like she played there for years. Mbock has showed that she and Wendie Renard are the future of the French defence, and that she is one of the best young centre-backs in the game. In addition to her accomplishments at Lyon she was at the World Cup in Canada, but didn't feature.
Garazi Murua Astorkiza (Athletic Club de Bilbao, Spain)
Murua returned home after a stint in America with East Tennessee State University, to play for Athletic B. It didn't take long before she was moved to the A team. Here she has done well, and keeps showing over and over again what potential she has. She has cemented herself with the A team quickly and has captured the starting spot. Athletic is sitting in first place in the Spanish Primera division, after winning all their matches and only drawing against Barcelona.