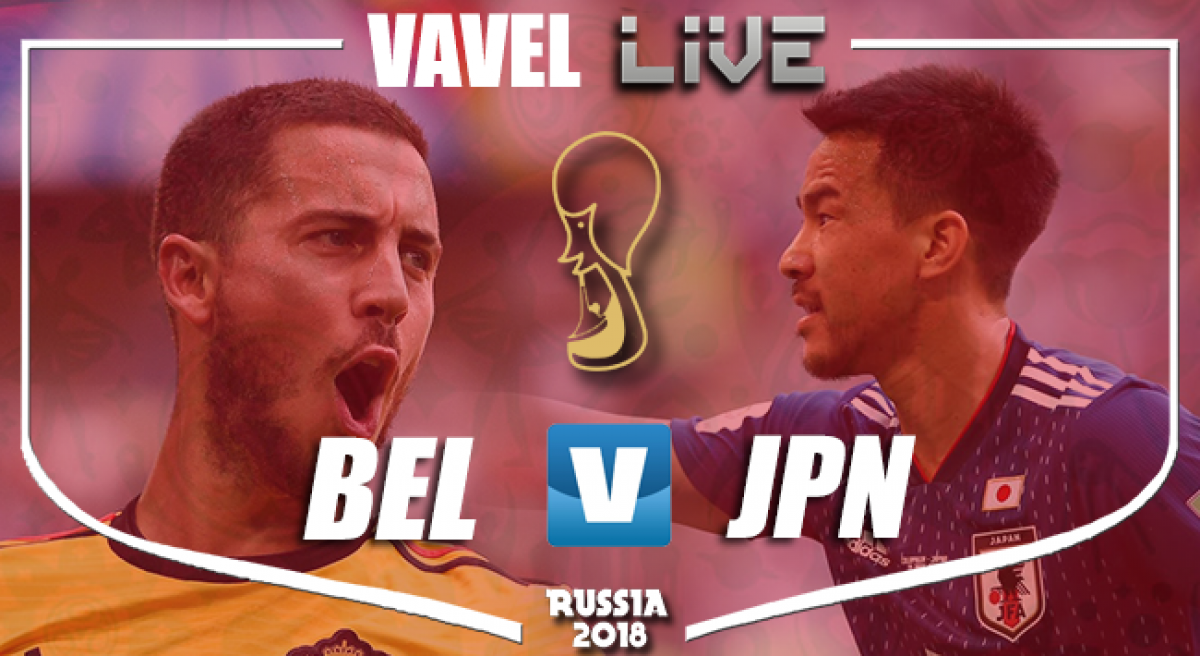 On that note, I will leave it there. Thanks for follow, good night.
Akira Nishino's side have shown plenty of spirit and fight in this tournament, sprinkled with a bit of luck and cunning, surprising a lot of people along the way. They deserved more from tonight, but they can look forward to next year's Asian Cup with confidence.
That is the first time Belgium have won a World Cup knockout match in 90 minutes, to secure a third World Cup quarter-final. They will need to step up another level for that though - Brazil lay in wait after their win over Mexico earlier.
An incredible end, and so, so cruel on Japan. They were brilliant, but Belgium were able to utilise their extra quality to find a way, even if Vertonghen, Fellaini and Chadli weren't the most likely scorers. Two superb subs from Martínez to bring the latter duo on.
FULL TIME. Belgium 3-2 Japan.
90+4: Sensational. Belgium break at breakneck speed. Just three men touched it after Courtois rolled it out. Meunier crossed to Chadli, who places it past Kawashima. 3-2!!
GOAL BELGIUM!!!!!!! CHADLI WINS IT!!!!!!!!
90+4: Honda then on the corner, taken by Courtois.
90+3: Or was it? He goes for goal, it's on target but Courtois parries it wide.
90+2: Kompany has been superb on his full return from injury but he's given away a free-kick, a little too far out for a shot from Honda.
90+1: Four minutes for either side to prevent extra time. The Japan corner is quickly cleared.
90: A Vertonghen long throw, but it only finds a Japanese head. Then, Kagawa to Nagatoma, a cross, and off the face of Witzel. Courtois has to put it wide.
88: De Bruyne finds Meunier out on the right. An early cross finds no-one, whilst Lukaku gives away a free-kick inside the box.
87: Belgium look for an opening, with Vertonghen from distance ending up with the shot. It's saved by Kawashima, before Fellaini is given offside.
86: DOUBLE SAVE KAWASHIMA! First Chadli connects with his head to a cross, but it's kept out by the keeper. Then Kompany heads and he puts the ball over the bar!
84: A chance for Honda at the near post, but Kompany does well to put in the tackle. The resulting corner ends up in the hands of Courtois.
81: Double change for Japan. Shibasaki is replaced by Hotaru Yamaguchi, whilst Honda makes his inevitable appearance, at the expense of Haraguchi, whose goal opened this game up.
80: De Bruyne has more big men to aim for with his corners, but like much of the first half he finds Kompany. Eventually it's out for another corner, which is wasted.
78: At the other end a cross comes in from Chadli, Lukaku tries to head in but Yoshida proves enough of a nuisance, and it's a Japan goal kick.
77: Sakai does well to beat Chadli and put a cross in. It's headed away, with Kagawa eventually giving the ball back to Courtois.
75: Kagawa to Inui, his effort his blocked, Nagatomo's attempt to put it back in ends up out for a throw.
74: The referee has his finger to his ear. Soon allows the corner to be taken. Belgium, don't make the most of it at first. Hazard eventually crossed back in, and Fellaini wins the header to score. If you take it back a couple of minutes, both substitutes played a part in that goal. 2-2!
GOAL BELGIUM!!! FELLAINI MIGHT HAVE SAVED THEM!!!
73: Chadli won the ball back and Belgium are quickly down the other end. De Bruyne gets a shot away but a Japan defender, Shōji, puts his body on the line and it's out for a corner.
72: Japan break quickly. Nagatomo crosses on the left to Ōsako but it's cleared for a corner, played short. Ball eventually lost.
69: Japan struggle to clear a Belgium corner. Just as it seems to have been dealt with, Vertonghen tries to head it back into the middle. Instead it loops over Kawashima and suddenly Belgium have a goal back!
GOAL BELGIUM! 1-2.
68: Yoshida beats Lukaku to a Munier cross. His Premier League experience has been vital tonight, he knows how to deal with these players.
67: Japan get a corner, not sure if all of the ball was over though. They play it short with the eventual ball into the box a poor one.
66: Hazard back to Meunier just outside the box, he shoots over.
65: Here come the changes. Mertens and Carrasco off for Fellaini and Chadli.
64: Japan close again. Sakai with the cross, Courtois saves and Haraguchi ends up heading wide.
63: Cometh the hour, cometh the man. Marouane Fellaini getting ready to come on. Nacer Chadli too.
62: Lukaku!! Meunier crosses into the box, the striker meets it - and he puts it wide!
61: Belgium look shell-shocked, they're at a complete loss trying to work out how to get out of this one.
59: Ōsako out to Haraguchi on the right, with his cross out for a corner off the head of Witzel.
57: Hazard hassles on the ball, finds Carrasco but he over hits his shot.
55: Real Betis have already bagged Inui on a free transfer for next season. What a bargain, he's been sensational in this tournament.
52: Blimey. Kompany deals with a ball into the box, but Kagawa does excellently to control the rebound. He passes it to Inui, with a sensational struck into the right side of the net. Japan are 2-0 up!
GOAL JAPAN!! INUI!!!! 0-2!!!!!!
51: A cross from Meunier, but taken by Kawashima.
49: HAZARD HITS THE POST. Belgium quickly forward after the restart, and the Chelsea man strikes Mertens's cross into the woodwork. A superb hit, though.
48: Well, well, well. It's a mistake from Vertonghen, trying to intercept a log pass, that allows Genki Haraguchi through on goal, and he keeps his cool to put the ball past Courtois! 0-1.
GOAL JAPAN!!!!!!
46: We're back underway for the second half.
Intriguing first half, with Japan doing well to hold off Belgium overall. Few clear cut chances for the European side, whilst Japan have given as good as they've got when they had the chance.
HALF TIME. Belgium 0-0 Japan.
45+1: One added on. Mertens and Lukaku share passes, the former curls it in but it's saved by Kawashima. He looked offside.
44: More Belgium play resisted, Japan come forward. Inui to Nagatomo on the left, and his cross is spilled by Courtois, although he claims it at the second attempt. In fact it was Yūya Ōsako who got a touch on the cross, but he was offside.
42: Dangerous cross from Carrasco that nearly finds Meunier, but Nagatomo gets his head to it first.
41: After a little delay De Bruyne puts the free-kick long into the box. Kompany meets it, but Japan clear again as another set piece goes to waste.
40: A first yellow card of the evening. Shibasaki brings down Hazard and goes into the box.
38: Another corner for Belgium, won by Lukaku. De Bruyne finds the head of Vertonghen, but that's as good as it gets, again.
36: Hazard into the box, but he's blocked by Yoshida. De Bruyne then finds Witsel but his shot shows no signs of dipping as it sails over.
35: End-to-end as Belgium attack, before Gaku Shibasaki goes long towards Inui. Belgium deal with the danger though.
34: A long ball from Japan tries to find Gōtoku Sakai, however Courtois claims the ball on the edge of the box.
31: After that prolonged spell of Belgium pressure, Japan are able to get forward. Kagawa gets the better of a defender, Nagatomo puts in a cross but Thibaut Courtois saves an Inui header.
28: That finds Kompany at the far post, but with Kawashima awash he can't put it away find anyone with his acrobatic cut back.
27: Hazard with a shot - kept out by Kawashima. Belgium starting to look ominous. Mertens puts it back into the box, and Yoshida clears dangerously for a corner.
26: Hazard on the left, his cross finds Mertens, he passes to De Bruyne, but it's a miss-hit from him.
25: Just as I say that, Mertens finds Lukaku on the edge of the six-year box. He can't control the ball though and Kawashima can breathe a sigh of relief as he claims the loose ball.
24: A poor ball from Carrasco sees another promising Belgium attack come to nothing. Eiji Kawashima is yet to be tested.
22: It's dangerous from De Bruyne, but he can't quite find Mertens.
21: Japan holding Belgium at play. There's another chance for Lukaku just outside the box but Yuto Nagatomo does just enough. Another corner.
18: De Bruyne puts it straight in this time. He finds Kompany again but he can't control it and it's out of play.
17: De Bruyne plays it short, before getting the ball back in and dinking it into the box. Kompany gets his head to it, but Japan clear. A few moments later, Meunier finds Lukaku. His shot deflects out for another corner.
16: Hazard now gets the ball in the box. He gives it to Axel Witsel outside the box, whose shot is deflected out for a corner.
14: They give the ball away though to allow Hazard to put on the afterburners. Fortunately for them, the move breaks down.
13: Japan clearly trying to get the ball to Inui on every possible occasion. Hasebe looks for him over the top but there's too much weight on the ball.
11: Belgium forward again with De Bruyne trying to find Mertens, the ball goes out of play though.
10: Another promising cross from Inui on the left. Kompany heads it away from danger. Gen Shōji from outside attempts a shot but nowhere near danger.
9: Belgium then get forward though. Dries Mertens tires to unlock Carrasco without much success.
8: Kagawa finds Inui once more. He comes into the box but Belgium repel the danger. Japan playing on the front foot here, keeping the Belgians on their toes.
7: A ball to Inui out on the right for Japan, but his cross is cleared by Toby Alderweireld.
4: A good ball from Meunier doesn't lead to much. Hazard then wins a free-kick upfield.
3: Belgium now look to get going after that false start, passing it amongst themselves at the back.
2: Kagawa forward again but this time's he given offside.
1: An early shot for Kagawa, but he puts it wide after a mistake from Yannick Carrasco.
1: 10, 9, 8, 7, 6, 5, 4, 3, 2, 1, and we're underway.
Both teams are in their traditional colours - Belgium in red, Japan in blue.
We're approaching time for kick-off, with the players out in Rostov.
That is the only change from the Belgium team that started the first two games, and makes ten changes from the England game. Japan are fielding the same 11 from their first two matches.
Both teams are pretty much as expected, with Kompany getting the nod over Boyata for his first start of the tournament.
Japan (4-2-3-1): Kawashima; H. Sakai, Yoshida, Shōji, Nagatomo; Hasebe, Shibasaki; Haraguchi, Kagawa, Inui; Ōsako.
Belgium (3-4-2-1): Courtois; Alderweireld, Kompany, Vertonghen; Meunier, De Bruyne, Witsel, Carrasco; Mertens, Hazard; Lukaku.
Welcome back, the team news is in. There's no real surprises though...
That is all for now, I will return shortly once the teams for tonight's game in Rostov have been confirmed. Kick-off is at 19.00 BST (21.00 local time). In the meantime check out the full match preview from David Comerford here.
Several players on both sides are one yellow card away from miss a potential quarter-final. Of those likely to start, Jan Vertonghen, Thomas Meunier, De Bruyne, Eiji Kawashima, Hasebe, and Inui are all on a disciplinary tightrope.
Veteran Keisuke Honda will likely remain a substitute, as he had through the tournament. However he has thrived in that role, setting up the winner against Colombia and becoming the first Japanese player to score at three World Cups with his equaliser in the Senegal match.
Like his counterpart, Akira Noshini had made six changes for Japan's last game, and these are likely to be reverted with key men such as Makoto Hasebe, Takashi Inui and Shinji Kagawa all set to return.
Alternatively, Martínez could choose to give a first start to Vincent Kompany, who made his return from injury in the final 15 minutes of the game against England. He would come in at the expense of Boyata. Thomas Vermaelen has recovered from the blow to the eye he suffered in that game, but he is expected to only be a substitute once more. Januzaj will miss out, as confirmed on Sunday, due to a bruised knee.
As for the team news, Belgium will revert to their strongest line-up after making nine changes against England. Thibaut Courtois and Dedryck Boyata can expect to be re-joined by the men who started alongside them for the first two games, including Lukaku, Eden Hazard and Kevin de Bruyne.
However, he also feels that "it will be more difficult for our opponents if we play to our strengths," which he believes is "our speed." He also thinks it is important that they "take the initiative" to Belgium, as if they allow them to "play to their strengths it will be tough for us."
Speaking to The Telegraph ahead of the game, Japan and Southampton defender Maya Yoshida admitted the defending set pieces could be a problem for them. "It's going to be a difficult area for us," he revealed, calling it "one of our weak points that we need to improve a lot."
The Spaniard also spoke of the mood in the camp. "I think there is a belief," he said, referring to a 22-game unbeaten run, with their only defeat under him coming in his first game in charge against Spain. "There is a real understanding among the players," he continued, "it's an opportunity to face the best teams in the world."
The Manchester United striker is in the race for the golden boot with two goals in each of the games he played in, but missed the game with an ankle problem, although he would probably have been rested anyway. Roberto Martínez confirmed on Friday though that is fully fit. "He trained today, and has no problems," he confirmed.
The two sides have met in a World Cup before. In 2002, when Japan were joint hosts, they drew a group stage meeting in Saitama 2-2 with all the goals coming in 20-minute spell in the second half. Japan actually have the edge over Belgium overall, with two wins, one further draw and one defeat. That came last November, with Romelu Lukaku scoring the only goal.
To add to the intrigue, Senegalese referee Malang Diedhiou has been put in charge of this match, with countrymen Djibril Camara and El Hadji Samba as his assistants. The spotlight will be on them for sure, especially if any contentious decisions – or debatable yellow cards – go against Japan.
That game ended in farcical fashion though, with neither side willing to compete in the final quarter-of-an-hour as Japan looked to retain their 'fair play' advantage, eventually going through having received less yellow cards than Senegal, who they had finished deadlocked with in the Group H table.
Japan's passage was less straightforward. They surprisingly beat Colombia 2-1 in their opening game, although the South Americans played most of the match with ten men. That was followed by an entertaining 2-2 draw with Senegal, before a 1-0 defeat to already-eliminated Poland.
Belgium won all three of their group stages matches, with comfortable victories over Panama (3-0) and Tunisia (5-2) followed by a narrow 1-0 win against a much-rotated England on Thursday night, Adnan Januzaj's goal securing a result that saw them into the supposedly trickier half of the draw.
It's set to be a balmy evening in the south-western tip of Russia, with these two sides looking to reach the quarter-finals, where they will meet Brazil. Belgium will be looking to make it consecutive last-eight appearances with a win here, whilst for Japan, a surprise victory would see them into that stage for the first time, after two previous failed attempts, in 2002 and 2010.
Good evening and welcome to VAVEL UK's live coverage of the sixth 2018 FIFA World Cup last-16 tie, between Belgium and Japan, at the Rostov Arena in Rostov-on-Don. I'm James Rees, thanks for joining me.