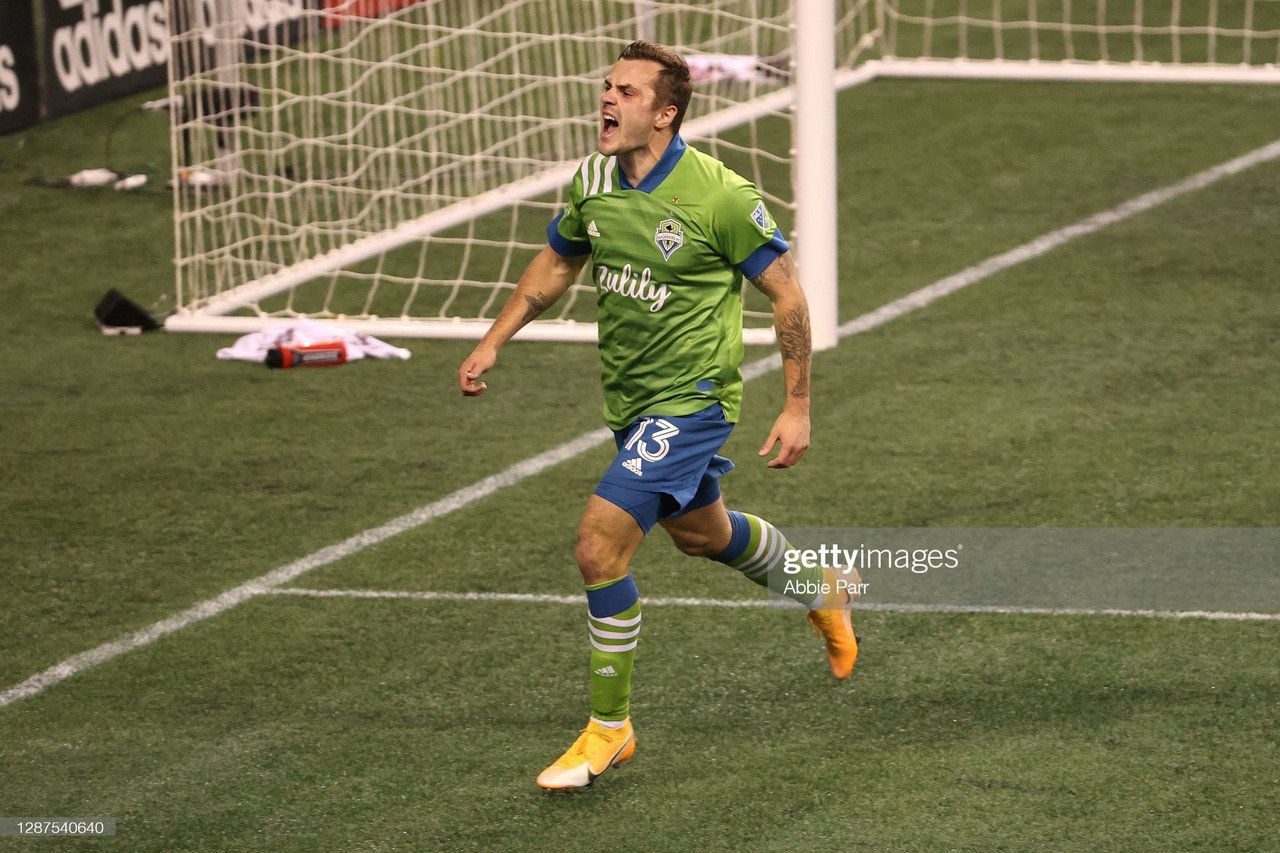 On Friday afternoon, English Championship side Swansea City confirmed the signing of United States international Jordan Morris. Coming to the club on loan from Seattle Sounders, the winger had been one of the best players in Major League Soccer, winning two titles in only four years in the league.
Now, he will try his luck in the UK as he joins a Swansea team pushing for promotion. It's a trial by fire for sure, but if things go as well as they potentially could, then the move will be a success for everyone involved.
Swansea City
As mentioned earlier, the Swans are in the midst of a promotion push.
Ending this weekend sat in second place, Swansea have done remarkably well this season. Some thought they wouldn't recover from a heartbreaking loss in the play-offs last year, but they have bounced back and now look better than ever.
Jamal Lowe and Andre Ayew have been scoring at a consistent rate, while the defense has been incredibly solid. Conceding the lowest number of goals in the league, on-loan goalkeeper Freddie Woodman has begun to live up to his potential. Plenty of credit also needs to go to manager Steve Cooper, as he's kept this team organized and efficient.
The work is far from finished, though. Just over halfway through the season, there is still a lot of games left to play. They will only continue to mount as the year goes on, and the pressure will rise each and every week.
That is why getting Morris is such a clever bit of business. He likely won't light up the league upon his arrival, but he doesn't need to. The American has been brought in to add depth to the squad, which will make rotating the lineup in the future much easier.
It's not like he's just another body either. As Morris has proven throughout his career, he can make something out of nothing in the blink of an eye. Incredibly fast, he usually uses his blistering speed to run into space behind the backline. He's much more than a pace merchant, as he's an underrated finisher as well.
If Morris can acclimate to the Championship, then he'll be able to pitch in with a handful of goals and assists which could prove crucial in the fight for a Premier League place.
Morris himself
As mentioned earlier, Morris had a stellar MLS career. Picking up several individual and team honors during his brief tenure, he went from strength to strength even though injuries nearly derailed his rise before it really got going.
However, he had done pretty much everything there was to do at home. Morris had won the title on multiple occasions, and was named in the MLS Best XI this past year. He had helped build a dynasty in Seattle, but it was time to move on.
That is why now was an ideal time for him to make the jump overseas. Playing abroad is one thing, but going to an elite team in the Championship is another challenge altogether. One of the most physical leagues in all of Europe, Morris is going to be facing off against players who are faster, stronger, and better on the ball than those he was up against in MLS.
He will also be under immense pressure, which is something he might not be used to. Major League Soccer has grown into a quality league, sure, but football in America is still lacking that certain atmosphere. The supporters aren't nearly as demanding as they are in the UK, so players can sometimes get away with poor performances.
That won't happen at Swansea though. If Morris is not living up to expectations, then fans are going to let him hear it. He will be fighting for a spot in the team every single game, so any drop off in form could cost him his place since the Swans cannot afford to drop many points in such a competitive division.
As the saying goes, pressure makes diamonds. This move will be a huge test for Morris, but if he can pass it, he could evolve into a high level player.
The USMNT
A reason why this move was such a well received one online was because it was another example of a United States men's national team player going abroad.
In the past, Americans were often staying home. They were happy enough in their domestic league as they knew they would still get called up to the national team if they did well in MLS.
That is no longer the case, as more and more players have been making the move abroad. There have always been Americans playing in Europe, like Clint Dempsey and Tim Howard, but things have really kicked into a higher gear as of late. Christian Pulisic has been credited with starting the new wave, and the likes of Weston McKennie, Tyler Adams, Sergiño Dest, Josh Sargent, Giovanni Reyna, and many more have since joined in on the fun.
Now, it is very likely that the next USMNT starting lineup will be made up entirely of European based players. That is only good news for American fans, as having these players being tested abroad will just make them better for the national team.
That is likely been a key factor in Morris following suit. He could have stayed in MLS and continued to rack up achievements and awards, but he would have eventually hit a ceiling in his growth. If he's not challenging himself, then he's not getting better. With more and more Americans making the jump overseas, it would only be a matter of time until the attacker lost his spot in the U.S starting lineup to a hungrier youngster.
Thankfully for the USMNT, Morris is not content with just staying home. He is ready to take a chance, and that should only make his national team career more successful.
Major League Soccer
Even though the league is losing one of it's biggest names, MLS can still benefit from this move.
Marketing itself as the perfect place for young players to develop, there's plenty of truth to that statement. Alphonso Davies is the prime example of this, as he graduated from the Vancouver Whitecaps academy before shining in MLS and eventually moving on to Bundesliga side Bayern Munich, where he won the treble last season.
There's plenty of others who have followed a similar path. Newcastle United playmaker Miguel Almiron came from Atlanta United, while Jack Harrison started his professional career with NYCFC before going to Manchester City and ending up at Leeds United.
There are also a few youngsters who have recently left the league that could make an impact in Europe. Brenden Aaronson has joined Red Bull Salzburg, while Belgian league powerhouse Genk have signed centerback Mark McKenzie.
If MLS can continue producing talents like these then more and more clubs across the globe will be keeping an eye on the league, and the more players that are sold, the more money Major League Soccer makes as a result.
Now, they will hope that Morris can do the league proud.