Belgium boss Marc Wilmots expects the "excellent" Eden Hazard to set an example for the rest of his teammates and for his country in the UEFA European Championships in France this summer.
The Chelsea winger will take the captain's armband in place of injured skipper Vincent Kompany having suffered an incredibly below-par season in the Barclays Premier League.
The 25-year-old looked a shadow of the same player who won the 2014-15 PFA Player of the Year a year earlier as the Blues, reigning league champions, finished a disappointing 10th and missed out on European qualification.
Nevertheless, Hazard ended the campaign in stronger fashion and scored four goals in the final five games of the campaign, ending the year with just six goals across 42 appearances in all competitions.
Superb solo goals against Tottenham Hotspur and Liverpool in the run-in suggested he was regaining the kind of form that once made one of the most-feared forwards in the country.
And Wilmots believes his improved form towards the climax of the season means Hazard can be a pivotal player for the Red Devils next month.
Belgium boss confident Hazard can lead by example
Asked about Kompany's absence, and whether that would prove troublesome for the team, the Belgium coach told journalists that his squad has "several leaders" and said that there are seveal players "who do it in different ways."
"But Eden is Eden," continued the 47-year-old, who earned 70 caps for Belgium and scored 28 goals between 1990 and 2002, insisting that players "become a leader with their feet."
On what he expects of a leader, Wilmots said that he looks for someone "to put his foot on the ball" when the team needs him and someone who "succeeds in bringing the team with him" and has "personality on the pitch."
He said that Hazard "needs to retain his personality" but declared that he will "become much more of a leader" throughout his career, adding: "Just like Kevin De Bruyne and everyone else."
Hazard and co. can cope with pressure, says Wilmots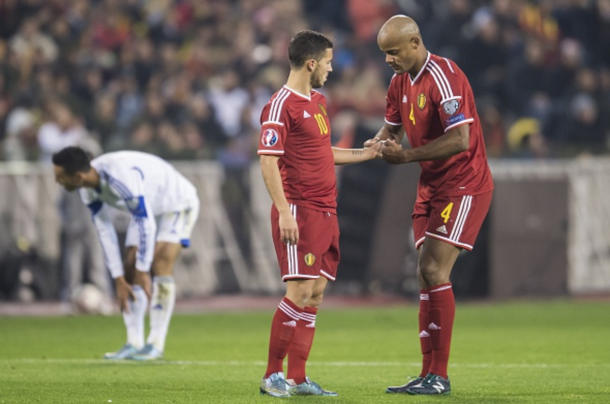 Although Belgium have been touted as potential challengers for the title in the build-up to the tournament, Wilmots says they are "outsiders" behind the likes of France, Germany and even holders Spain.
With fixtures against Italy, Republic of Ireland and Sweden in Group E - the Red Devils will face a tough test from the off - but Wilmots believes Hazard and his 23-man squad can deal with the pressure and expectation.
The manager insisted that Hazard's "not [done] bad already" if you "look at everything he's already done" whether that be "in France or in England."
Wilmots said that he feels "a huge desire" in Hazard, but warned that it "shouldn't be too big a desire" because "you shouldn't force things" and the former Lille attacker "needs to remain natural."
Hailing him "an excellent footballer", Wilmots explained that Hazard wants to "bring joy to his country and to enjoy himself with the national team" and said that what he's "expecting" from the stand-in captain.
"He doesn't need to be a captain who's going to shout," he said. "I spoke about it today - 'let your feet do the talking.' It's better than any speech."
Young defender Engels out through injury
Wilmots recently learned that defender Bjorn Engels will miss the tournament with a groin injury. The 21-year-old was included in the provisional 24-man squad, but will be sidelined for three or four weeks.
Engels had played the full 90 minutes for Club Brugge as they thrashed Anderlecht 4-0 last Sunday to wrap up the Belgian title, but picked up a knock to miss Thursday's penultimate clash with Zulte Waregem.