22:54 - You can find me on Twitter @Danialkennedy95 and until next season have a great summer!
22:53 - Thank you for joining me for the biggest night in club football and hope you enjoyed the game between Real and Atletico Madrid at the San Siro
AND REAL MADRID LIFT THE TROPHY
Here is Madrid celebrating the winning penalty as they are about to lift the trophy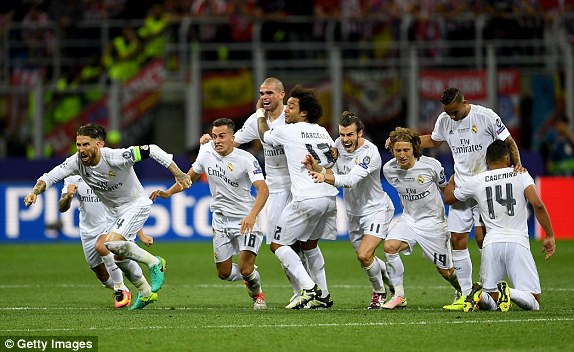 22:50 - All the players are starting to get into position to lift the trophy in front of the San Siro crowd
22:49 - Zidane leads his winning team to collect their medals and their 11th European title
22:48 - The emotion of the occassion and defeat is clear on the faces of the
22:47 - Simeone leading his players up to collect their medals
22:45 - Atletico on their way up to collect their runner up medals along with the referee's as they are clapped by the Real players
22:42 - Ronaldo celebrating his winning penalty as we await the trophy ceremony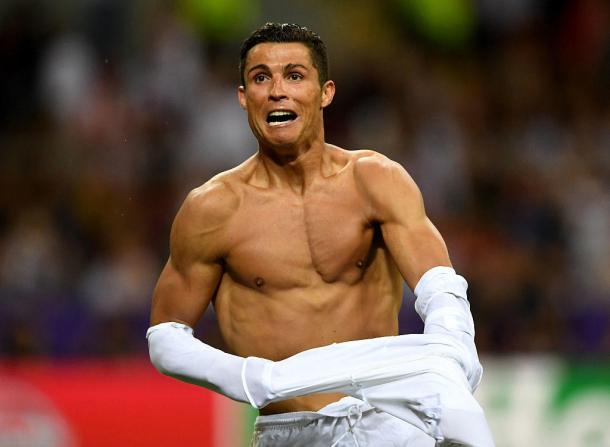 Simeone claps the support of the Atletico fans who have been excellent throughout
Real will collect their 11th European title as their name is etched on the trophy
Atletico were arguably the better side on the night but Juanfran's miss proves to be difference and the white side of the Spanish capital will be in celebrations tonight
Ronaldo made no mistake as he sent Oblak the wrong way and REAL ARE CHAMPIONS
REAL MADRID WIN THE CHAMPIONS LEAGUE WITH RONALDO'S PENALTY
Ronaldo now
POST Juanfran hits the post advantage Real
Juanfran up next
4-3 as Oblak goes the wrong way
Ramos up next
3-3 as he sticks it in the corner great shootout so far
Saul is next
3-2 very composed finish from the Welshman
Bale is next for Real
2-2 great penalty as he sticks it in the roof of the net
Gabi up next
2-1 Real as Marcelo sticks it in the side netting
Marcelo steps up next
1-1 makes up for his earlier miss and slots home
Griezmann steps up for Atletico's first penalty
1-0 Real right in the bottom corner
Vasquez steps up for the first penalty
Real win the toss and the penalties will be taken at the Real end
Quick recap of the game as Sergio Ramos gave Zidane's side the lead in the first half and looked to be heading for the victory before Carracas equalised which was followed by a pretty uneventful extra-time period
Just waiting here for the orders to be made for this shootout
We are going to penalties here in the San Siro as Simeone urges the fans on
FT - Real Madrid 1-1 Atletico Madrid
121' - One final chance as Danilo wins a corner from Hernandez
120' - Two minutes added time before penalties here at the San Siro
118' - Ball in from Marcelo finds Vasquez but his effort is blocked by Hernandez
115' - final sub from Atletico as Partey comes on for Koke as Ronaldo fires a free kick into the wall
113' - Lot of players going down with cramp as the game goes on with Koke been the latest victim
110' - Foul here on Gabi from Pepe who receives a yellow card for his troubles
107' - Sub for Atletico with Luis coming off for Hernandez
106' - Casemiro trying one from distance but well over
105' - Second half of extra-time underway with Atletico kicking off
22:03 - Not much to talk about from that 15 minutes with the best chance falling to Ronaldo but still level at this point and still another 15 to go
HT - Real Madrid 1-1 Atletico Madrid
104' - Carrasco managed to slither through but Pepe gets across and Griezmann tries the bicycle kick from the resulting corner
100' - Isco leaves for Bale who comes flying in but once again effort is blocked five minutes in this first half still 1-1
97' - Ball in from Koke is cleared by Danilo still 1-1
94' - Isco corner and Ronaldo has a free header but straight into the arms of Oblak
93' - Bale tries it from distance but well wide of the mark
92' - Danilo booked for his tackle on Carrasco
90' - Real kick-off first half of extra-time
First half of extra-time is about ot get underway at the San Siro
21:42 - There will be another half hour at the San Siro after Carrasco equalised after Ramos had opened the scoring and both sides will be looking to make a difference in extra-time
FT - Real Madrid 1-1 Atletico Madrid
92' - Ramos yellow carded for bringing down Carrsaco and Gabi has also been booked
90' - three minutes added time at the San Siro
87' - Ball across from Marcelo but nobody can get a touch still 1-1
86' - Corner fro Modric finds Bale but his header is just over
85' - Five minutes to play as Bale looks for near post but blocke by Godin
83' - Comes to Torres but can only find the side-netting
ATLETICO ARE BACK IN IT !!!! After almost conceding Simeone's side go up the other end and equalise as Juanfran's volleyed cross finds Carrasco who can't miss from a few yards out and gets Atletico back in the game 1-1 !!!!!!!!!!
GOAL REAL MADRID 1-1 ATLETICO MADRID
78' - CHANCES Bale through before Ronaldo takes over but his shot is blocked comes back to Bale but his effort is blocked on the line
77' - Shot early from Ronaldo but straight at Oblak
76' - Benzema coming off for Vazquez
75' - Just 15 minutes left at the San Siro and Zidane are about make their final change of the night
73' - Ball in from Luis finds Torres but pressure from Ramos is well wide of the mark
71' - Kroos coming off for Isco still 1-0 Madrid
71' - Isco ready to come for Zidane's side with 20 minutes to play
70' - SAVE Counter from Real as Benzema is put through out wide but Oblak is there to block the Frenchmans effort and that is followed by a simple catch from Bale's cross
69' - Ronaldo skips past one defender but Godin is there to clear any danger
67' - Corner wasted as Clattenburg blows up for a foul committed by Pepe
67' - Free-kick from Bale in a good position is deflected wide of the mark
67' - Picture of Griezmann's penalty miss which looks increasingly signifcant as the minutes roll by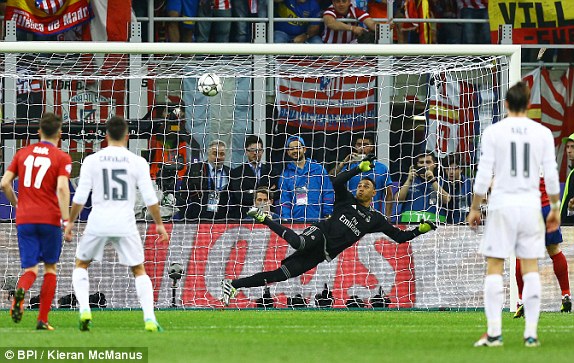 63' - Little over 25 minutes until Madrid claim their 11th European cup but Atletico are still looking dangerous
61' - Ball to Koke on the edge of the area but blocked
60' - Torres picks up a yellow for his tackle on Ramos an hour gone and Atleti are beginning to dominate but it is Real who still have the advantage
58' - GREAT CHANCE great ball in from Atletico finds Saul who tries the volley but it curls just wide of the mark
54' - Bale bares down on goal but his effort was just wide
53' - JUST WIDE poor defending from Real as the ball comes to Savic but is just wide
51' - Sad to see Carvajal in tears as he comes off for Danilo
50' - Carvajal injured and it seems he will be coming off
49' - Another free kick from Kroos..... but cleared by Atletico
47' - How important will that miss be on the outcome of the game
MISS GRIEZMANN CLATTERS THE CROSSBAR
46' - Ball from Griezmann looks for Torres on the turn and is brought down by Pepe
46' - PENALTY ATLETICO
45' - Back underway at the San Siro with Real Madrid kicking off
20:51 - sub for Atleti at the beginning of this half with Fernandez coming off in place of Carrasco
20:50 - Players walking back towards the pitch ahead of the second period
20:38 - Second-half coverage will come to you in a few minutes here on VAVEL
20:37 - Beside the goal but sides have had decent opportunties with Casemiro and Griezmann having a dozen half-opportunties towards the break but it is ultimatley Ramos who has said the final say so far
Advantage to the white half of Madrid with Ramos' header putting Real ahead despite the suspicion of offside
HT - Real Madrid 1-1 Atletico Madrid
45' - Just the one minute aded time here at the San Siro
43' - Bale bundled over but Clattenburg has waved away his appeals
42' - Ball to Griezmann turns towards goal but his effort was just wide Atleti starting to creep into the game
41' - Little under five minutes until half-time here and it is looking likely that Real will go into the break ahead thanks to Ramos' effort
38' - Another effort from Griezmann but rolls into the arms of Navas
34' - Ball over the top to Griezmann from Gabi and his volley is well saved by Navas but flag is up for offside. Ten minutes until half time
33' - Griezmann tries it but it is straight into the arms of Navas not really much for Atleti at the moment with little over ten minutes until half-time still 1-0 Real
31'- Benzema shakes off Godin and gets ball in from the byline but Oblak gets a big hand to it and is eventually cleared
30' - Ball in from Koke looks for Godin but it was easy for Navas to let it go behind
29'- Ball into Griezmann looks to get back into area but blocked by Ramos
26' - Ronaldo manages to get to the byline and get a ball in but his effort is easily collected by Oblak
25' - Ball comes out to Juanfran but he mistimes the effort massivley and it flies over the crossbar
24' - Ramos celebrating his goal which is currently the difference between the sides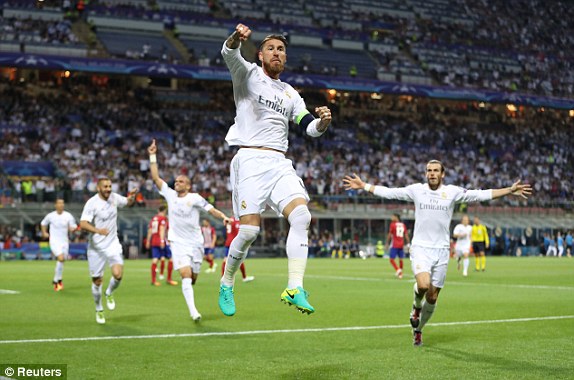 20' - Real are in cruise control here and seem comfortable here 1-0 Real
16' - REAL HAVE TAKEN THE LEAD Kroos free-kick is flicked on by Bale and Ramos is there to stick it between the legs of Oblak ADVANTAGE REAL
15' - GOAL Real Madrid 1-0 Atletico Madrid
10' - Another challenge as Carvajal goes in heavy and late on Griezmann and Simeone makes his feelings known and Carvajal picks up the first yellow of the game
9' - Real have settled in well and Kroos tries a shot which is deflected it behind and the resulting corner comes to nothing
8' - Torres pushed over by Ramos and another foul given away
7' - Foul on Ronaldo in the middle from Juanfran
6' - BIG CHANCE Bale free-kick finds Casemiro who looks to turn it in but Oblak produces a excellent save with his feet to keep out the effort
5' - Gabi brings down Bale and Clattenburg whistles for the free-kick
4' - First half chance as Koke tries the volley but dribbles into the arms of Navas
3' - Torres makes his presence felt on Pepe early on think we are in for a hot contest
2' - Ronaldo's ball into the area cleared by Godin
1' - First foul of the contest from Koke looking to win the ball from Casemiro
1' - We are underway! with Atletico kicking off the contest
19:45 - Players out on the pitch and the classic music has begun GAME ON
19:41 - The players are currently in the tunnel ready to go out onto the pitch
19:38- Alicia Keys currently entertaining the crowd in the San Siro in the games opening ceremony minutes from kick-off here
19:33 - A collective of Atletico Madrid players warming up on the San Siro pitch with a little over 10 minutes until kick-off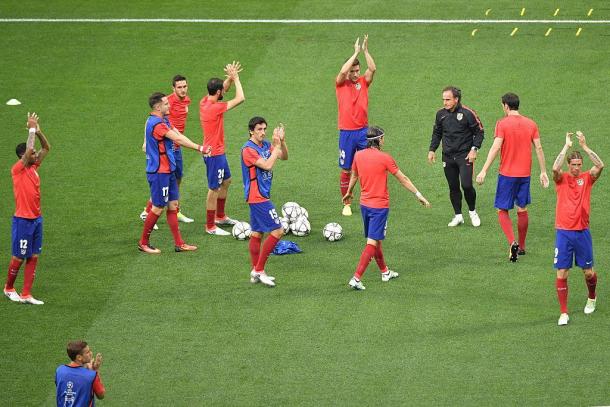 19;27 - Cristiano Ronaldo training ahead of tonight's game with little over 15 minutes until kick-off in Italy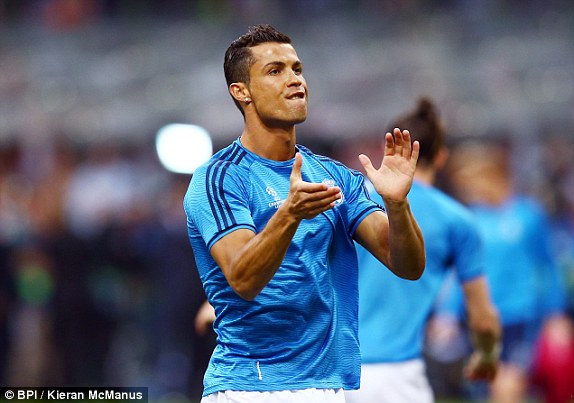 There will be a Spanish winner of the Champions League/European Cup for the third consecutive season, the longest run for a single nation since English clubs won it six times in a row from 1977 to 1982.
Cristiano Ronaldo has scored the same amount of goals as the whole of the Atletico Madrid team in the Champions League this season (16)
Real Madrid have reached the Champions League/European Cup final for the 14th time, more than any other team.
Real Madrid have kept 10 clean sheets (in 12 games) in the Champions League this season, which equals the record in the competition (Arsenal in 2005/06).
Atletico have won seven of their last 16 games against Real Madrid, in all competitions
19:15 - Just 30 minutes until kick-off with the players out on the pitch warming up so before kick off, here are some facts ahead of the game
19:08 - This is not the frist time that these two sides havemet at this level having played eachother in the 2014 final with Real winning 4-1 and Diego Simeone will be looking t avoid a similar fate this time aorund
19:07 - Ronaldo starts at the San Siro despite seemingly picking up an injury midweek but it is the starting XI that was pretty much expected with Dani Carvajal starting over Danilo at right-back the only major decision.
Subs: Moya, Lucas, Gimenez, Tiago, Ferreira Carrasco, Thomas, Correa
19:06 - Atletico Madrid Starting XI: Oblak, Juanfran, Savic, Godin, Filipe Luis, Saul, Gabi, Augusto, Koke, Griezmann, Torres
Subs: Casilla, Nacho, James Rodriguez, Lucas Vazquez, Jese, Isco, Danilo
19:05 - Real Madrid Starting XI: Navas, Carvajal, Pepe, Ramos, Marcelo, Casemiro, Modric, Kroos, Bale, Ronaldo, Benzema
19:04 - The Champions League trophy out on the pitch ahead of kick-off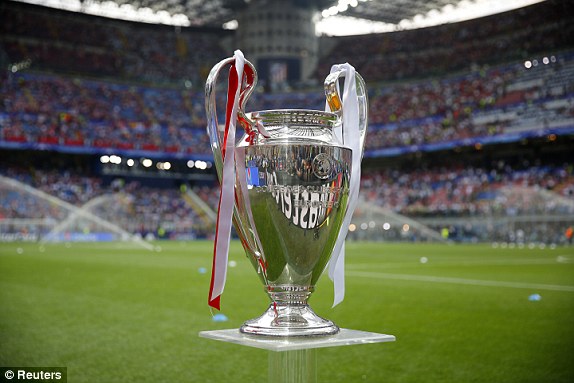 19:03 - Team news for the 2016 Champions League final will follow shortly
19:00 - 45 minutes until kick-off in Milan and the stage is set for what is expected to be a excellent game with the fierce city rivals ready to battle it out in the biggest game in club football
18:45 - Hello everyone I am Danial Kennedy and welcome to VAVEL's coverage of the 2016 Champions League final between Real and Atletico Madrid
It was Godin who gave the then underdogs the lead but was denied the victory by Sergio Ramos' late header and goals in extra-time from Bale, Marcelo and Ronaldo gave then Carlo Ancelotti's the victory.
However their most famous clash in the past few years was at the same stage of Europe's elite competition two years ago when Real secured their tenth European title.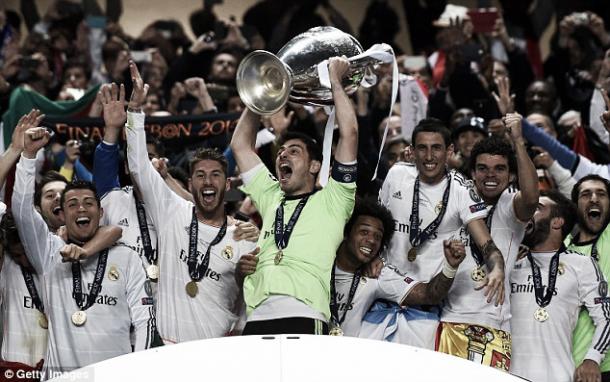 That didn't change this season with a 1-1 draw at the Vicente Calderon in October and a single goal from Griezmann back in February gave them the victory at the Santiago Bernabeu.
Since Atletico's superior rise over the last few years have begun to match Real in terms of quality with just one defeat in their last ten matches with their city rivals in all competitions with five of those been victories.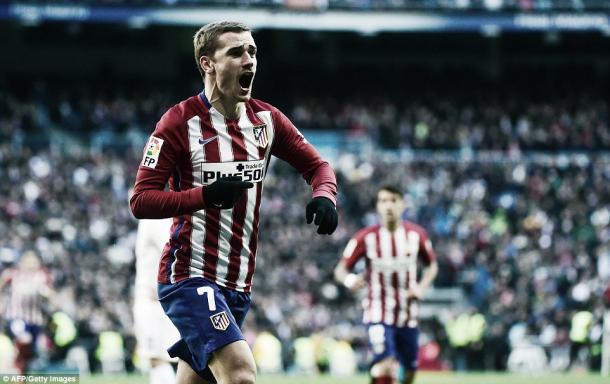 Simeone will be boosted by having no significant injuries going into this game, there was concern over star defender Diego Godin who had a thigh problem but is fine to play in the Milan on Saturday.
Fans took a sharp intake of breath when footage showed talisman Ronaldo limping out of training in the week but he has insisted that he will be fit for this clash.
Zidane was dealt a big blow when it was announced that young defender Raphael Varane who suffered an injury in training will sit out of the fierce derby in Milan and has been replaced in France's Euro 2016 squad by Sevilla's Adil Rami.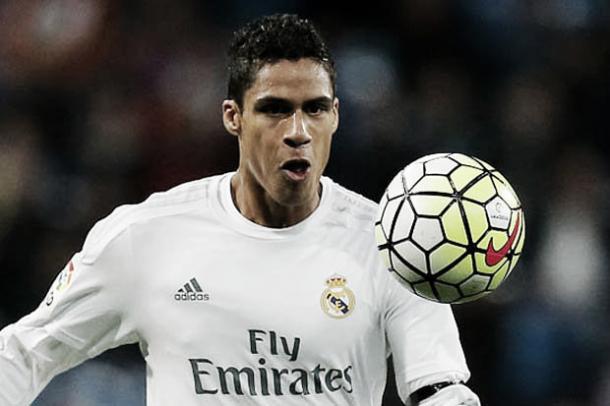 Despite goals from Xabi Alonso and Robert Lewandowski, Griezmann popped up with the crucial goal at the Allianz arena to seal passage to their second Champions League final in three seasons.
The Champions League has where they have shined this season with their defensive style of play outwitting the likes of Barca and German giants Bayern Munich in the last four.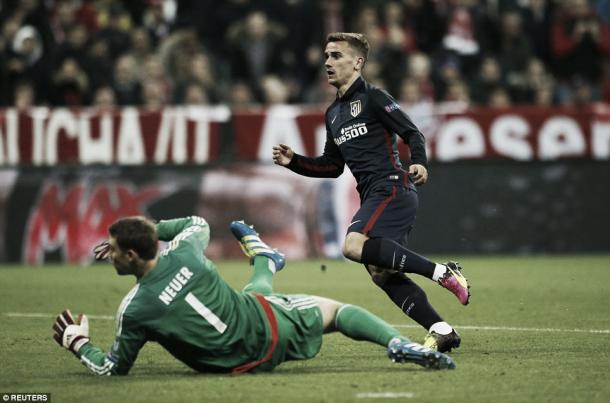 A surprise 2-1 defeat to Levante ended their chances but ended the season on a high with a routine 2-0 win over Celta De Vigo with goals from Fernando Torres and Antoine Griezmann saw them finish three points behind Enrique's side.
Like their bitter city rivals, Atletico have had a good run of form recently with three defeats in their last 12 matches in all competitions and like Real were very much involved in the La Liga title right down to the wire.
Diego Simeone will be looking to seize this opportunity at the second time of asking and will be hoping that he can banish the demons of the 2014 final with a long-awaited victory on Saturday.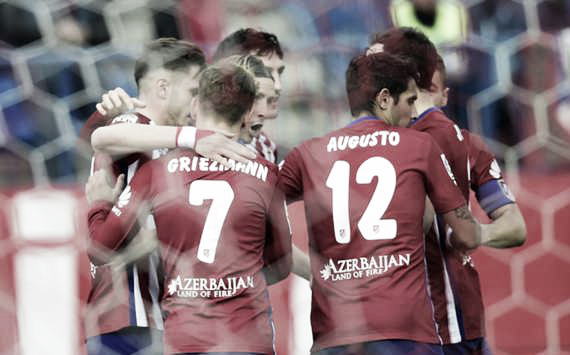 There has been a big focus on Europe from Zidane and his side but have failed to really impress in the latter stages of the Champions League but have still managed to dispatch every team in their way. Manchester City were the latest victim with a single heavily-deflected goal from Gareth Bale in the second leg setting up this tie at the San Siro.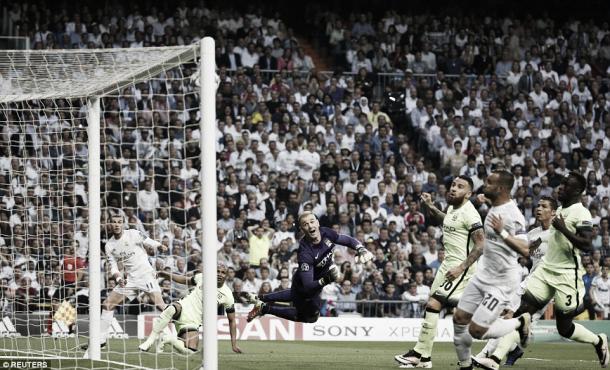 Madrid did their part with a brace from Cristiano Ronaldo gave them a simple 2-0 win over Deportivo but a Luis Suarez hat-trick for Luis Enrique's side saw the Madrid outfit miss out on the title by just a point.
Real have improved massively since the arrival of Zidane and the departure of Rafael Benitez especially in the final leg of the season losing just one of their 12 matches and Barcelona's minor demise sending the Spanish title right to the final day.
Having just missed out on the La Liga title on the final day of the season, club legend and manager Zinedine Zidane will be desperate to deliver Real Madrid's 11th European Cup on Saturday night.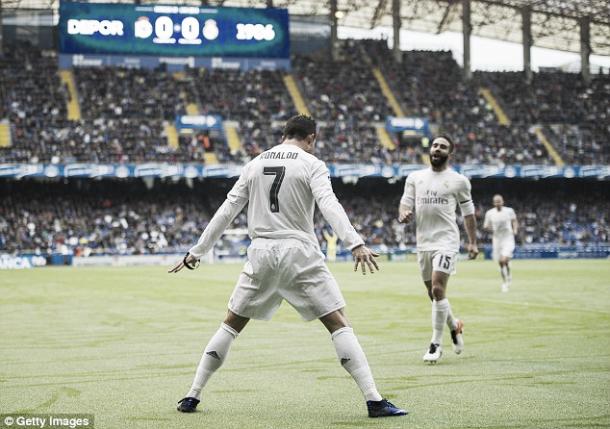 Hello everyone and welcome to VAVEL's coverage of the 2016 Champions League final at the San Siro in Milan between Real Madrid and Atletico Madrid.