This summer, Euro 2016 will witness the return to major tournament football for Austria. After being absent from European Championship and World Cup competition for eight years, the national team return to the big time as a rejuvenated force.
As joint hosts of Euro 2008 with Switzerland however, we have to go back the last time France hosted the World Cup in 1998, as the last time Austria qualified outright for a tournament.
It would almost appear the perfect closure then, of the decline of Austrian football and its' current resurgence. So much so that in some eyes, Austria could be a dark horse during this tournament.
Qualification and current form
In qualifiying for Euro 2016, Das Team achieved the second highest points tally of all the progressing nations with 28, just two behind England's ten wins out of ten. After drawing their opening game 1-1 in Vienna with Sweden, Austria then went on the win the nine remaining fixtures.
Emerging from Group G unbeaten, Marcel Koller's men were making a statement of intention to the big names of European football. The alpine nation coasted to qualification, finishing eight points ahead of group runners-up Russia.
Austria were not goal-shy en-route to Gallic lands this summer. In total, Koller's men scored a collective 22 goals, notching four times away against the Swedes, in Solna.
A group consisting of Liechtenstein and Moldova may not be the most imposing, but six clean sheets from a defensive point of view, cannot be overlooked in qualifying for a major championship. Furthermore, the Austrians recorded four one-nil wins, pointing to their defensive stability when required.
Austrian football history is far from illustrious. Their best result was a third place finish in the 1954 World Cup in Switzerland. As far as Euros are concerned, the national side have never advanced from the group stages.
Of concern however may be their recent form. Since November, Austria have lost half of their friendly games versus Turkey and neighbours Switzerland. Their wins coming against fellow qualifiers Albania, aswell as Malta, on Tuesday evening.
The manager
In Koller, Austria have a manager with experience at the top level. Having taken charge of Bundesliga outfits 1. FC Köln and VfL Bochum in the past, since taking over the reigns for Das Team in 2011, the Swiss boss has overseen a dramatic turnaround in his side's fortunes.
The 55 year-old former midfielder, was present for the Swiss national side at Euro 96. Koller has evolved from his days in Germany and is now a particularly versatile coach. In fact some would say innovative.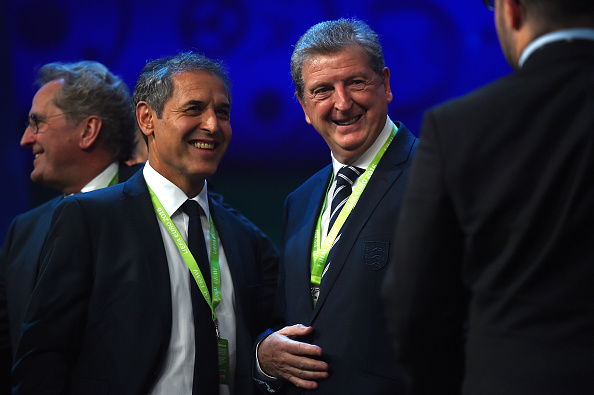 With the plethora of talent in his midfield ranks, Koller has looked to moved some of his goal threat further forward. With Stoke City's Marko Arnautovic, though an attacking winger primarily in the Premier League, for his country he has often been deployed as a lone forward.
David Alaba also, is more widely recognised as a defender. The Bayern Munich man has always indicated his desire to play in a more offensive role - with his sojourns forwards for Die Roten and penalty duties to boot - and forms a dynamic unit, linking defence to attack for the Austrians.
Koller's tactics for this tournament could be fascinating. Able to roll out traditional 4-4-2, he has also experimented with 4-5-1 and most recently a more traditional 4-2-3-1. There are rumours that he may even use an almost unheard of 3-6-1 system at international level this summer, which could potentially be quite the curve-ball.
As documented, Austria narrowly came out on top versus minnows Malta in midweek, conceding a late goal in a 2-1. Koller was understandably disappointed:
"We know that the game against Malta was not great. We still have room for improvement. But I am convinced we will improve."
Speaking to reporters (via FourFourTwo) ahead of Saturday's final warm-up game versus Netherlands, the Swiss went on to state: "The team has already shown in the past what we can do. We have to stay calm. I have told the team that we cannot play like this so short before our opener against Hungary."
Strengths and weaknesses
There remain unanswered questions about the Austrian defence. Whilst looking solid versus the Maltese, a bizarre Alaba own-goal denied them their first clean sheet since qualifying for the Euros.
With the current set-up of Alaba having pushed further up the field, there are unquestionably gaps in the back line however, led by captain, Premier League winner and Foxes' favourite, Christian Fuchs.
Whilst the unit of Martin Hinteregger, Florian Klein and Aleksandar Dragovic have combined to form a resolute base of Austria's play, against the bigger sides, the in-experience of the likes of VfB Stuttgart right-back Klein, may yet prove to be a very real weakness.
Austria - like many sides this tournament - will rely more heavily on their attacking exploits. Outside of the usual suspects (Janko, Arnautovic, etc) the front men all have goals in them. 1860 Munich man Rubin Okotie scored in qualifying and Lukas Hinterseer has shown promise.
Players to watch
It would be difficult to look past Alaba as the star man of the group. He is one of the most versatile players in world football right now and the 23-year-old - who will hope to celebrate his birthday whilst still in the mix - will be keen to announce himself on the big stage, in all departments.
There are a number of key individuals elsewhere though, that are pivotal to Austria's chances.
Marc Janko
Main striker MarcJanko was top-scorer in qualifying with seven goals and will carry one of their main goal threats, despite his relatively unknown status.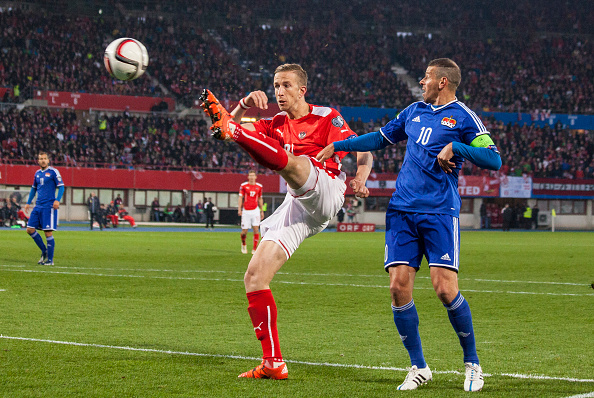 The FC Basel man scored 16 goals in 20 appearances for the Swiss champions this term. The 32-year-old has spent time in Australia, Turkey, Portugal, the Netherlands and indeed Austria, with Red Bull Salzburg.
Though now into a second decade of his senior career, Janko continues to regularly find the net. Wheras the more likely candidates to be top scorer for Austria lie with Arnautovic, Alaba, Harnik and the like, Janko may just surprise a few this summer.
Julian Baumgartlinger
As documented, Alaba is now the engine of the Austrian midfield. His partner Julian Baumgartlinger next to him, is set to perform a key role for his teammate however.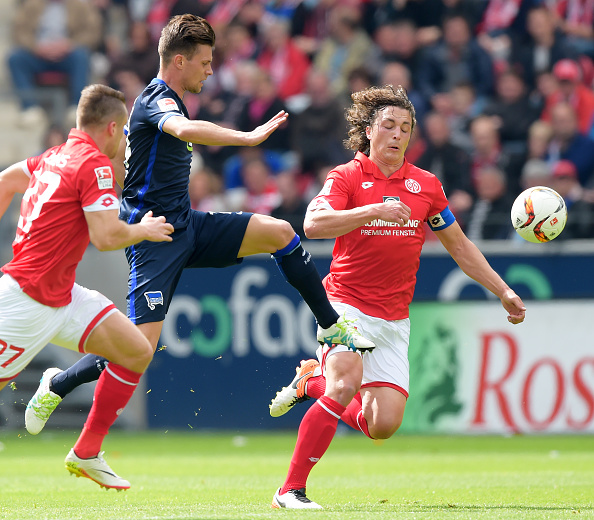 Having just completed a move to Bayer Leverkusen from Mainz, Baumgartlinger could quietly slot into an unassuming, but vital role for his country. Since debuting in 2009, the 28-year-old has now become the lone holding midfielder in Koller's set-up.
Baumgartlinger's position will be a simple one on paper, but his ability to sit in the middle of the park ahead of the back four, allows the more dynamic members ahead of him, to fully play their game.
Zlatko Junuzovic
One of those such individuals is Zlatko Junuzovic. Remarkably now, in the tenth year of his international career, having made his debut at the age of 18, the Serbian-born midfielder could become one of the surprise packages of the Euros.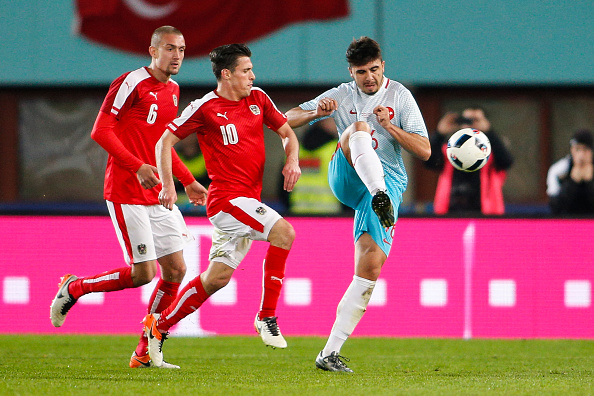 After lighting up the top flight in Germany with Werder Bremen last season, the attacking midfielder rather went off the boil post-January. Nevertheless, Junuzovic will be the lynchpin of Austrian attacks from a central position.
With Koller set to field the player as a number ten behind Janko, Junuzovic will hope to be the creator in-chief for Austria.
Aleksandar Dragovic
Aleksandar Dragovic will be a curious watch. The 25-year-old Dynamo Kyiv defender is primarily a centre-back, but can operate as a right-back.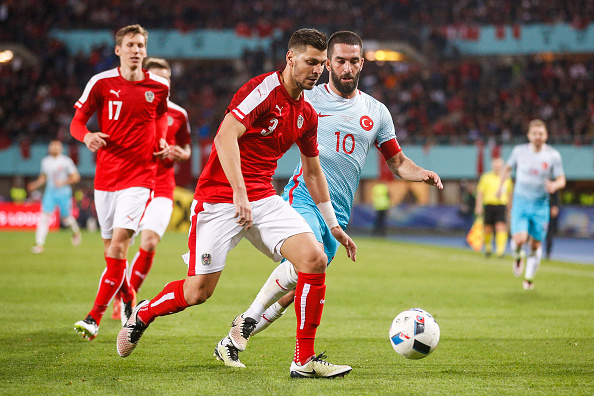 After bursting onto the scene with Basel - like Janko - the defender was widely linked with a move to the Premier League and in particular Arsenal. Dragovic however opted for eastern parts and the Ukrainian top division, with limited success. This competition could be the launch pad, for a bigger move.
If Austria are to progress beyond the group stages and beyond, their defence will have to hold up as suggested. That begins with 6" 1' Dragovic and whilst more known as a defensive stronghold, the Austrian is a ball player and comparitively mobile to go with it.
Wildcard: Marcel Sabitzer
Since the decision to cut Valentino Lazaro from the final 23, the main wildcard remaining is Leipzig's Marcel Sabitzer.
At 22-years-old, Sabitzer already has 17 caps and three goals to his name. The attacking midfielder is likely to be merely a substitute player, but as a replacement is a player that has the drive for specific situations.
Group F opponents
Group F, on paper is one of the more intriguing groups at Euro 2016. As the first European Championships to have 24 teams, the potential to progress is higher than ever. Indeed some groups will see three teams emerge from them. Group F could be on those.
Due to their major tournament experience - and despite struggling in their qualifying group - Portugal will be installed as group favourites. In reality however, the group is wide open and unpredictable.
Aside from Cristiano Ronaldo and co. Iceland and Hungary are unknown quantities.
The Hungarians will be taking part in their fourth championships. Their main threats will be the forward duo of Ádám Szalai of Hannover 96 and captain Balázs Dzsudzsák of Bursaspor.
Szalai, 28, had his strongest season back in 2012-13 for Mainz, where the striker scored 21 goals during the campaign. Dzsudzsák - formerly of PSV Eindhoven, had an an unsuccessful spell at former Russian cash-cows Anzhi Makhachkala.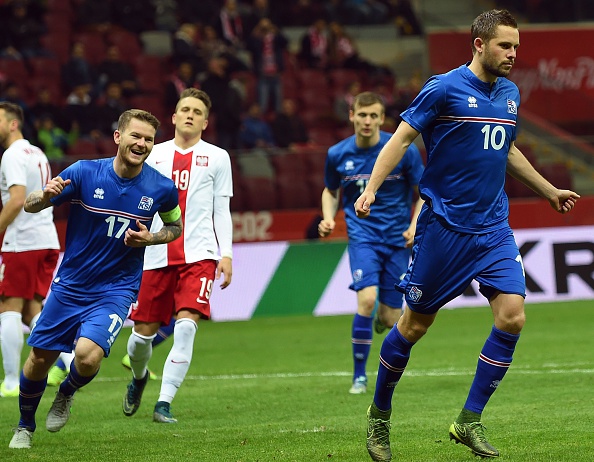 For Iceland, Euro 2016 will the country's first major tournament experience and as such are hugely unpredictable. Gylfi Sigurdsson tops their goalscoring chart with six, the 26-year-old will carry the majority of Icelandic hopes into the group, although Nantes forward Sigthorsson has an average of a goal every other game for Iceland.
Fixtures
Tuesday June 14th: Austria v Hungary, 5pm UK Time (Bordeaux)
Saturday June 18th: Portugal v Austria, 8pm UK Time (Paris)
Wednesday 22nd June: Iceland v Austria, 5pm UK Time (Saint-Denis)
Q and A
For further into the Austrian national team, their expectations for this summer and who to look out for, VAVEL spoke to Austrian football analyst and Bundesliga expert for @footballradar, Tim Armitage.
Q: What are your and Austrian expectations as a whole, for this summer's championships? How far can you go?
A: "I've been fairly pragmatic in the build-up to this tournament stating that I think the quarter-finals will be the likely end-point for the Austrian national team in France.
"I think the general consensus is similar. The Austrian media haven't become crazed by the thought of possibly winning the tournament and instead I feel there has been a healthy excitement about the championships.
"What has been interesting is that in a recent friendly in the national side's team-building trip to Switzerland, Marcel Koller used a 3-6-1 formation - something their opponents in France will not have seen the side play before, given they played their entire qualifying campaign in a 4-2-3-1 formation. Even the Austrian media isn't sure if this is just a bluff, but there is a chance that by going into the tournament with a new formation, this could give them a slight edge, at least over group stage challengers."
Q: Who are the key men to look out for Das Team? Who might be the surprise package?
A: "In my opinion the key man in this Austrian team is Julian Baumgartlinger. Baumgartlinger is vital to Marcel Koller and the system he employs as his dogged work in the middle allows other midfielders to get forward to aid Marco Janko and the two wingers. Domestically, the defensive midfielder has recently secured a move from Mainz to Leverkusen after an excellent season, for a meagre €4 million.
"Alongside Baumgartlinger in midfield, both Zlatko Junuzović and David Alaba are integral to Koller. Junuzović is extremely creative and deadly from set-pieces, with Alaba just behind him pulling all the strings. If this trio can stay fit throughout the tournament, Austria will be so much stronger for it.
"It's quite hard to pin down a surprise package given Koller's rigid selection policy. However, Marcel Sabitzer is one player who has stood out at a domestic level over the past couple of seasons and could do great things off the Austrian bench.
"Sabitzer can play anywhere in the front three but has also been used in a deeper role in recent times with Leipzig and under Koller. The 22-year-old is deadly in front of goal but knows when to turn provider with 77 goals and 42 assists in 240 domestic games to date."
Q: To the casual European football fan, David Alaba is more renowned as a defender for Bayern Munich. Lately and especially for Austria, Alaba is now classed as a central midfielder. Can you explain his evolution?
A: "Many know Alaba as a left-back, who has played as a centre-back in back-three under Pep Guardiola. However, Alaba himself has expressed his wish to feature more in midfield and has apparently even rejected a move to Barcelona on the back of not being promised a midfield role.
"The 23-year-old is extremely composed on the ball and his wish to get forward is evident. In recent friendlies against Albania and Turkey, Koller looked to get Alaba as far forward as possible, but this didn't exactly work out with the side scraping past Albania and then losing to Turkey.
"There is no question Alaba will feature in midfield in this tournament, especially considering captain Christian Fuchs is undroppable at left-back and the quality of the centre-backs within this squad with Aleksandar Dragovic, Martin Hinteregger, Kevin Wimmer and Sebastian Prodl all top level performers.
"I would not be surprised if we see Alaba pushed even further forward in France in order to get him involved Austria's attacking passages of play, but in my opinion he is most effective as a central midfielder."
Q: You were unbeaten in qualifying. Is that more to do with what - on paper - is a solid defensive unit, or is there another element to the Austrian game, further up the field?
A: "Austria's unbeaten qualifying campaign cannot be pinned down on one factor.
"The squad is well balanced with strong alternatives in each position, particularly in defence. For example, when Martin Hinteregger dropped out due to injury, Sebastian Prödl was able to deputise without any real issues.
"Furthermore, a lack of injuries to key players allowed Koller to pick a similar XI each game. This consistency in personnel meant that each player knew their role and Koller was able to fine-tune tactics for each game without losing any team chemistry.
"Even when David Alaba was injured away in Russia, Stefan Ilsanker was able to fill the void in midfield- a game which Austria took all three points.
"Attack is widely regarded as Austria's weakest area, but Marc Janko was able to stay fit and took his tally of international goals to 26 in only 52 games.
"In general, excellent domestic performances coincided with this qualifying run with Aleksandar Dragović, Christian Fuchs, David Alaba, Julian Baumgartlinger, Zlatko Junuzović, Marko Arnautović and Marc Janko all shining at domestic level."
Q: Group F is on paper, a pretty tough looking group. Do you think the gameplan will be to attack Portugal, Iceland and Hungary, or defend?
A: "Group F was a really interesting draw for all four nations and it could potentially see three progress to the Knockout phase. The gameplan that proved so successful for Austria in the qualifying stages combined defensive stability and quick counter-attacks. With the finals in Paris drawing ever closer, Koller has tinkered with his formation, but the balance between defence and attack has generally stayed the same.
"I would expect that Austria will look to sit back against the more experienced Portugal side and use the counter - this would likely see Alaba in a slightly deeper role to assist Julian Baumgartlinger in defensive midfield. Against Iceland and Hungary, Austria could well act as the aggressor and look to take the game to the opposition. In these games I expect the first 20 minutes to be key, with Koller looking to get his side ahead early on.
"Off the bench, Rubin Okotie and Alessandro Schöpf - who proved to be very effective going forward against Malta, scoring his first goal for Austria - are decent attacking options and certainly wouldn't mean Austria become more defensive-minded if brought on."
Q: Finally, how far do you think Austria will go at Euro 2016, as some people's dark horses?
A: "With only three players having any major international tournament experience (Ramazan Özcan, Christian Fuchs and György Garics) in this squad, it's not easy to gauge how the players will react to the pressure that comes with a European Championship.
"On the other hand, the Austrian squad has nothing to lose and they showed glimpses of genuine world-class football during their qualifying campaign. I would expect them to progress past the Group Stages and perhaps as far as the Quarter-finals. I think against more experienced and grittier opponents Austria could struggle, therefore a step to the Semi-finals could be too much to ask for.
"However, if Austria play well over the course of 7 games, there is nothing to say they can't pull off what would be a remarkable achievement and win the Euros!"