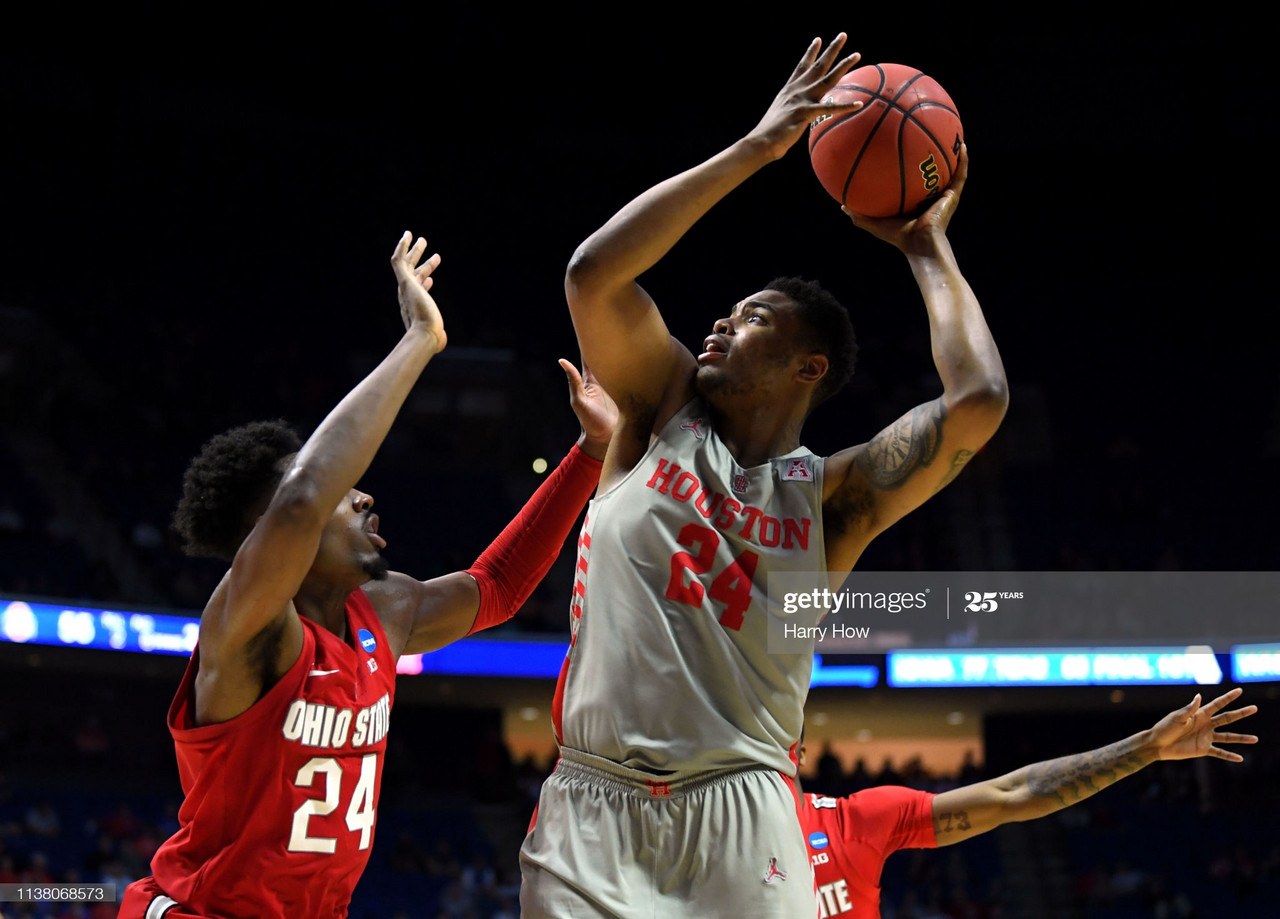 Manchester Giants have been through turbulent times in recent years; but they hope to turn that around ahead of the 2020-21 British Basketball League (BBL) season, under new ownership, with a move to the National Basketball Performance Centre at Belle Vue, and with strong recruitment that includes 6'9" American Centre Breaon Brady.
The Giants have already made some smart signings, with the additions of Jack Hudson and Lyle Hexom among others outlining the Giants ambitions for the future.
However the signing of Brady may just be one of the most important signings, as the centre will be looking to fix some weaknesses within the Giants team.
Issues in defence
At the heart of Giants' on-court issues since returning to the top flight BBL in 2012 have been defensive frailties.
In each of the last seven seasons they have ranked among the bottom three defences in the league, conceding an average of nearly 90 points per game in that time.
Furthermore, that was worse than ever in a torrid 2019-20 campaign, when their defence ranked among the worst in BBL history.
| | | |
| --- | --- | --- |
| Season | Average Points Conceded | Rank |
| 2019-20 | 97 | 11/11 |
| 2018-19 | 89 | 10/12 |
| 2017-18 | 95 | 11/12 |
| 2016-17 | 91 | 12/12 |
| 2015-16 | 87 | 11/12 |
| 2014-15 | 87 | 11/13 |
| 2013-14 | 89 | 10/12 |
| 2012-13 | 84 | 7/12 |
Head Coach Danny Byrne told VAVEL: "Starting again this season with a fresh slate, we knew that we had to address our defence and it's been a pillar of the entire recruitment process."
Even in 2018-19 - the club's most successful campaign since returning - when they won 19 games and reached the semi-finals of both the BBL Cup and BBL Trophy, it was the inconsistency of their defence that ultimately cost them a Play-off place at season's end, finishing ninth but agonisingly close to as high as fourth.
But in Breaon Brady, Byrne and Performance Analyst Tom Fletcher believe that they have found their defensive linchpin, and the numbers seem to back them up.
Proven defensive star
Brady - a native of Akron, Ohio - played collegiate basketball at the University of Houston, following in the footsteps of NBA Hall-of-Famer Hakeem 'The Dream' Olajuwon as a two-year starter for the Cougars.
That team won 59 of the 70 games Brady played in, with that win percentage peaking at 89% in 2018-19 when they finished top of the formidable American Athletic Conference (AAC) and made a trip to the National Collegiate Athletic Association (NCAA) Tournament Sweet Sixteen.
But most importantly for Giants, Brady was the defensive anchor on one of the best defensive teams in NCAA Division 1 that year.
The Cougars led the nation in defensive field goal percentage, with opponents only scoring a paltry 36.7% of their efforts under intense pressure, and were fifth best (of more than 350) in conceding an average of just 61 points per game while making their conference title tilt.
Tellingly, their already near-impregnable defence was +4.97 points per 40 minutes better off with Brady patrolling the paint, conceding under 58 points per 40 minutes when he was on court - good enough for second in the nation - compared to nearly 63 when he was on the bench.
| | | | |
| --- | --- | --- | --- |
| 2018-19 Houston Cougars | Minutes | Points Against Per 40 | National Rank |
| Brady ON | 520 | 57.8 | 2nd |
| Brady OFF | 960 | 62.8 | 15th |
His individual stop rate of 68% was second best on his team, and he was first on the personal component of stop rate with 4.9 stops per 40 minutes - a mark that has only been matched by elite defensive players in the BBL in recent years, such as former Leicester Riders centre Chris Tawiah and London Lions' former star Brandon Peel.
Brady also led the nation at one stage on defensive rating, with his final mark of 86.6 being top 15 of all NCAA Division 1 players, in the 99th percentile of thousands, and just a shade behind NBA phenom Zion Williamson (86.4).
Looking at video analysis of individual possessions faced, Brady conceded 0.69 points per defensive possession, good enough for the 91st percentile of the NCAA.
This included a dominant 0.47 points per possession faced in his bread-and-butter job of defending post-up plays close to the basket, which ranked him ninth overall (in the 95th percentile) of all players who faced more than one such possession per game.
Win shares is a metric extensively used in the NBA, estimating the number of a team's wins that can be attributed to a particular player, separately through his contributions at the offensive and defensive ends of the court.
On that Houston team, Brady led the team in defensive win shares per 40 minutes (again an NBA metric), at a mark of 0.117.
That was good for seventh in NCAA Division 1, ahead of Zion Williamson on this measure (who did lead the NCAA, not surprisingly, on overall win shares per 40), and just behind Brandon Clarke who is having a huge rookie season for the NBA's Memphis Grizzlies in 2019-20.
The table below shows the elite company that Brady was in on this measure, alongside five current NBA players including a touted future MVP, a player from the NBA G-League, Italian Serie A, German BBL, and then a number of top NCAA colleges.
| | | | | |
| --- | --- | --- | --- | --- |
| Rank | Player | | | |
| 1 | Vincent Williams | 0.125 | Virginia Commonwealth | (NCAA) |
| 2 | Norense Odiase | 0.124 | Northern Arizona Suns | (NBA G- League) |
| 3 | Brandon Clarke | 0.123 | Memphis Grizzlies | (NBA) |
| 4 | Braxton Key | 0.122 | Virginia | (NCAA) |
| 5 | Jon Teske | 0.120 | Michigan | (NCAA) |
| 6 | Marcus Santos-Silva | 0.120 | Virginia Commonwealth | (NCAA) |
| 7 | Breaon Brady | 0.117 | Manchester Giants | (BBL) |
| 8 | Tariq Owens | 0.116 | Phoenix Suns | (NBA) |
| 9 | Ethan Happ | 0.114 | Vanoli Cremona | (Italy Serie A) |
| 10 | Jarrett Culver | 0.113 | Minnesota Timberwolves | (NBA) |
| 11 | Zion Williamson | 0.113 | New Orleans Pelicans | (NBA) |
| 12 | Marcus Evans | 0.113 | Virginia Commonwealth | (NCAA) |
| 13 | John Knight III | 0.113 | Utah State | (NCAA) |
| 14 | Cameron Jackson | 0.113 | MHP RIESEN Ludwigsburg | (German BBL) |
| 15 | Matisse Thybulle | 0.111 | Philadelphia 76ers | (NBA) |
On win shares per 40 overall - including the offensive end of the court where he averaged six points per game, shot 58% and was an elite offensive rebounder - Brady ranked 77th in the NCAA, around the 97th percentile of thousands of players.
Young but experienced
Manchester Giants' Performance Analyst Tom Fletcher spoke highly of Breaon's experience, telling VAVEL:
"As impressive as Breaon's numbers are, we have to remember the context here as well.
"He was playing in the AAC, one of the strongest conferences in college basketball, and therefore defending some of the best bigs in the game at that level.
"He has matched up with numerous players who have ended up in the NBA - including 7'6" Tacko Fall - as well as top leagues all over Europe. Not one of them had an easy time against Breaon."
'Smash Mouth Basketball'
Brady is definitely a bruiser, renowned for his 'smash mouth' style and muscular play, he will also block a lot of shots at the rim.
Against South Florida in January 2019, he posted a remarkable stat line of 13 points, nine rebounds and four blocked shots in just 25 minutes.
But that results in not all of his numbers being good ones, as he had the highest foul rate of any player in NCAA Division 1 in his senior year, and second highest in his junior year; fouling out four times in 2018-19, committing four fouls on twelve other occasions, and in one game only managing three minutes on court before committing four fouls.
But that's not a problem that concerns the club's coaching staff:
"We've been aware of that from the outset", said Fletcher.
"But the calculation we made was that 21 minutes per game of Breaon Brady is better than 30 minutes per game of anyone else!
"We also know that, across Europe, only Dutch referees call fewer fouls than BBL referees - this is a tough and physical league, ideally suited to Breaon's style."
Brady joins local guards Jack Hudson and Jordan Whelan - who Giants have recaptured from the league champion London Lions - as well as American Lyle Hexom, with whom Brady played at Saddleback College as they enjoyed a 94% winning season as a frontcourt duo.