Whilst both brands were boosted by a little dose of NXT talent, the WWE drafted talents between Raw and SmackDown Live, creating new potential matches as well as renewing old rivalries and whilst we don't know how they will play out between now and whenever the next draft might be, let's analyse the decisions made and whether they have the potential to be positive.
Raw
The Miz & Maryse: The 'It Couple' kicked off Raw this week by announcing that they would be heading to the red brand, a decision that did not come as a surprise considering just how impressive and entertaining this pair have been.
Maryse has added a new layer to The Miz's egotistical character and gives validation to everything that he claims which only makes him even more fun to watch. The real life couple was arguably the most entertaining element to SmackDown Live since the brand split, with their feuds with Dean Ambrose, John Cena and Daniel Bryan connecting with audiences. Now on Raw, they have the potential to continue their current run and simply ride the wave of momentum and with plenty of new talent to feud with it should be a fun ride.
The only downside to this deal is that The Miz was arguably more likely to gain a main event run on the blue brand, with Raw's main event scene slightly more congested it could be harder for him to reach that level once again, but if the last year is anything to go by, The Miz could certainly do it.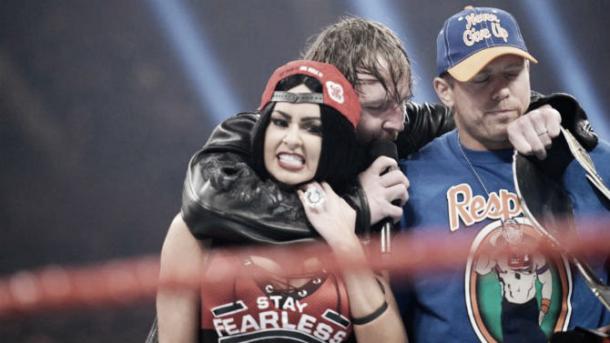 Apollo Crews: The first official draft of the entire shakeup, the former NXT star failed to dazzle crowds on SmackDown Live and in general, has not quite lived up to the potential he had. Whilst it can be argued he was rushed onto the main roster, this move could be exactly the change he needs, however the fact he was announced through a picture and did not actually appear in front of the crowd is not a promising start.
The first official draft of the entire shakeup, the former NXT star failed to dazzle crowds on SmackDown Live and in general, has not quite lived up to the potential he had. Whilst it can be argued he was rushed onto the main roster, this move could be exactly the change he needs, however the fact he was announced through a picture and did not actually appear in front of the crowd is not a promising start.
Heath Slater & Rhyno: The former SmackDown Live Tag Team Champions made the switch to Raw during the shakeup in a move that will likely have no effect on them or the Raw tag team division. This team has lost all the momentum it once had and is now locked in the comedic act which it will likely continue, they are a solid team and if booked correctly could gain the fans support again, but it is likely a case of making up the numbers.
Elias Samson (NXT): This one is not an official draft as Samson was not part of either main roster brand and was instead called up during the shakeup, and even that wasn't announced in an official capacity. The Drifter lived up to his gimmick by randomly showing up at several points during Raw, simply walking around without saying or doing anything which is a fun and unique way to make an entrance and suits his gimmick.
The only problem with this call up is that Samson has not been booked well during his time in developmental and therefore it provides the question as to why fans should care, but hopefully, WWE changes that thought process.
Mickie James: The veteran wrestler has been a good hand to have on the roster since returning, but didn't quite make the mark that some fans had been hoping when she first came back. With plenty of dream match-ups with the likes of Sasha Banks and Bayley waiting for her on Raw, Mickie James will do just fine on the red brand.
Alexa Bliss: This was a straight swap for Charlotte as both brands drafted one of their biggest female stars in a bid to shake things up. The reaction Alexa Bliss received when she entered the red brand shows that she is a star, and she will have a major role in the women's division moving forward on Raw. This was a great decision as it allows fans to see Bliss interact with new women after dominating things on the blue brand. Bliss was one of the surprises of the last year as most fans expected Becky Lynch to carry SmackDown's women's division, but instead, it was Bliss who will now look to do the same on Raw. This was one of the biggest drafts that Raw made.
Kalisto: The Lucha star was a straight swap for former tag team partner Sin Cara who moved to the blue brand in a trade that will likely have no bearing on either man. Kalisto has not played a major role on SmackDown and will likely suffer the same fate on Raw, therefore this move is not likely to affect much unless they choose to add him to the cruiserweight division, where he could flourish. It would have been a smarter move to reform the Lucha Dragons on SmackDown where the tag team division needs a boost.
Curt Hawkins: This trade is going to make no difference to his standings in the company, as Raw showed when he was knocked out by Big Show, WWE doesn't have any plans for him and he is simply there to enhance other talents; he will continue playing that role on the red brand.
Dean Ambrose: The Intercontinental Champion brought gold to the red brand, as well as major star power. Whilst Ambrose may have cooled as of late, he can gain a huge fan reaction and certainly has the ability to be a main event talent as he proved during his feud with AJ Styles. Ambrose can easily work as a babyface or a heel which makes him more versatile and having a mid-card title around his waist elevates the title and anyone who he feuds with over it. It is also worth noting that all three Sheild members are now on the same brand, that is a major reunion that WWE is certainly planning on having at some point in the future, could it be this year?
Bray Wyatt: This was perhaps the biggest surprise out of all the drafts that took place as nobody saw it coming, but it is certainly exciting to see what plans the company has for the Eater of Worlds. Wyatt had his best ever year on SmackDown, which included him finally getting his hands on some WWE gold, and if things go his way at Payback he could be bringing a World Championship over with him, though unlikely. There are plenty of fresh feuds for him to have and it appears that his first will be with Finn Balor which is something fans haven't seen before and is a reason to get excited. With nobody by his side, it will be interesting to see whether he adds any new members to his family, of course, Braun Strowman is a former member and Wyatt's real life brother, Bo Dallas could certainly benefit from being involved with Bray.
SmackDown
The New Day: The longest reigning tag team champions in WWE history have made the switch to the blue brand in a move that will certainly give a much-needed boost to SmackDown Live's tag team division. It may also give the trio a new lease of life on a gimmick that was just starting to become stale in recent months. New Day provides star power that will help SmackDown and there is always the potential of a split which could see the blue side gain three very talented singles wrestlers down the line.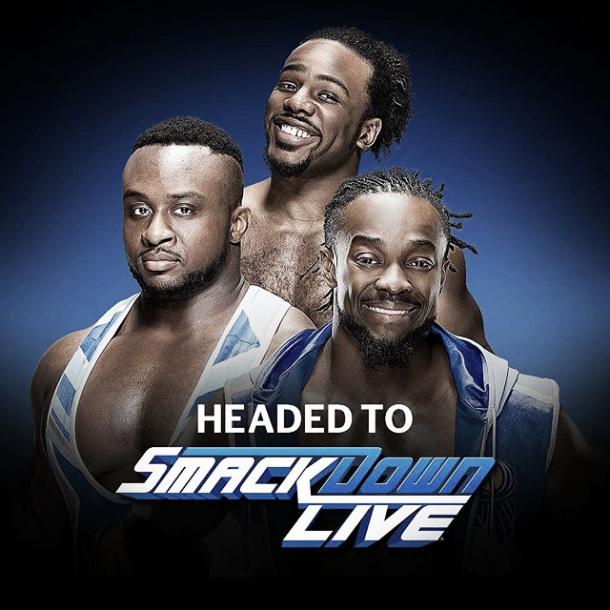 Shining Stars: The New Day were not the only tag team to join Daniel Bryan's brand as the Shining Stars also moved to add numbers to the tag division. This team consists of two talented wrestlers who have been given terrible gimmick after terrible gimmick, and if WWE wants them to be seen as a serious threat then they will need to be booked very differently on SmackDown. Hopefully, this move will be the start of something new for them which will allow the team to show their abilities as the SmackDown tag team division needs some serious contenders, rather than teams to simply make up the numbers.
Tamina: This is not technically a draft as Tamina was never drafted during the original brand split due to being injured, but she has been placed on SmackDown which makes sense as they needed more women. Tamina can offer a similar role to that of Nia Jax on Raw, in which she is very different to the other women and can provide a monster type character in the division which will allow her to stand out.
Jinder Mahal: A move that is probably going to act as a straight trade for Curt Hawkins as they have both served the same purpose in terms of work since they returned. Mahal has worked incredibly hard to get in phenomenal shape though, so it would be nice to see a mid-card run be put together for him, hopefully, this move can see him begin to put together some serious work.
Sin Cara: This one is a straight trade for Kalisto and will not make a difference to either SmackDown or Sin Cara's career. He was barely used on Raw and sadly that is likely to be the case on the blue brand.
Charlotte Flair: SmackDown managed to gain themselves the best women's wrestler on the planet during the draft, so that is certainly a big bonus to the blue brand.Charlotte is a major star and will certainly help their women's division, after achieving all she could possibly achieve on Raw this move was one of the most obvious as it is now time for her to dominate the SmackDown division.
Sami Zayn: Finally! This is the move that fans have been wanting since last years brand split and now it has happened. Sami Zayn is a main event caliber talent and now he is going to have the opportunity to prove that and fans should be excited about the potential Zayn has on SmackDown. We are also one step closer to a potential World Title feud between him and Kevin Owens which is another bonus; this is a big year for Sami Zayn.
Rusev & Lana: This pair could find themselves in the Miz and Maryse role of being a complete revelation this year. Everyone knows they are both incredibly talented and have tons of charisma, but now it is WWE's chance to give them a serious run at the top level and this writer believes they have the ability to take any chance offered to them.
Kevin Owens: In what is a champion for champion trade with Dean Ambrose, moving the United States Champion ensures that SmackDown Live have a mid-card belt which is necessary. Of course, if Owens loses at Payback it will be Chris Jericho making the move, but we all know how that one is going to end. Owens proved he could be a main event star this year, and now he will continue that on SmackDown where he could easily carry the entire brand if he is given the opportunity, this is a great draft as we also get KO on Talking Smack on a regular basis which will provide tons of entertainment.