 "I don't wanna be pessimistic, I just want to be realistic: The images don't do justice to what really happened in Puerto Rico. It looks like they nuked us," Puerto Rican singer Ricky Martin said on Friday's episode of The Ellen DeGeneres Show.
It's been nearly three weeks since a devastating Category 4 hurricane ravaged the beautiful island in the heart of the Caribbean, destroying thousands of homes, local businesses, and the entire energy grid, leaving more than 3.5 million American citizens without power. To make matters worse, the storm left 80 percent of the island's agriculture completely destroyed and only half of the population with access to safe drinking water, forcing millions to fight for their lives amidst a shortage of supplies.
But thanks to the generosity of countless people all over the world, relief efforts have significantly increased across the island in the last week, with hundreds of thousands of pounds of supplies being delivered and distributed almost on a daily basis as the people of Puerto Rico look ahead to the heartbreaking and difficult process of having to, quite literally, rebuild from the ground up.
In the immediate aftermath of one of the worst natural disasters to hit the island in the last century, some of Puerto Rico's very own have stepped up with heavy hearts in a big way: celebrities like Martin, Red Ventures co-founder and CEO Ric Elias, Houston Astros shortstop Carlos Correa, and of course, the island's first Olympic gold medallist, Monica Puig.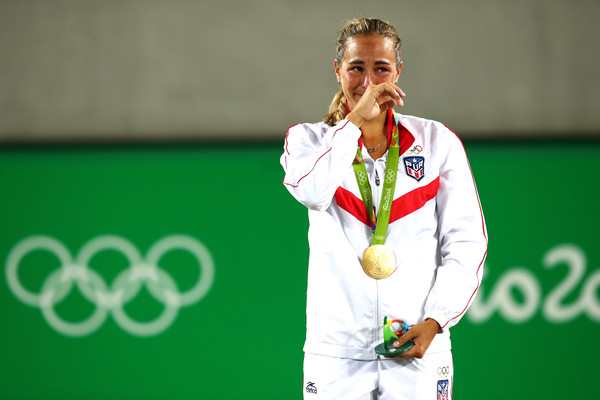 Born in the capital city of San Juan, Puig made history last summer by becoming the first Puerto Rican to take home gold at the Rio 2016 Olympic Games, lifting the spirits of millions in a time of political crisis for Puerto Rico. While she has admittedly struggled to live up to most people's expectations in the 13 months since her unexpected triumph in Rio, Puig says all her difficulties on court pale in comparison to the physical and emotional turmoil left behind Hurricane Maria that Puerto Ricans everywhere will sadly have to fend with for the rest of their lives.
"It has been a tough time over the last two weeks for Puerto Rico," she said in an exclusive interview. "People back home are suffering deeply, mostly because there is no power, clean drinking water, or other urgent necessities. Luckily, help is coming in every day and the situation improves a bit better each day."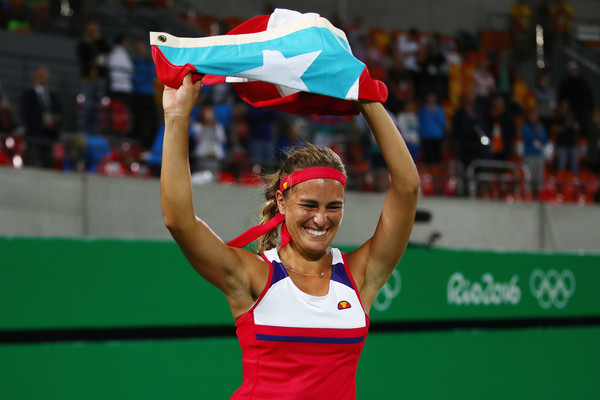 Despite spending most of her life in Florida, which remains her training base today, Puig's "heart has always stayed in Puerto Rico," where most of her mother's side of the family still resides today. While her own relatives are doing well and hanging in there back home, Puig knows many other families have suffered a very different fate, and it's for this reason that she decided to launch a fundraising campaign—Help Rebuild Puerto Rico—that is well on its way to reaching its new goal of $125,000.
"I decided to do it because I want to help those in the most need," she explained. "Rather than just messages of support, I want to do something tangible.
"When I set up the account, I really wanted to reach as many people as possible, and looking at where the donations have come from, they really came from all over the world. I am so incredibly thankful for everyone that has helped and donated, no matter the amount.
"We're working on the logistics but every single dollar we have raised will go into the hands of the people," she added.
In addition to the generosity of tennis fans all over the world, many players have come together in support of Puig's fundraising effort, proving—in the Puerto Rican's own words—how "tennis is so small and life is so precious." Among her peers who have stepped up include Nick Kyrgios, who has vowed to donate $50 for every ace he hits from now until the end of the year, and Maria Sharapova, who has vowed to donate all her profits from Sugarpova.com, her premium line of gummy candies and chocolate bars, from now until the end of the year to Puig's relief fund.
Struck by the amount of heartwarming support she has received from not only her peers but also from thousands of people all over the world—many from beyond the tennis community—Puig has taken every opportunity she can to express her gratitude, telling CNN in a webcam interview two days after the devastating storm, "I really really want to thank them for all the support they have given me and given Puerto Rico.
"It's that give and take that this world needs, and right now Puerto Rico really, really needs this."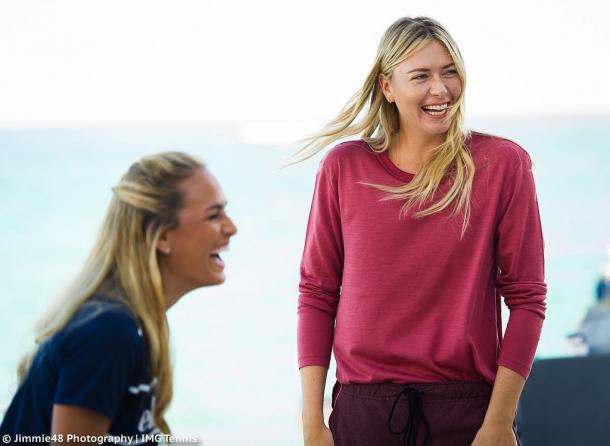 With all the money raised, the reigning Olympic champion's ultimate goal is rather simple: use every dollar to buy the supplies that are most needed before going back to Puerto Rico and delivering these thousands of goods by hand, perhaps with a familiar face or two, at the end of the season. "Maria [Sharapova] has been so kind to offer her help, so we are trying to coordinate together to go and visit the people and deliver the items they so desperately need," she added.
While the light at the end of the tunnel for Puerto Rico remains rather unclear right now, Puig hopes the support of the widespread tennis community and beyond will lift the despairing spirits of the Puerto Rican people—spirits that were just as badly damaged as the island itself by the devastating storm.
To donate to Monica's relief fund, please click here.