 With the return of Fantasy Tennis League in 2018, we take a look at different strategies on how to deploy the best use of your 100 million dollar budget. The strategy is different considering your team is locked in once the Australian Open begins, not during the first week of the tennis season.
This allows players to assess form and make transfers in case of any injury hits during the first couple of lead-up weeks to the opening major of the season. Here are the three strategies that players should look for when building their team.
Option 1: Balance (Most Popular)
When initially given your 100 million dollar budget, players look to make the most of their money with their starters while also having some decent players on the bench. A balanced team will allow you a couple of expensive players on from each of the men's and women's side, but the key in this team is finding value in the mid-tier and lower-tier priced players.
Players like Belinda Bencic, who had an injury-plagued 2017 but is in the top 100, offers excellent value at just over two million dollars. She will most likely be a popular pick due to her value and the talent she possesses at that price. Also to look out for are players like Naomi Osaka and Eugenie Bouchard also possess solid value if they can find some form as well.
Other players to look for are those who were given Australian Open wildcards. Alex De Minaur, Destinee Aiava, and Tim Smyczek are among the few have wildcards to the event. They will most definitely be popular bench options as an emergency player should one of your starters not play.
The team below is an example of a balanced team which gives you options from all ranges of players. The key thing to note here is the bench will give you players who will not only play during the Australian Open but in future weeks to come. This prioritizes saving transfers given you only have 72 throughout the season and three throughout each gameweek.
To save even more money, you can opt to drop a player in a price range in and around the 20 million mark (Roger Federer, Rafael Nadal, Serena Williams), and opt for the likes of Novak Djokovic or Elina Svitolina as your "star" player and upgrade everywhere else while still keeping the balance
.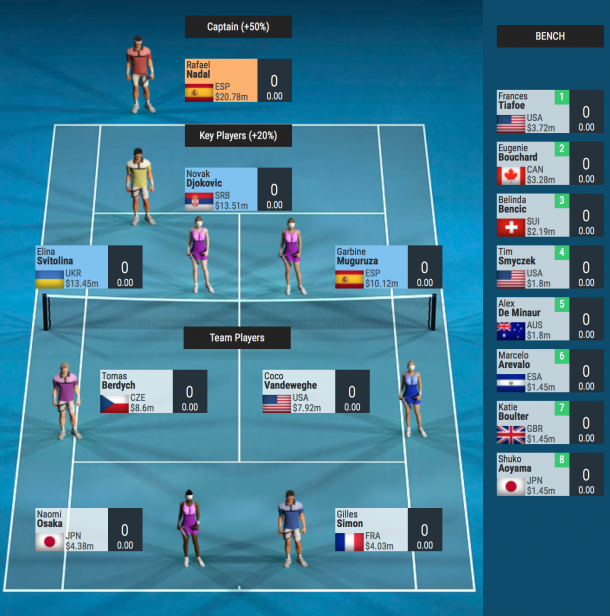 Option 2: Heavy-Hitting (Risky)
The heavy-hitting/expensive option is a huge risk that can pan out if things fall into place. Little to no money will go into your bench with the most likely possibility being that you have one or two players who will play as emergency transfers.
It's nearly impossible to fit a whole starting lineup of players over nine million and up into one squad, especially if you want the likes of Nadal or Federer in the squad (Note: Nadal is over four million less than Federer, making him the better option of the most-expensive players).
Most people will use a team like this to bank on the idea that these players will be going deep in the tournaments they play and making little to zero transfers bar one or two potential substitutes. This is a risky strategy but could very well pay off if you hit Grand Slam winners in the opening week and then constant deep runs in Masters and Premier level events.
Below is a team of seven heavy-hitters, one budget-friendly starter, one or two bench choices, and the cheapest bench after that leaves you with little money left. Just like with the balanced team, players could opt to drop Nadal, Federer, or Serena, for a Svitolina, Djokovic, Andy Murray, or Garbiñe Muguruza as their star but those players will be the ones likely go the deepest and win the most, hence their prices.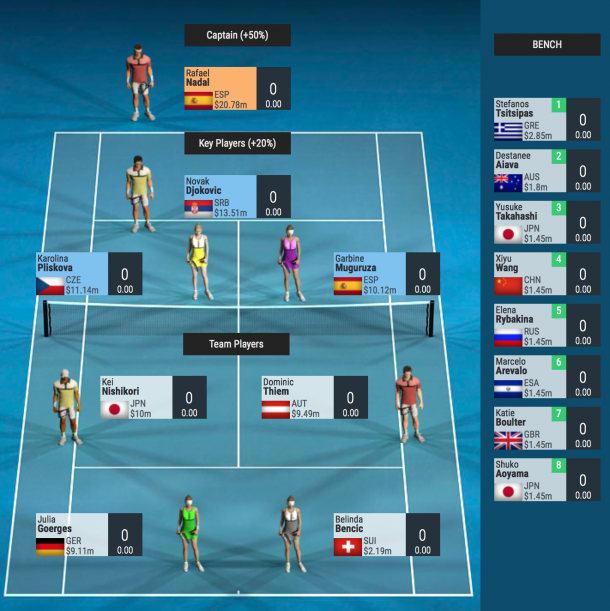 Option 3: ATP Heavy (Best for Opening Week/Majors)
This strategy when you think about it, makes sense for Grand Slams because men play best-of-five sets and women best-of-three sets. Let's take a look at it from a standpoint where each player will get one point for winning a set and winning four games in that set.
If a women's player reaches the fourth round without dropping a set, she'll have accumulated 12 points along the way. If a men's player reaches the third round without dropping a set, he'll have also accumulated 12 points. Double those tallies and it will take a women's player reaching the final without dropping a set just to match what a men's player will score by making the quarters without dropping a set.
This is a risky strategy as well, but not as much as the heavy-hitting strategy above. This strategy focuses on targeting the Grand Slams and then making transfers for the gameweek after the Australian Open where only WTA players are playing in St. Petersburg and Taipei respectively.
The extra set is a massive factor which makes going for ATP players more appealing. If you want points is your main target, and you don't mind being smart with your transfers, this is the way to start off your season with an ATP-heavy team.