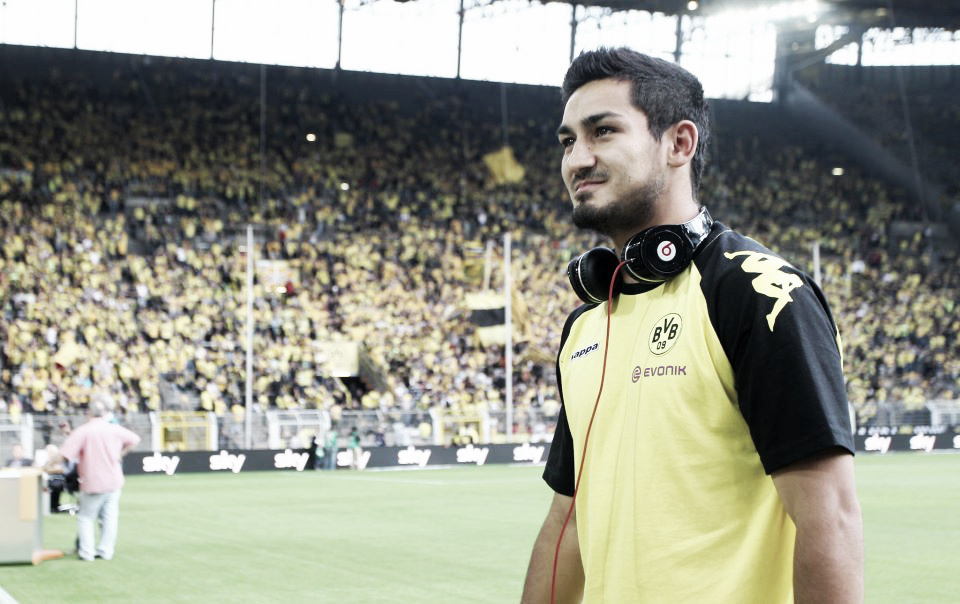 Dortmund coach Juergen Klopp identified Xabi Alonso as the key to stopping Real Madrid before the first leg of last night's Champions League semi-final tie. It masked the German side's need to use their own 'Xabi Alonso' in Ilkay Gündoğan, to smoothly dictate their own game plan.
Inside Dortmund's famous Westfalenstadion against Malaga, Gündoğan showed masterful passing accuracy. The German international of Turkish decent completed 91% of his passes, a figure which is consistent with his Bundesliga season average of 87%. More impressive still is the fact that 65% of all his passes this season in the league have been forward, which indicates his ability to start attacks and feed Dortmund's creative front-line.
Against Real Madrid last night, Gündoğan emulated Xabi Alonso's usual play in the style he made his side tick, yet he more importantly won the passing battle against him. The pass combination from Mats Hummels to Gündoğan was Dortmund's most frequent and third overall in the match. He provided the link from defence to attack, allowing Marco Reus and Jakub Błaszczykowski to attack the Real Madrid back-line.  His passing in the final third reveals an intelligent and disciplined player who is able to follow instructions with an uncanny nature; he finished the match with a pass completion rate of 88%. In comparison Xabi Alonso was less influential for Real Madrid, failing to find a team-mate on six occasions in the final third.
The Dortmund midfielder has won a huge chunk of his duels in the Budesliga this season, 46 out of 58 to be precise, and worked well with Sven Bender to disrupt Alonso. Klopp also unhinged Gündoğan's combative qualities by operating him on Ronaldo's side of the pitch to keep the record-breaking winger subdued, whilst knowing the German's passing range (a long-ball average of 39 meters this season) could still influence proceedings.
Robert Lewandowski's four-goal haul last night rightly led to the Pole earning the man of the match accolade, but his goals could have counted for nothing without Gündoğan's equally impressive performance. He ended the match as Dortmund's top provider with 56 passes and had license to drive his team forward, with the help of 65,000 passionate fans coupled with Sven Bender's defensive approach.
German newspaper Die Zeit called Dortmund's midfield dictator "a better Schweinsteiger" back in February; a bold claim against one of the nation's finest modern footballers. Whilst it may be premature what is evident is Gündoğan has all the attributes, and most importantly intelligence, to continue Germany's conveyor belt of complete midfielders. As a further side-note, the Dortmund midfielder is also a fine ambassador for the two-footed player that is unfortunately dying out.
Surprisingly is it not then that the 22-year-old midfielder is facing questions about a possible future at the Mecca for passing; the Camp Nou. What is surprising is the €4 million fee Dortmund paid for him back in 2011.