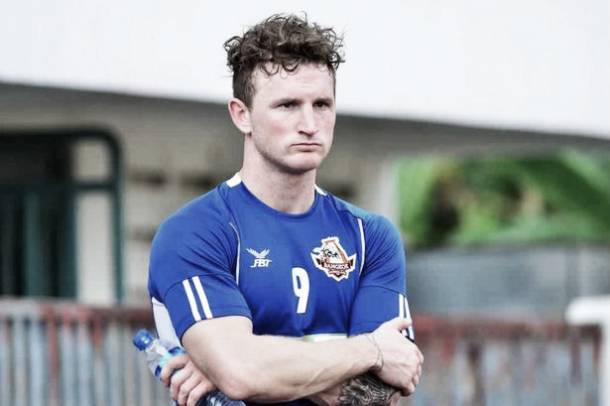 There is always one month a year where Thai football gets a bit of fame. Many big Premier League teams often tour in Thailand and surrounding countries, with Manchester United doing so almost every season due to the massive fan base in Asia. During that time, everyone is looking the matches, hoping for an upset. Many football fans got one the other day, when Singha All Stars beat English champions Manchester United 1-0, in what was definitely a shock result. In England, there are very few people, if any, who look Thai football regularly, but now, they have a reason.
Lee Tuck. Lee Tuck is an Englishman who started off, like many, playing non-league football. The Yorkshireman started playing for Farsley Celtic, but struggled to make an impact. As a result of this, Tuck made a very bold move, and in 2010, travelled to Thailand. He had been invited to play for Nakhon Pathom FC, and the striker eagerly accepted. English players moving abroad to play football is often unheard of, and it is estimated that there are less than 300 British players playing professional football abroad, preferring the English game.
But why do English players not like moving abroad? The style of play? English football is known to have a very different style of play to other nations. The game is very physical, and often sees some of the best stars in the world flop due to their lack of strength, relying on technique and skill move in other leagues, such as the Serie A or Liga BBVA. The quality and number of leagues? England is full of leagues, with football affecting everyone's lives in England. With so many leagues available to play in, with a good quality of football, why go anywhere else? In 1978, West Bromwich Albion midfielder John Trewick summed up a big reason as to why players don't like to move. West Brom had been on a tour of China, and the players had all visited The Great Wall, and when asked to reflect on the experience, he said it was impressive, but replied "Once you've seen one wall, you've seen them all." Whether you agree or not, Trewick's tongue-in-cheek comment encapsulates a perception that British footballers often lack the will or curiosity to play and live overseas.
Of course, there have been exceptions. David Beckham has become known for travelling around the world following his departure from Manchester United. Within 10 years, Becks had played in Spain for Real Madrid, then to America to play with LA Galaxy, following moves to Italy with AC Milan and finally ended up in France, with Paris Saint-Germain, before finally retiring after a notorious career. Laurie Cunningham was one of the first English players to go abroad, and definitely the first to do so and make a big impact. From 1979 to 1989 Cunningham had played for Real Madrid, Marseille and Rayo Vallecano. Paul Gascoigne was another, who was in Italy for 3 years playing for Lazio. Steve McManaman managed to feature for Real Madrid, possibly the best team in the world at the time, for four years, soon followed by Michael Owen.
However, there have been one big difference between all these stars and Lee Tuck, the local lad who couldn't get success in the non-leagues. Beckham and co moved abroad as established stars, loved by many around the world. Lee Tuck moved as an unknown player, with no reputation, and little understanding of the style of football, language and culture. It was a bold move, as he had travelled half way around the world to possibly play football for a team he knew little about. During the 2010 season Nakhon finished 5th, having been relegated the season before. Trouble then arose for Lee as Nakhon Pathom were suspended for two years following the final play-off game. Tuck's short career in Thailand could have already been over, but instead he managed to make a move to the capital of Thailand to play for Bangkok FC, also in the second tier, where the Huddersfield man's adventurous spirit is being rewarded in a big way.
Since signing for Bangkok FC, Lee Tuck has played 60 times, in which he has scored an incredible 45 goals, meaning he would win the Thailand Golden Boot, and become a household name across Thailand, while also finally getting noticed back home in England. Due to this success he has been involved in multiple interviews, giving insights into the move and change, possibly persuading others to move too if in need of football. One thing that really impressed Tuck was the fans. In Thailand, at the end of each match, the home fans chant the name of the opposing team, while the players of that team go up to them to pay respects. It is little things like that that make the game more enjoyable, and much better to play in, and Tuck has said he is delighted he made the move.
His robust, no nonsense style has been the scourge of many a defender, illustrated perfectly by numerous goals, a key area of his game, derived from playing in England, that has helped him rapidly in Thailand. Muscular, intelligent runs down wings are often topped off by beautifully timed feints between defenders in Tuck's game, drawing goalkeepers away and calmly lifting it over the advancing stopper. The 24 year old is yet to hit his peak in football, and with interest from numerous clubs in the top flight, Tuck could soon become a leading star throughout Thailand.
Lee Tuck made the bold move which certainly paid off, and now many in England have seen his achievements and accomplishments. Before now, it has been tough to find English footballers who would happily move abroad to play football, but Tuck could be able to about that. With a golden future beckoning, Tuck could well become the best player in Thailand soon, making others want to join him. This could be the start of a new era of British Footballers, which in theory could also change the Premier League and other divisions throughout England.
But for now, and for many years to come, Lee Tuck is the star in Thailand.