 A fantastic season just keeps getting better for Leicester City: a seven-point lead at the top of the Premier League and now three nominations for the PFA Player of the Year Award
Jamie Vardy, N'Golo Kante and Riyad Mahrez have all been ever-present in Claudio Ranieri's team and have now been correctly recognised for their outstanding efforts. Although there's not been one out-of-place player for the Foxes this season, the three nominees have undoubtedly been the star performers and are clear fan favourites with the Leicester faithful.
On a six-man shortlist, Ranieri's men are joined by Dmitri Payet, Mesut Ozil and Harry Kane. There isn't an outright favourite for the award, which is a break in the mould for the PFA Player of the Year, and any of the nominees will have a good chance of picking up the coveted trophy.
Ex-Leicester loanee, Harry Kane, has also been nominated for the PFA young Player of the Year variation, an award that he is fully expected to win. League success would stake a massive claim for whoever will go on to claim the award, which is definitely Leicester's to lose, with a seven-point advantage over Tottenham with only five games remaining.
Jamie Vardy - Season in Numbers
A remarkable season for the former Fleetwood frontman will hopefully end with a Premier League winners medal and possibly some personal silverware. Even if he doesn't go on to win it, it's still a massive step for him to even be nominated after playing non-league football only a handful of seasons ago.
Until very recently Vardy was leading the scoring charts however, he was overtaken by his ex-teammate, Harry Kane, after a small drought. His two goals against Sunderland brought up to 21 for the season, only one away from Kane's tally of 22. He's also laid 0n a few goals for his teammates, registering six assists, not bad for a striker. At the end of March, he had more assists than any other English player this season.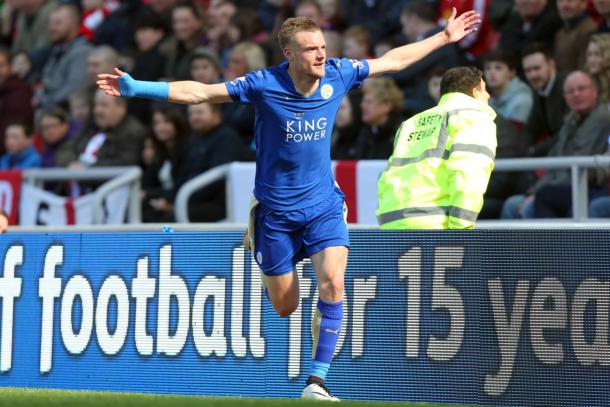 He also set an unbelievable record earlier in the season, scoring in 11 consecutive league games, a record set by Ruud van Nistelrooy (10). What made it even more special was that he broke the record against Manchester United, the team who van Nistelrooy set the original record with. To go with great league form, he even managed to get his first international goals, including an outrageous flick past Manuel Neuer.
N'Golo Kante - Season in Numbers
Another player who has had a season that has been nothing short of incredible. His form for Leicester has even been recognised for the French national team, earning his first call-up to the France squad and even scoring a rare goal on his very first start.
His work rate in midfield has been imperative to the Foxes' success this season, in the game against Sunderland he became the first player across Europe's top five leagues to make 100 tackles this season (A very good milestone seeing as he didn't properly feature in Ranieri's plans until the end of September).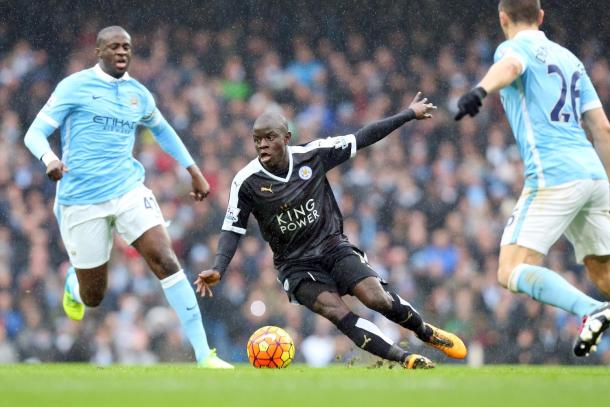 Managing to score his first Leicester goal at home to Watford (albeit a very lucky one), he's also got three assists, which isn't too bad for a central defensive midfielder. His performances have also been outstanding, in every game he's played under Ranieri, he's had a good chance of being selected as Man of the Match. He very quickly became a fans favourite at the King Power Stadium with his unbelievable work rate and pace.
Riyad Mahrez - Season in Numbers
Of all the nominees, Riyad Mahrez has been by far the best player statistically. He has directly contributed to more goals than any other player in the Premier League (27), along with Jamie Vardy, nearly half of the Foxes' league goals this season (57). His 11 assists are only bettered by Arsenal's Mesut Ozil, another nominee for the award. Only four players have scored more than the Algerian trickster, who is the highest scoring midfielder in the league.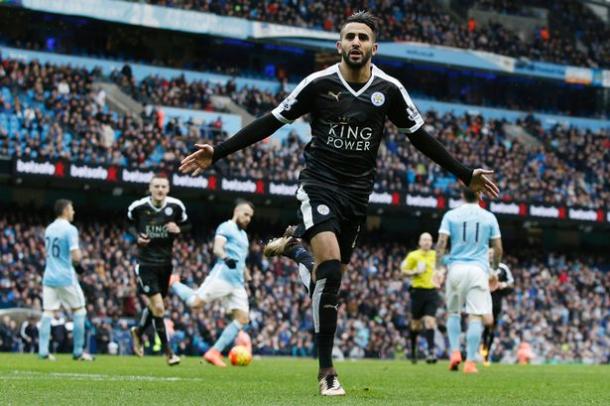 Although he has had some very average performances this season, he has always seemed to get a goal or an assist, the sign of a great attacker. The former Le Havre man has also managed to keep his quality high amongst several rumours of a summer move away from Leicester, rumours that have been worrying Foxes fans. A rise from the French second division to the top of the Premier League would be capped off nicely with a personal accolade and of the Leicester nominees it's got to be said that he's got the best chance of winning it.
All three players were playing at a much lower level only a few seasons ago and to be nominated for such an award is huge recognition for their hard work and determination. They are all great examples of Leicester's fantastic scouting set-up, costing a combined £7 million, a price that wouldn't even be considered for any one of them currently.
It wouldn't be a great surprise if any of the trio manage to take the award especially if they continue their form and win the Premier League trophy, a prospect that's looking very possible. Can Leicester's fairytale season end with the Premier League and Player of the Year trophies?