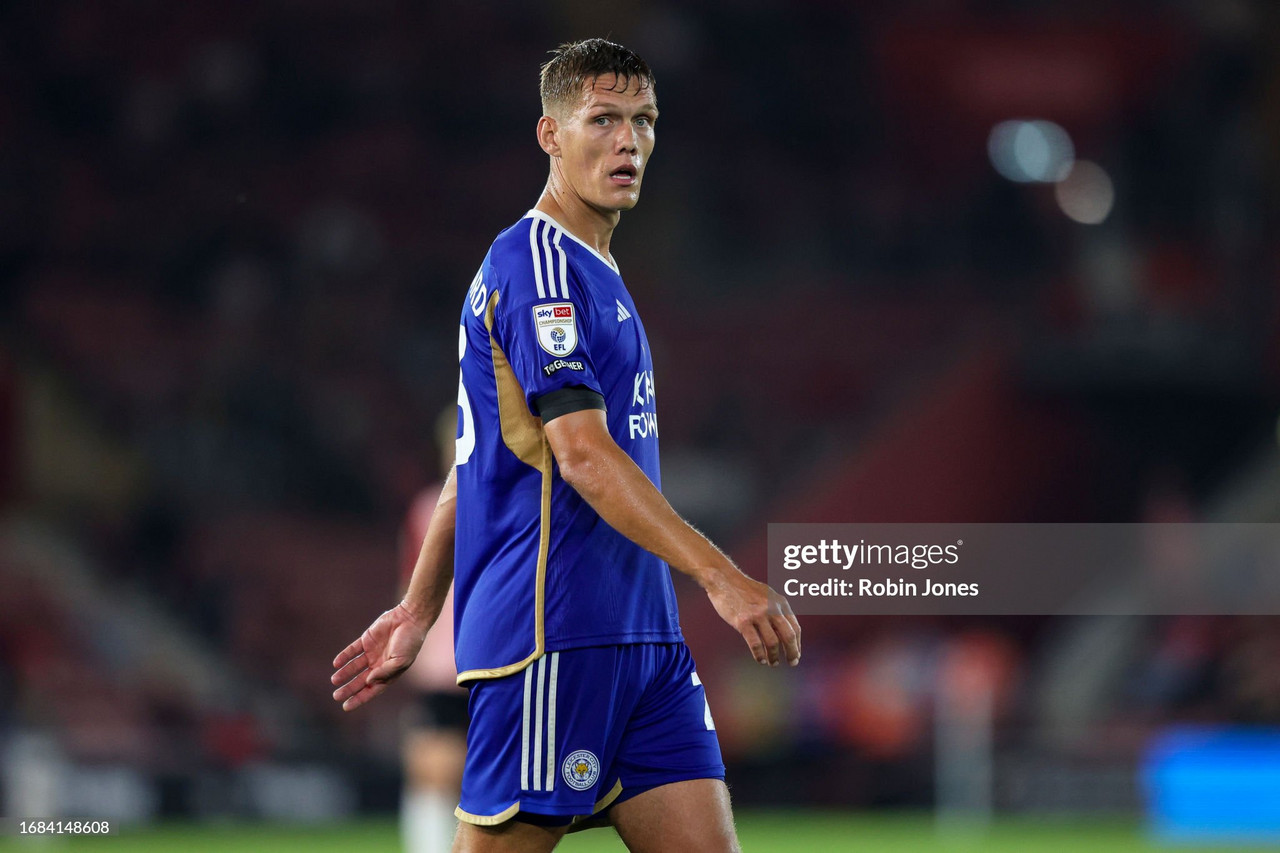 A couple of months ago Foxes fans would grunt at the idea of Jannik Vestergaard pulling on the Leicester City shirt again, but the Dane is slowly winning fans over with big performances in the Championship.
Few Leicester fans would have foreseen this outcome for the Danish international as they pleaded for the club to sell him in the summer, but as Leicester City challenge for promotion back to the Premier League, Vestergaard has become an important cog to Enzo Maresca's ball-playing Leicester defence.
The centre-back was brought in by Brendan Rodgers from Southampton in the summer of 2021 for a fee in the region of £15m. At the time it was deemed as a smart bit of business by Leicester. But he found it difficult to break into a Leicester City defence of Jonny Evans, Wesley Fofana and Caglar Soyuncu, with Rodgers often opting to choose Daniel Amartey if any of those three were unavailable.
In his first season at the King Power Stadium, Vestergaard made only ten Premier League appearances and ten in cup competitions. But if Vestergaard was to be disgruntled at his lack of minutes in his first season he would get a sharp shock in his second.
The Danish international fell even further out of favour with Rodgers as he failed to make a Premier League appearance. But what made his absence so questionable was that at the time the Leicester defence was abysmal. This being the season that Leicester were relegated from the Premier League as they shipped 68 goals in the Premier League - worsened only by Leeds United, Southampton and Bournemouth.
Vestergaard was left out of the matchday squad and was playing with Leicester City's reserve squad as Foxes fans questioned what went wrong for him.
All the talk and chatter about his absence came to a boil in March 2023 as he was interviewed by Danish newspaper EkstraBladet.
The 31-year-old said: "I really felt wanted by Brendan Rodgers, while I was at Southampton, he really convinced me that I should switch to Leicester.
"Brendan Rodgers and the club knew exactly which player they were buying with both my strengths and weaknesses, and it's hard to understand that from one moment to the next I'm suddenly unusable. It feels strange, I must admit."
This interview prompted under-pressure Leicester manager Rodgers to exile him from first-team training in a move that would be one of his last in the East Midlands as he was fired later that month.
Rodgers said: "I've not talked too much on it because it was an unauthorised interview," Rodgers said.
"I've spoken to Jannik and I had to make sure I was talking to him as I'd seen in his quote he didn't know why (he was not playing). I had to make sure I wasn't talking to his twin brother for the last 14-15 months.
"We have respected him when he has decided to stay and that communication has always been there. The communication between him and the club has always been there, about where he stands. I was surprised when I saw it.
"Anything which has happened we will deal with internally and we'll move on from there. Any success we've ever had has been with solidarity on and off the pitch and that's something I'll always look to protect."
Leicester City were relegated from the Premier League... blah blah blah. We know how the story goes.
Enter Enzo Maresca. A product of the Pep Guardiola academy. A man looking to install a completely new identity to a Leicester side reeling from the despair of relegation. But what also came with the Italian was a desire to play with the ball, to control possession, to play across your own six-yard box.
Who did this style of play suit? Jannik Vestergaard.
In his limited number of appearances at Leicester, there were glimpses of a player who has a very good passing range. Someone who could open up teams with a pass through midfield. Someone who was not afraid to step into midfield.
Maresca gave him a chance in pre-season, where many people didn't, but Foxes fans still expected him to move on this summer.
He didn't. And Vestergaard has begun to show signs of the player Leicester thought they were getting two years ago. Resolute defensively. Strong aerial presence. Good on the ball.
In this opening six weeks of the season, the Danish international has made double the amount of appearances that he did in the last 20 months at Leicester.
His pass success rate of 93% is one of the best in the division.
He has played every minute of every game in Leicester's best start to a league season in their history.
He has the second-best accurate passes per 90 at the club with 77, bettered only by Harry Winks.
Of the players who have played more than 180 minutes this season, he tops the interceptions, blocks and clearances per 90 charts at the club with 1.3 interceptions, 0.9 blocks and 5.9 clearances.
Was he a benefactor of the injury to Conor Coady in pre-season? Maybe. But the Championship is a long season and you can't have 13 or 14 good players, you need 25. Maresca demonstrated that against Norwich as he rotated his squad and made five changes to the side that beat Southampton.
But with Coady returning to full fitness, the Italian has a difficult decision to make, either way, Vestergaard is now an important asset to the Leicester squad for the first time since his arrival.
So what did go wrong for Vestergaard? All this could not have changed overnight.
Well, it could have been several reasons, or probably a mixture. He came into a side that had just lifted their first ever FA Cup and finished 5th in the league, tasked with breaking up the backline. He had to displace the experienced Evans and the youthfulness of Fofana.
But Vestergaard's initial downfall boils down to the tragic mismanagement of Rodgers, of which he - and other players like Soyuncu - were unfortunate victims.
But under Maresca, the Dane is writing a new chapter in his Leicester career and is winning back the support of the Leicester faithful with stellar performances.
If he can guide the Foxes back to the Premier League all will be forgotten, right?