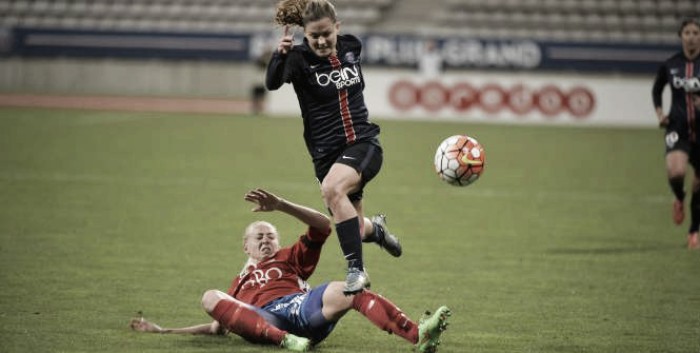 Tuesday brought devastating news for French women's national team in the build up to Rio 2016.
Left-back Laure Boulleau - one of their most experienced players - will not compete in the Olympic Games in August due to a right knee injury.
Having played 65 matches for the national team, she has featured at two FIFA Women's World Cups (2011 & 2015), 2012 Olympic Games and 2013 European Championship.
Experience at level of club and national team
Boulleau was spotted playing in college by an FC Riomois scout. After a short stay there, she was quickly picked up at Le Puy Foot 43 Auvergne during a match in the national cup; CNFE Clairefontaine were quick to act and she joined the programme in 2003.
She joined the Paris Saint-Germain women's team in 2005 and has very attached to the club ever since - including declining an offer from Olympique Lyonnais - before PSG were taken over by Qatar Sports Investments and the women's team turned professional in 2012.
Boulleau made her debut with senior team in 2005 against the Netherlands, and was part of the squad that went to the U-20 Women's World Cup in 2006, scoring a goal in the first game against Argentina. She was selected by Bruno Bini for the 2011 World Cup squad in Germany, the 2012 Olympic Games and the 2013 Women's European Championship. In the 2015 FIFA Women's World Cup, she played in the first four games, but missed the quarter-final loss against Germany because of a knee injury.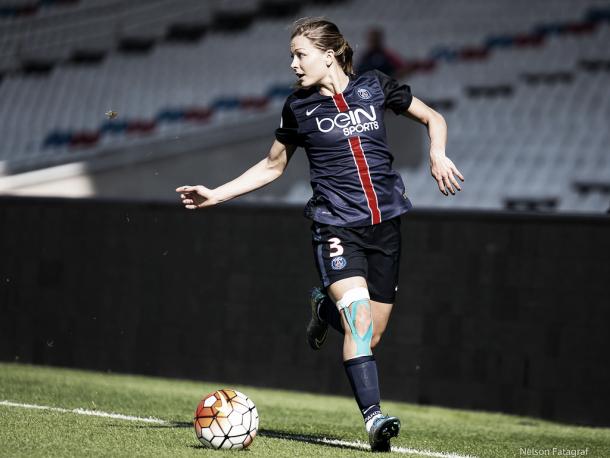 Boulleau made just 20 games in the season, both PSG as France.
The FFF said the 29-year-old had undergone an MRI scan at St. Brieuc Hospital which revealed "a right knee injury", forcing her to give up on Brazil. "The team doctor has approached that of the Parisian club, who will take the appropriate measures for the treatment of injury," said the FFF.
This news is only slightly surprising as Boulleau's season was undermined by repeated injuries last year. She has only played 20 games in all competitions with PSG and the France team last term. Philippe Bergeroo, must announce the list of 18 chosen players - plus four reserves - no later than July 11; he has not confirmed a replacement yet.
Les Bleues will play two warm-up matches against China on July 16 (Charléty, Paris XIII) and against Canada (Abbe-Deschamps, Auxerre) on 23rd, before flying to Brazil.