 Alberto Moreno insists he has no concerns over his Liverpool form after a week in which has been widely criticised for his performance away at Arsenal.
The Spaniard gave away a penalty - which Simon Mignolet saved - and was out of position for the opening goal of the game which came just 69 seconds later and was castigated for his display.
But though the left-back, whose future has been uncertain all summer, disappointed at the Emirates Stadium and is still somewhat blamed for his role in the Reds' Europa League final defeat back in May, he believes he has the self-confidence to battle back.
Left-back says he doesn't let negative press affect him
Moreno was speaking to Australian website The World Game when he revealed that he has "a lot of belief" in himself and "a lot of self-confidence."
When asked about the reaction to his displays, he explained that "football is all about opinion" and that "not everyone watching a game" will "have the same opinion."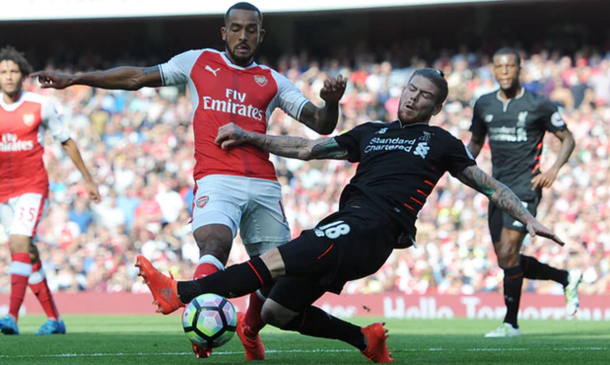 The 24-year-old insists that there "are thousands of fans" who like "to have their opinion" and suggested that it is "not about taking notice" whether "three or four people criticise a performance", be that his own or "any of the players" in the squad.
The defender feels that it is "better not to read the press", even if it is positive, or to be "reading too much into what is written" because as a footballer it is "about living day-to-day" and "letting your achievements do the talking."
Even Messi makes mistakes, says Moreno
Moreno was backed by manager Jürgen Klopp in his pre-match press conference ahead of their trip to Burnley, insisting that it is unfair to scapegoat him for the goals conceded in North London.
And the Reds' No.18 believes he also has the support of the club's fan base, insisting his confidence will not drop at any point.
He declared that he believes in himself "having played 90 games in two seasons for a team like Liverpool" and said: "If three or four individuals want to carry on [criticising], then let them. It doesn't bother me."
Moreno reaffirmed that he is "a very self-confident kind of guy" who gets on "with doing my best and what I can to help the team" as he acknowledged that "everyone can make mistakes" in football, "even Lionel Messi."
Moreno declared that he will focus on "keeping going and keeping positive" because he is "very happy" to be on Merseyside.
"I love Liverpool Football Club, I love playing here," he continued, saying that he is "happy" with his form and "how I've played" and suggesting that "overall" the fans "are happy with me as well" and that it would "not [be] the right thing to do" to let negative comments get to him.