Jürgen Klopp declared himself "delighted" with Liverpool's start for the season after their statement of intent away at Chelsea last Friday.
It has been a very positive start to the season for the Reds despite a difficult fixture schedule in the opening weeks of the campaign, accumulating 10 points from their opening five games.
However, despite wins over Chelsea, Arsenal and Leicester City and a creditable draw away at Tottenham Hotspur - which Liverpool came away disappointed not to win - Klopp isn't one to get carried away by all the talk of a title challenge.
Their latest league victory, a 2-1 triumph against Antonio Conte's Chelsea, gave the media a chance to poke around Klopp's head regarding a title challenge from Liverpool but his reply to them was fairly clear-cut.
Klopp on the Liverpool team proving they can do it
On being asked about potential title aspirations, Klopp said that he is not "really interested in what people say" and that, the situation the club finds itself in, is of the very same kind they found themselves last season.
The German reminded the journalists of that and asked if the journalists were "crazy" to think of a title challenge so soon.
Klopp spoke to the media of the lessons he has learned from English football in the past season and while he conceded that this season's start is "fantastic" after the team faced very tough and competitive fixtures, he was cautious of the fact that the season is "not over."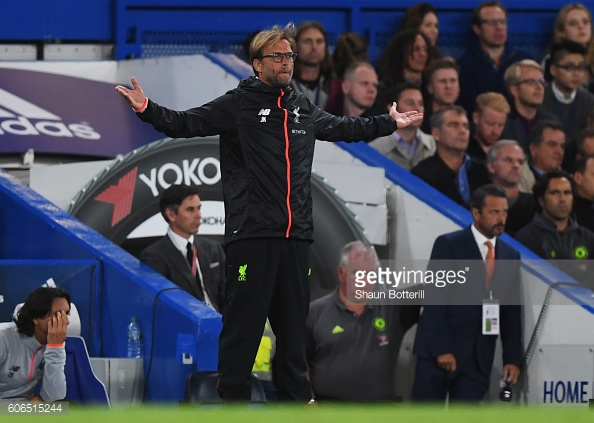 There is no denying that Liverpool have been a very entertaining side and also very relentless in their attack, largely credited to the high-octane style of attacking football Klopp has imprinted on his side.
The manager was confident with his team's display and said: "We can play football, we have shown that," before adding that his team is now "convinced" of their own quality and that at the end, it is up to the players to prove that they "do this."
The Reds boss was happy with his team's display in the first half against Chelsea at Stamford Bridge, but conceded that side did switch off in the second half although captain Jordan Henderson's strike late in the first half sealed the three points.
Reds must find a solution, says the manager
Klopp was happy to field any questions from the media on his attacking and pressing style of play, and about how the team can sustain this kind of "intense" football for the rest of the season.
"I have managed for 16 years," said Klopp and added that, every day, every year, everybody has questioned his style of play being too intense and that the team cannot keep these energy levels up during the whole season.
The German spoke about how his style of play is not about the intensity of play, but rather "finding a solution" to defend against the opponent's attacks. He also added that if the opposition team is "too strong", then the covering back to defend is all the more important as the opposition players wont "run into each other."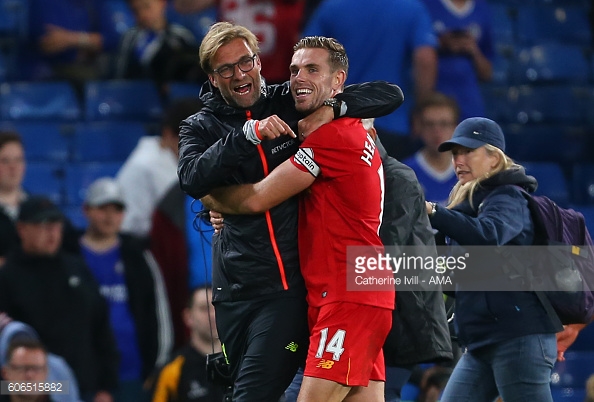 Klopp praised his team's togetherness in defending against CHelsea and was happy with the fact that, in the end, Liverpool "had the ball." He spoke about his team's play in the game and said that the first half was "not very intense" and also said that his strategy is all about "simple movement and simple football."
Klopp football isn't important
Klopp was also asked if he felt that the victory against Chelsea, in a way, symbolised "Klopp football", but the boss likes to think otherwise.
He said that he only thinks about 'Klopp football' because everybody asks about it and that he believes that playing "good football" is far more important.
He spoke about how his style of play is more about "adapting to the quality of the players", and to try and win as many games as the team can and work together while they're at it.
Klopp spoke about not playing Roberto Firmino in the game and assured that his injury is not major but nevertheless he didn't want to take any chances with the Brazilian's injury getting aggravated. He stressed the fact that he wants his team to play 'nice football' and that it doesn't matter where they do it.
It certainly has been a very impressive start to the season from Liverpool and it seems as though they are slowly finding the kind of consistency they have lacked in recent seasons.
Slowly and gradually, even though their manager might not want to admit it, the club might be on their way to a title challenge, only time and results will tell if that can happen.