There are always results that fanbases look back upon come May with a stinging sense of regret.
For Arsenal, this may be one of them. Ahead of a crunch clash with Manchester City on Sunday, the Gunners rolled over to lose 2-1 against an Everton side that showed a certain resilience that has been lacking thus far this season.
Alexis Sanchez' deflected free-kick handed Arsene Wenger's side an early lead, but two headers from Seamus Coleman and Ashley Williams late on in each half helped Everton to just a second win in ten games. For Arsenal, it signalled the end of their fourteen game unbeaten run in the Premier League. They face surrendering more ground to Chelsea, and potentially falling behind stuttering Liverpool tomorrow.
Arsenal control early stages
Everton's early intentions were clear. Devoid of confidence, without a win since the end of October, a cautious start from the team was echoed by their fans - with Romelu Lukaku spending most of the first 20 minutes isolated, cutting an overly frustrated figure.
No sign of the usually buzzing atmosphere at Goodison, Arsenal were free to play at their own pace, but for all their possession, they failed to carve out clear chances. As early as the seventh minute, Nacho Monreal found a way to the byline, before cutting the ball back to the waiting Mesut Ozil, but, having to adjust his body position, Ozil couldn't help but scoop the ball into the stands first time.
But, soon enough their dominance of the ball was rewarded. And it came through Everton's own defensive start, the surrounding areas by the 18-yard-box crowded and muddled. Phil Jagielka left a lazy leg on Francis Coquelin's foot, earning him a booking and the Gunners a free-kick in a precarious place.
And they took advantage of it, Sanchez choosing to go low towards the far post - he had a large slice of luck in the form of a deflection off of Ashley Williams, that saw Maarten Stekelenburg stranded, consigned to flapping a right glove at it, in vain.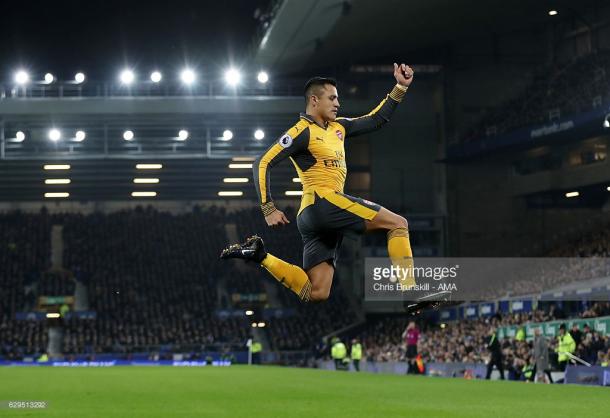 Previously this season, Wenger's high-flying side have pushed on from taking the lead, only once surrendering a lead this season - in their other loss this season, on the opening day against Liverpool.
Everton respond
Although, Everton were the ones to respond, forced to come out and open their play more - but like Arsenal before their opener, couldn't create any meaningful chances to compliment and complete the more aggressive approach. Former Tottenham winger, Aaron Lennon wriggled into the box to the background of a chorus of boos, but he could only slice his resulting shot over Petr Cech's crossbar.
Ronald Koeman's side were buoyant, winning the majority of battles in the midfield and they looked to move the ball out wide and stretch the visitors. It came as little surprise to see Coleman steal a march on Monreal to guide Leighton Baines' delicious cross into the far corner. It started the Goodison crowd, it was clear to see that the tides had turned.
A little kerfuffle by the famously narrow tunnel made sure that the half ended on a negative, both sets of players worked up for differing reasons by the time Mark Clattenberg ended the first 45 minutes.
There's no doubting that Koeman had the easier talk during the break, but once again, his team slipped into a defensive, sluggish mood, with Arsenal controlling the ball - but not moving it quickly enough to get behind the compact lines of blue - Everton having time to keep their solid defensive stance - something lacking from the team since the days of David Moyes.
But when Arsenal did find little gaps, they were wasteful. He may be searching for a new, bumper contract, but Ozil failed once more to convert a golden opportunity in the box. This time it came courtesy of a rare slip from the ever-impressive Coleman, allowing Coquelin a chance to slide a ball through to the quiet Alex Oxlade-Chamberlain. His pass was weighted perfectly for Ozil, but leaning back, the German lazily swept it over the bar.
Wenger rocked back on his seat, arms aloft with a pained expression on his face, no doubt some choice words left his lips. Beside him, Steve Bould winced, keeping his cross-armed shape as he chewed frantically on a piece of gum. Ozil turned back with a rueful smile, throwing his right arm up in part disappointment, part embarrassment.
That near miss sparked the Toffees into life once more, Ross Barkley flashing a shot narrowly wide of Cech's post after Lukaku's deft header from a long Jagielka ball.
Williams steals the show
In order to grow into the game, Lukaku drifted out wide, with Enner Valencia assuming his, more natural, central position. It worked, the Belgian pulled Everton forward, as he spun on the halfway line and bullied Gabriel all the way into the box. His cross may have been cut out by the tenacious Brazilian, but it was a welcome sign of life from the bipolar striker.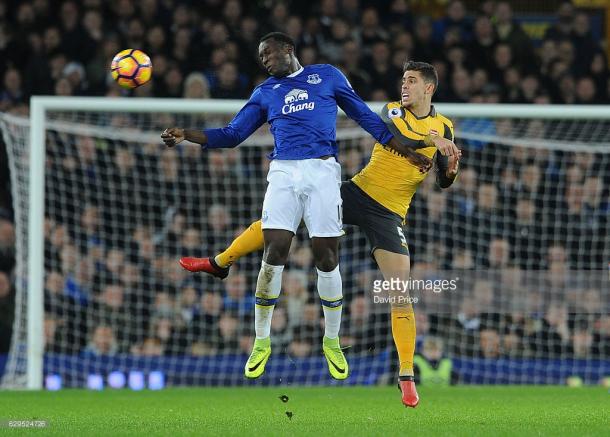 Despite coming under severe pressure late on, Everton held firm, and managed to turn the game on its head late on. It came from two corners, the first fell to Jagielka who spun and hit a vicious first-time half volley that forced a reaction stop out of Cech. From the following delivery, his partner in crime, Williams was free to power home a downwards header that left Cech helpless - certainly a fine time to open your Everton account.
Lest anyone forgets, his last Premier League goal came from a set piece, against Arsenal for Swansea, to complete a comeback from 1-0 down. It all but ended the Gunners' title challenge. How Arsenal fans will be sick of the sight of one of their former, perennial transfer targets.
They weren't home and dry just yet, as one final, desperate wave of Arsenal pressure threatened to restore parity. Jagielka saw a second yellow for a sly tug on Hector Bellerin's shirt to compound the matter. A frantic final minute in the fourth minute of added time saw Arsenal have two shots cleared off the line, before Sanchez was denied a penalty shout. With Cech tending to matters at the attacking end, Everton broke, trying to extend their narrow lead, but neither Lukaku, Kevin Mirallas or Barkley could take advantage of the gaping net, with Bellerin marshalling the goal on his own.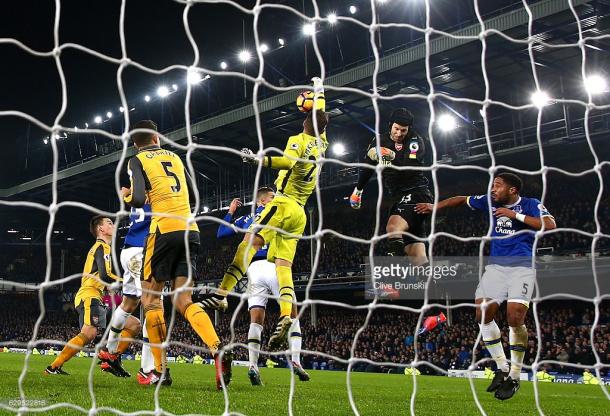 As Clattenberg called time on proceedings, the world exhaled in unison, one of the finest 60 seconds of the season somehow not ending in a goal for either side.
For Everton, it's the perfect result to enter the impending Merseyside derby, but Arsenal leave with their tails between their legs, with Pep Guardiola's wounded cats awaiting them next. The response to this will make or break their season.