This week, Paul Pogba, Zlatan Ibrahimović and Marcus Rojo all returned for Manchester United. Their performances after long-term injuries will have provided Man United with a massive boost. They need them.
United have one of the biggest squads in the Premier League, but the three players mentioned should provide not just quality, but the consistency that is sorely missed when they are absent.
Pogba and Ibrahimović especially are huge personalities and affect not just run-of-the-mill games, but games on the biggest stage. Without them, United have toiled somewhat.
It is not that United don't have quality in reserve, it is just that the players that are on the periphery of the first team are not justifying being in and around Manchester United.
Football is about taking chances, and there are too many players going through the motions at the moment. It could well cost them their United careers.
Tough start for Lindelöf
Starting at the back, you have to say that Victor Lindelöf is possibly the biggest disappointment. Signed for around £30million in the summer, he has had a difficult start to life at Old Trafford.
After a less than auspicious competitive debut against Real Madrid in the European Super Cup, he had to wait for his chances as Eric Bailly and Phil Jones made a strong start.
He was limited to cup games and a brief sub appearance at Anfield before he came off the bench early against Huddersfield Town. It is fair to say, he would have probably preferred Jones not to have got injured that day.
He made his first league start against Newcastle United. Whilst things went OK for United, fine margins meant Lindelöf still received criticism.Well-positioned when Newcastle broke, he slipped at a crucial moment and instead of a good interception, it meant a goal.
He is having a tough time at the moment, but he is still on his honeymoon, and he will more than likely come good. José Mourinho knows what he bought, but Lindelof needs to start showing more sooner rather than later.
Mourinho didn't buy Matteo Darmian. There maybe times when he wishes nobody did at United. Darmian is an Italian international and for a defender that means you must have something about you.
He settled in very well at United, but he appears to be a player that needs game time and possibly confidence. When he has spells on the sidelines, he comes in and looks so out of sorts.
It is testiment to him that he forced his way into the side at the business end of last season, and performed with great credit. He is not first choice though at either right or left back, and when he gets an opportunity, he tends to waste it.
Against Basel in the Champions League, when United were being put under pressure he crumbled. Sloppy in possession and consistently fouling, he did nothing to help United to regain the initiative that they so firmly had.
It is difficult to see how he can remain at United beyond this season, as he is unlikely to get much game time when there are better options on either side - and that includes Ashley Young, a 30-something winger.
Herrera not matching last season
Ander Herrera is the current Sir Matt Busby Player of the Year. That speaks volumes. The award was well deserved, as he had a fantastic season last year, but he hasn't picked up where he left off.
Injuries to Pogba, Marouane Fellaini and Michael Carrick meant that Herrara has been featuring often. He just hasn't done much when he has.
United have lost four times this season, including the Madrid game. Herrera has started every time. He can't be blamed, but at the same time, he is part of a collective that has underperformed on those occasions.
Under Mourinho, United are not flamboyant by any stretch. Yet they have scored four goals in several games this year, and when they click they have been impressive. Yet his defensive outlook means United have to click and take chances when they come.
Forwards disappointing
That means the forwards need to be at their peak. It is in the attacking area of the pitch where some of the most gifted United players reside, and some of the most frustrating too. Where to start? Jesse Lingard.
He has done amazingly well to earn himself a bumper contract having forced his way into the first team picture after various loan spells. A youth team player coming through is always special, and he is no exception.
Yet despite scoring goals in cup finals, and having an impact in big games, he does so far too infrequently. And when he doesn't score, he doesn't provide much else. He is basically a runner.
Mourinho likes him, for sure. He is energetic, and whilst he has creative attributes, he rarely shows them. He gets his chances because he does the dirty work for others. Mourinho will keep playing him, but he is only ever going to be a bit part player.
Unfortunately, the same can probably be said for Juan Mata. Mata is almost an exact opposite to Lingard. Not pacy, not energetic, but has creativity in abundance. He is a beautifully gifted footballer, but it seems that games often pass him by.
When he has the likes of Anthony Martial, Marcus Rashford and Lingard around him, games should be tailor-made for him to cause havoc. He doesn't do it often enough.
He is a wonderful player and a wonderful human being and he is loved by United's faithful. Rightly so. For United to be successful he needs to perform every time he is picked.
United are not exactly in dire straights. Second in the League, in the semi-final of the League Cup and despite the defeat to Basel, will qualify to the knock out rounds of the Champions League.
It's just that when United have performed well in games, you can look to two or three individuals in a particular game that make it happen. And they are usually the same faces. Pogba, Nemanja Matić, Romelu Lukaku, Martial and Rashford. And sometimes Henrikh Mkhitaryan.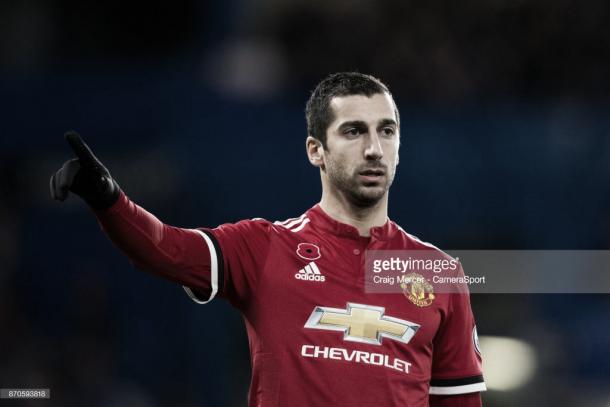 He, like Lindelof, had a tough start at United. He came through it and scored in the Europa League final against Ajax. It was a great turn around by a great player.
He took that form into the start of this campaign, and almost everything good about United came through him. But where did he go? The intelligent quick-footed, visionary footballer almost disappeared overnight. His last few appearances have been pretty rotten.
He has been a passenger, but that goes for too many. To make it to United takes something special, but you can't rest on your laurels if you want to stay there.
Too many players are looking on, and waiting for someone else to do something. It is not about not trying, it is clear that everyone is putting the effort in. It is just that effort is the bare minimum and some players are doing only that.
Luke Shaw can be included in the list of disappointments. You can say he is not being given opportunities, but that shows how little he must be doing. The left-back spot is crying out for someone to make it their own.
Shaw should be all over it, but Young is the one who is showing the aptitude and ability required to take it.
United are well positioned to have a fantastic season. The whole of United's squad will play their part. Some will play a bigger role than others. The bit part players may regret that they allowed others to take centre stage.