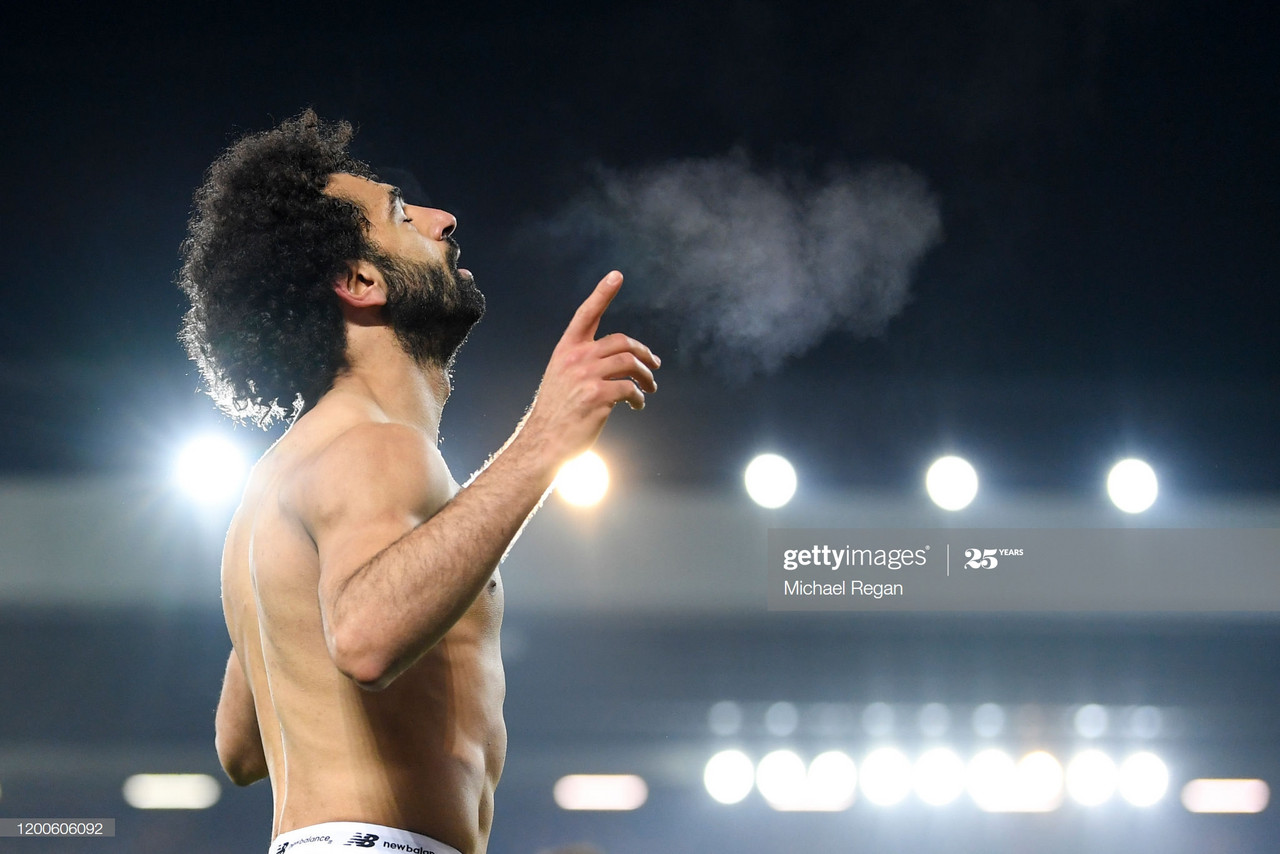 The Liverpool squad returned to Melwood on Wednesday morning to begin preparations for the Premier League's likely resumption next month.
When they return to action, they know they need just six points from nine matches to confirm their status as champions.
They will have to battle for those points without supporters, but should still cross the finish line with minimal fuss.
How, though, might they celebrate?
Earlier this week, it was made clear that league bosses were intent on there being a safe trophy presentation.
But that still leaves us with plenty of unanswered questions.
Will there be a traditional huddle fronted by the captain when, as we saw in the Bundesliga, contact outside training and matches is supposed to be kept to a minimum?
Will the trophy be held aloft at an empty Anfield, or will it be delivered to Melwood for a day of live-streamed, socially-distanced celebration?
Will Jurgen Klopp and Jordan Henderson see such festivities as appropriate in the current climate? Or is it exactly what is needed?
Could the players pick up their medals but wait until large gatherings are possible before lifting the trophy? Just how long might that be?
One supporter, interviewed by Goal, has even floated the idea of a double celebration at the end of 2020/21 if the utterly dominant Reds retain their title.
The uncertainty persists. It was not supposed to be like this. Given the extent of Liverpool's achievement and given their 30-year wait, it feels almost... unfair, even if, in context, it is not actually that important.
Whatever arrangement is chosen, and however gloriously satisfying, it will be hard to match 23.13 on 1 June 2019 in Madrid.
But this has been a unique season, in more ways than one. And Liverpool fans can remember it uniquely.
Their fate has long been sealed
Liverpool's campaign has had the air of an unrelenting, celebratory title march since they raced into a 3-0 lead against a defensively feeble Manchester City at Anfield in November. That win opened up a nine-point lead, and now the Reds, as European champions, were made of stronger stuff. They were not going to spurn this opportunity.
Since then, the deficit has only widened, and when City's 2-0 lead at Wolves turned into defeat at the end of December, they were down and out.
At first Liverpool fans persistently refused to be drawn in. There had been too many chastening experiences. But the mood changed on 19 January.
'He's in, Salah'
After 93 minutes, Mohamed Salah made sure of the three points for Liverpool against Manchester United. This was the moment, symbolically if not yet mathematically, when they became champions.
It was against their fiercest rivals. The only side - at that point - to have taken points off them all season, and the only side who have won more English titles. And it had been an exhausting game lodged in a defining month, with Liverpool spurning gilt-edged chances and United threatening to snatch a point.
"He's in, Salah", Sky Sports commentator Jamie Carragher alerted us. He could easily have said, "This is it."
We waited and waited as Salah tussled with Daniel James - a literary critic might find a metaphor in the build-up - and then, when he tucked it under David de Gea, there was euphoria in the stands and on the pitch.
These were scenes more than befitting of a title celebration. Alisson's knee-slide-into-embrace after charging the length of the pitch was almost as iconic as any trophy lift image could be.
'We're gonna win the league,' the crowd began to chant. That was momentous, to say the least. All season they were reserved realists, boasting only that they were 'top of the league'. That pointed to the scars of 2009, 2019 and most of all 2014. Supporters were too wise to the dangers of complacency.
But there could no longer be any doubt as they strode imperiously into a 16-point lead with a game in hand.
The season has been its own parade
On 9 May, Jordan Henderson should have shuffled his way into the history books after Liverpool's final home game against Chelsea.
It is a great shame that this journey can't have that storybook ending, the triumphant moment every other champion has enjoyed in front of their supporters.
But Liverpool fans should look upon 2019/20 as a triumphant season from start to eventual finish.
It had been a party lasting for months, a supremely enjoyable ride.
"Why would you think about something you cannot have?" Jurgen Klopp says. "Use the thing you have in the moment."
What Liverpool supporters have, first and foremost, is lifelong memories.