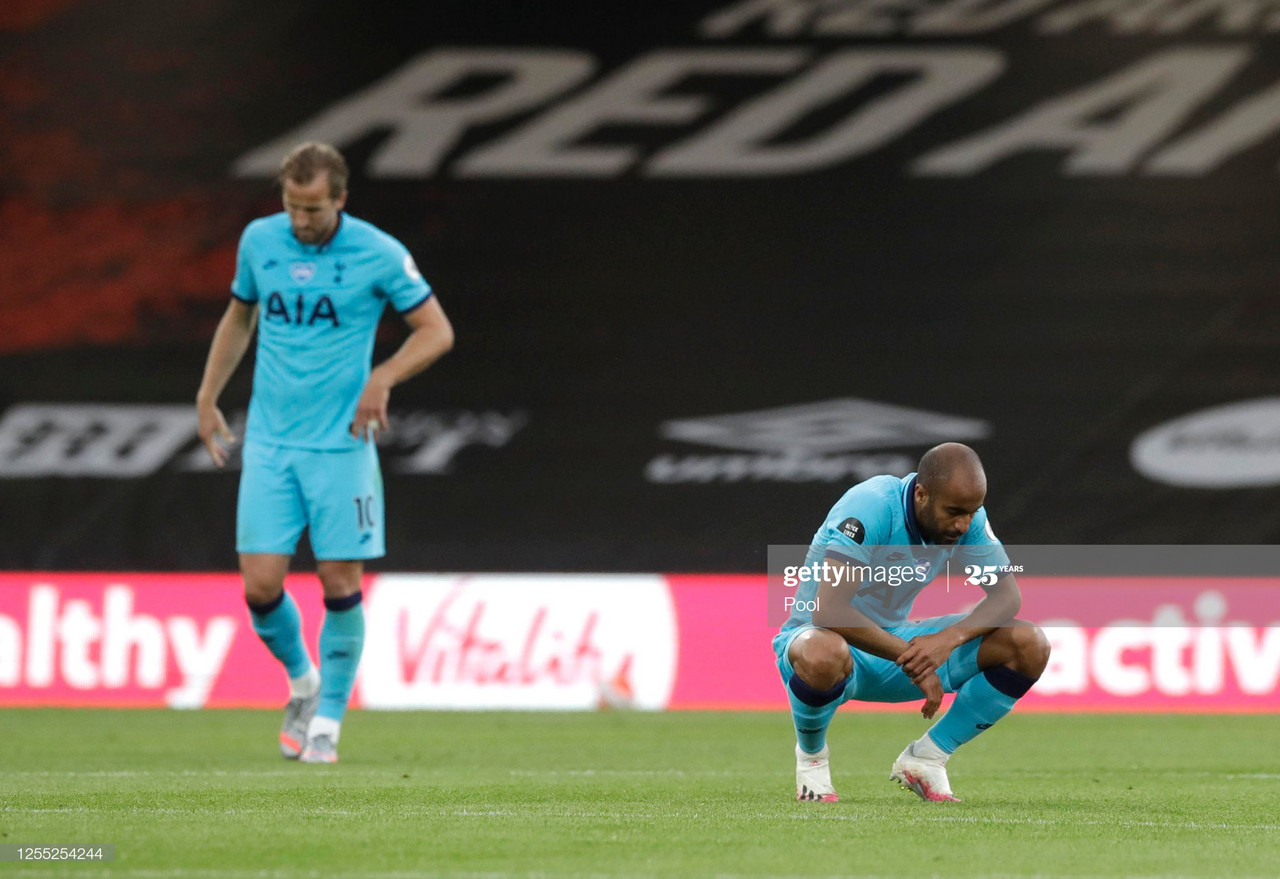 Spurs could only draw 0-0 against a struggling Bournemouth, while also failing to register a shot on target at the Vitality.
VAR clouded the drab affair with two incidents, one going against and one favoring the Lilywhites.
Callum Wilson appeared to score the winner in the 90th minute but it trickled off Joshua King's hand on the way - VAR ruling it out instantly.
However, Spurs were denied what seemed an obvious penalty in the 11th minute when King pushed Harry Kane from behind at a corner.
What did we learn from the affair?
Inconsistent form continues
The 100-day-break from football was widely viewed as a positive thing for Spurs - vital players like Kane, Heung-min Son, Moussa Sissoko, and Steven Bergwijn all returning.
It also gave them time to refocus, following some bad form just before the lockdown.
There were also ambitions that they could be the dark horse to creep into a European spot, but that has not gone to plan, winning two, drawing two and losing one.
They are far too inconsistent to mount any sort of push for a top-five place, and the season seems to be coming down into a crash landing with four games remaining.
Arsenal on Sunday needs to be viewed as a massive catapult into a good run of form heading into the new campaign.
'Jose Out' is starting
Twitter is where most fans vocalise their opinions, and this was no different after Spurs' draw yesterday.
If you dared peep on the app throughout the match or even after, 'Jose Out' was trending.
It is very clear that patience with the Portuguese manager is beginning to wear thin.
The Lilywhites now sit in ninth place, ten points away from fourth, and tensions were high after the game in Jose Mourinho's press conference.
Mourinho stormed out of the zoom session due to technical difficulties as he was about to field some questions after his side's limp draw.
With the sounds clearly not getting through to him, he grew tired and left.
At one stage, he was asked: "Hello Jose, can you hear me?"
Oddly enough, Jose instantly replied "no" - before taking off his headphones and leaving.
The tensions are rising and with a North London Derby on the horizon, that game will prove massive to winning fans over and could be fateful if the game does not go his way.
The last thing Jose Mourinho needs during this rebuild is the fans losing faith.
Ndombele promise
It's not a huge positive, but it's something.
Tanguy Ndombele was substituted on at half-time, and it felt like a massive moment for the French international to make a statement that he has to start the next game.
It's up to debate whether he did that, but he certainly made some sort of impact.
He instantly upped Tottenham's tempo with first-time passing in the centre of the park.
He picked up a silly yellow card and a bloody nose for a late tackle, possibly showing his frustration at the game or his situation.
Mourinho, as usual, was not complimentary of Ndombele's cameo. He said: "He was the same level as the team, not better or worse."
The relationship between these two is one of the most intriguing subplots of the Premier League season.
Full-backs show a lack of quality
This is not breaking news and may seem harsh considering a clean sheet was achieved, but the problems were mainly with the full-backs' quality going forward against Bournemouth.
Serge Aurier and Ben Davies, who have started every single game since the restart, showed yesterday that Spurs may need to delve into the market to get full backs that can provide quality around the box.
Mourinho's system often sees Aurier push up as right-winger while keeping three at the back with Davies.
Time and time again the Ivory Coast international is the spare man on the right-hand side, but when he finds space, he fails to deliver a great ball into the box. The first man is often hit.
On the left-hand side, Davies was also almost caught out defensively when Harry Wilson burst through but was let off by a good Hugo Lloris save.
Kane struggles again
There is no doubting Harry Kane's world-class goal-scoring ability but a worrying trend was on display during the first half at the Vitality Stadium.
The 26-year-old's average position was so deep, as he ventured away from goal in order to influence the game, that Giovani Lo Celso and Moussa Sissoko were actually higher up the pitch than the England captain.
The second half was slightly better, but he still was deprived of any chances from a lifeless performance in the final third.
Mourinho was upset at Paul Merson's stinging comments about Kane's ability to score under his guidance but, without a reliable supply, Kane's instinct is to go looking for the ball, which only amplifies the problem.
Kane, who has scored two goals in five games, needs to get a constant service for Spurs to start having success under Mourinho.