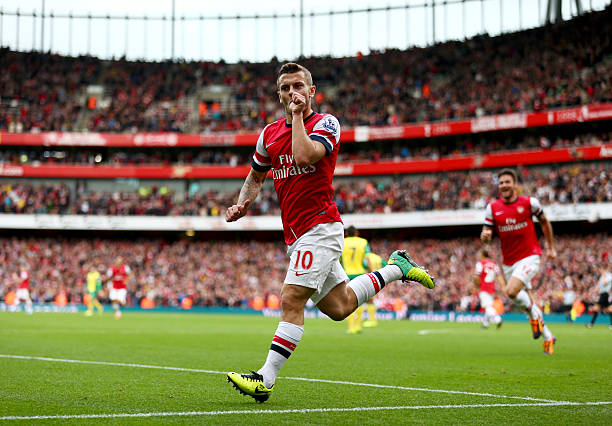 In the 20/21 Premier League season within the 9 games played so far, Arsenal have only scored 9 goals and created 9 big chances (Premier League).
The clear improvements needed within the team are within the creativity department.
Arsenal striker Pierre-Emerick Aubameyang and number nine Alex Lacazette have both been starved of opportunities and chances within games so far this season.
The Gunners Midfield have been too defensive minded and have lacked that element of creativity.
Mo Elneny, Granit Xhaka and Thomas Parteyare all deeper lying defensively minded midfielders while Joe Willock and Dani Ceballos haven't featured consistently in Arsenals starting XI this season.
How can this be solved?
Could the answer to these creativity issues be former Gunner Jack Wilshere?
The 28-year-old midfielder is currently without a club and a free agent. Some suggestions have been that the former Arsenal man should be reunited with his past teammate now Arsenal manager, Mikel Arteta.
Wilshire could bring that creative spark that The Gunners are missing and unlock opposition defences with his intelligent passing and movement in the final third.
Wilshire was a product of Arsenals academy and won the Fa Cup twice during his career on the red side of North London.
He will however be widely remembered for 'that performance' against Barcelona at Emirates Stadium in 2011 when the young playmaker was 19-years-old.
The youngster bossed the midfield and outplayed the likes of Leo Messi, Xavi and Andreas Iniesta.
The former Arsenal star was also the scorer of an iconic team move against Norwich in the 2013/2014 Premier League season.
Darren Bents view
Former Tottenham striker Darren Bent has been speaking to TalkSPORT in a feature which he said he believes Arsenal could benefit from Jack Wilshire on a "pay as you play" style deal.
Injuries have held Wilshire back throughout his career so a 'pay as you play' deal would make sense for both parties.
Bent mentioned: "He's got that creativity and I know he'd be hungry to go back to Arsenal, I know how much he loves the club. I'm not saying give him a normal contract, but on a pay as you play, I'd take him back tomorrow. He's only 28, a pay as you play deal makes sense. Get Jack Wilshire back".
Bent, who supports Arsenal, urged Arsenal boss Arteta to also reintroduce Mesut Ozil into the team to try and find the answer to their lack of creativity and chances created.
"He's creative, He's a good player and if you're paying someone that amount of money and he's just sitting there doing absolutely nothing, and if no one else is going to come in and buy him, you might as well use him".
Writers opinions
Personally, I believe Wilshere on a pay as you play contract would be a very smart move from Arsenal.
The move would work well for both parties as the club would provide Wilshire the playing time that he is crying out for as well as Arsenal not losing out financially.
If the player doesn't play up to standards, then finances won't have to be wasted on him as he can be taken out the team.
But, if he can hit form and play the football that Arsenal fans know and love him for then, Arsenal could become a very dangerous team.
I also agree with Darren Bents quotes on Mesut Ozil, I believe he should be in and around that Arsenal team and at least given a chance to prove himself once again due to the struggles that Arsenal are currently facing in attack.