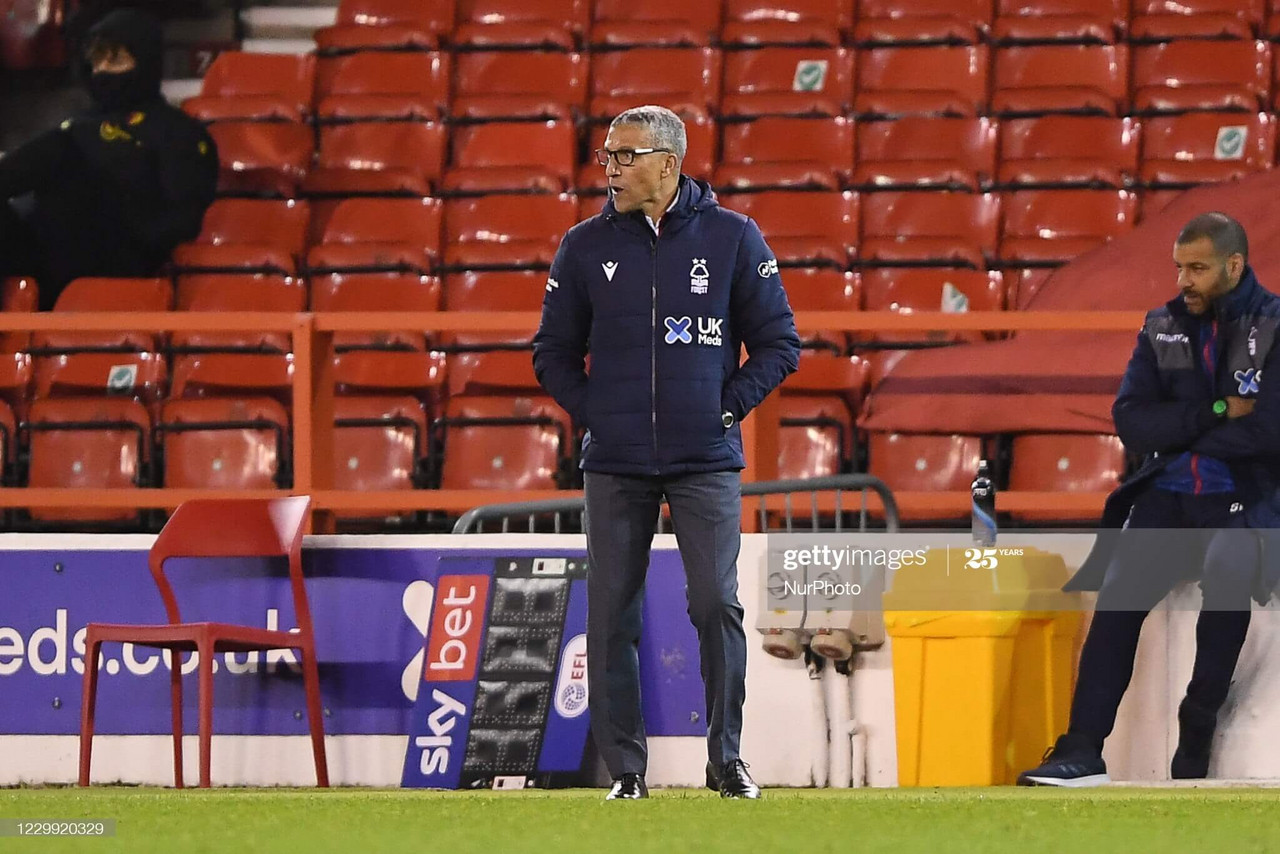 Nottingham Forest ended their three-game winless run last night after earning a deserved goalless draw against promotion pushing Watford.
After suffering consecutive defeats against Barnsley, A.F.C Bournemouth and Swansea City, it was important that the hosts got something out of the Hornets so they can use it as a building block to move further adrift of the relegation zone.
In the actual fixture, there were many positives that the Reds could take as they looked dangerous when going forward despite not forcing Ben Foster into any real saves.
However, defensively Forest looked stable and solid against a lethal Watford attacking line as they limited them to minimal clear cut chances and goalkeeper Brice Samba was only forced into making one save.
On Forest's overall performance
After the game, Chris Hughton admitted that he was pleased with his side's overall performance it was just the final ball that was lacking.
"I think we defended well. Looking at the balance in the two teams, they have probably got a bit more offensive option than we probably do have but I thought regards to our defensive play, we broke well.
"I thought Lyle Taylor was good, he led the line well. I thought we gt into some really good wide positions. I think it was a decent offensive performance.
"What we lacked is what we have been lacking is that last bit which is once we get the ball into that final third to really create good chances but I thought we got to the byline on numerous occasions and I think it is just that final bit that is missing."
On the Reds character
In what going into the encounter was a tough challenge for the Reds, Hughton revealed that he felt that his side's impressive performance was a good reaction to the recent disappointing results.
"I think it is a reaction to the results of late. The last thing we wanted to do was to finish this game on the back of four defeats. so I think it shows it means a lot to them.
"We were against good opposition so the players know we had to raise their game and I thought there were some really good performances."
On Cafu's first start to the club
After being selected in the starting 11 for the first time since joining Forest from Olympiacos in the summer, Hughton said that the fact that he completed the full 90 minutes must be down to the way in which he trains.
"I think his strengths are breaking forward and testament to him. He has not played a lot, he has wanted to and he has been a bit frustrated. For him to get through 90 minutes and to still be strong at the end is testament to the way that he trains.
"He is a good individual he wants to play he wants to help the team and the fact that he trains the way that he does has enabled him to still be going strong come that last five, ten minutes."
On the return of Worrall
Centre back Joe Worrall made his first appearance for the club since the 19th September after suffering from a foot injury and it is clear that Hughton is pleased to have him back in contention due to the leadership qualities that he brings to the team.
"One thing I have learnt about Joe in a short period of time is that he is a player with plenty of character.
"He is very well respected amongst the lads and you can see what he gives the team in his leadership qualities."
For this game, Worrall was further given the captains armband and when commenting on whether he would be in contention as the regular captain Hughton said "All of these decisions I have to make over a period of time.
"What he absolutely does have are leadership qualities, I think that goes without saying. We will make decisions as we go along and of course, there are certain situations here that you have to think twice about changing."
On Dawson's injury update
Along with the return of Worrall experienced defender Michael Dawson who is yet to have featured this season for the Reds due to sustaining a calf problem was named on the bench.
When revealing when the 37-year-old may be ready to return to first-team action, Hughton said "He has been out for a period of time and what Michael Dawson brings the squad is the same what Joe brings the squad.
"We would be far more comfortable starting Joe rather than Dawson (against Reading) but it is really good to have him back in the squad.
"Even though we feel our performances have been better than probably what our results have been, you still want that competition in the squad. You want that character and Michael is always a good one to have in the squad".