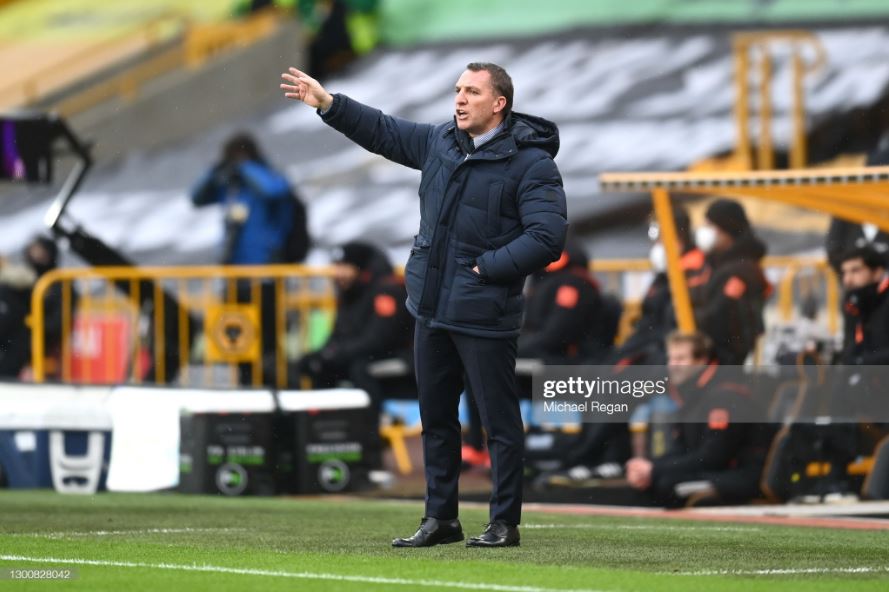 After wins for both Leicester City and Wolverhampton Wanderers in their last fixtures, against Fulham and Arsenal respectively, neither side could fully build upon their successes as they had to share the spoils in a goalless draw.
The Foxes looked comfortable in posession in the first half but could not fashion clear cut chances, with a couple of long ranged shots by James Maddison not testing Rui Patricio as much as he wanted.
Wolves grew into the game in the second half and should have scored through Fabio Silva if it was not for a brilliant Kasper Schmeichel save with his outstretched leg.
Leicester had their own chance to nick the result late on but it was not to be for the returning Jamie Vardy whose header flew narrowly wide of the post.
A draw was arguably the fair result of the game but means that Leicester could not capitalise on Manchester United's stumble against Everton.
Brendan Rodgers spoke to the media following the match and here are some of the highlights.
On the result
"It was a fair result, with not too many chances. The players gave everything after a tough week and could have nicked it at the end."
Rodgers' acknowledged the lack of chances in the reflection of the game, which was tight from start to finish. Both teams had 13 shots each and both teams will have hoped to test the respective keepers more, with Wolves registering one shot on target whilst Leicester had three.
Due to the tight schedule, teams are having to play more regularly, with Rodgers conceding that it has been a tough week for his side having played against Fulham on Wednesday, alluding to the fact that a point is not a bad result at all for his side.
On Iheanacho's performance
"He worked hard, didn't have too many opportunities but he gave us everything. He's not used to playing games close together."
After a promising performance against Fulham, Kelechi Iheanacho found little success against the low block of Wolves, managing only one shot from a tight angle that flew wide.
Despite this, Rodgers was complementary of the Nigerian and made the point that playing two games in quick succession is not something that Iheanacho has become accustomed to after playing in a deputy role to Vardy.
Iheanacho will potentially have another chance to impress with an FA Cup match against Brighton coming up. Vardy may still be too early on in his return from injury to play the full 90 minutes, giving the former Manchester City man a chance to get on the scoresheet once again.
On Vardy's late chance
"Everyone here thought it was a goal. I had my arms up! It's great to have him back and he'll get more game time on Wednesday."
Leicester's best chance of the game fell to the man that they would have hoped it would, but Vardy's late header sailed past the post to the disbelief of Rodgers who admitted to celebrating early.
It would have truly been a smash and grab for the Foxes as neither team really deserved all three points, but Vardy will have been disappointed that he could not direct his effort on target.
Having just come back from injury, a bit of rustiness may have come into play but Rodgers and Leicester will be hoping that with more game time, Vardy will be back to his best very soon.
On opting for Albrighton over Under
"It was a game where, with all due respect to 'Cengo', he's offensively good but the other side of it he's not so accustomed to. We felt it was a game for Marc to do work going forward and the other side too. But it's a new game Wednesday."
Cengiz Under has found game time little to come by recently, with the Turkish international finding himself left on the bench once again.
Rodgers offered an explanation in that Marc Albrighton offers more defensive cover on the side that Pedro Neto was finding success down, meaning that he wanted to use the Englishman to offer more stability in defence.
Under, who's move to Leicester depends on his performances due to the lack of a clause in the loan contract, will be hoping that he has opportunities to prove his worth as time is running out to persuade Rodgers in signing him permanently, with the first chance to do so surely coming in the FA Cup game in midweek.
On the return of Ndidi
"We thought about this one but didn't want to risk him. He's had a couple of days good training, so should be fit and ready for Wednesday."
Despite having trained successfully for a few days, Rodgers decided not to rush Wilfred Ndidi back into action and instead opted to wait until the clash against Brighton.
Ndidi has established himself as a crucial part of Rodgers' team and when he plays, he allows the attackers to get up the field more due to the effectiveness of his defensive work in the middle of the park.
Hamza Choudhury has played in his place for the last two games, filling in well with two assured performances and will be fighting to hold onto the position with Ndidi returning to fitness.