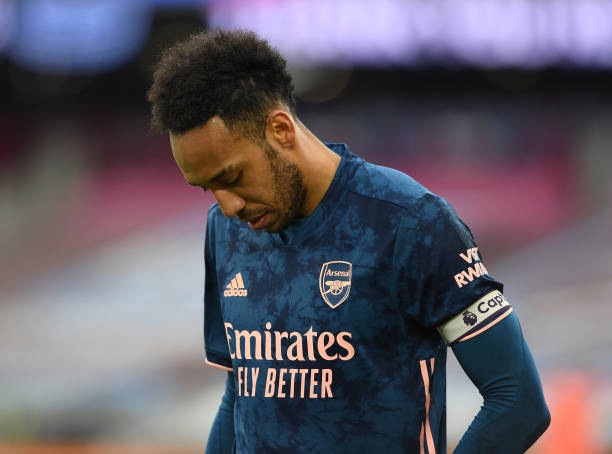 After another impressive goal-scoring record last season, it was clear that Arsenal had to do whatever they could to keep Pierre-Emerick Aubameyang at the club.
However, this season has been far from straightforward for the Gunners' captain and Watford captain, Troy Deeney, believes the Gabonese international 'isn't his normal self.'
Contract renewal
In the lead up to the start of the current season, every Arsenal fan woke up every day hoping there was news on whether or not Aubameyang would sign a contract extension.
He had a very slow start to the season as the forward only scored two league goals going into the Christmas period and Deeney said his awkward pre-season may have contributed to this.
'He had a short pre-season and the contract stuff affected him.'
The form of both Aubameyang and the team was disappointing, to say the least, until the Boxing day win over Chelsea which the captain missed through injury.
Late for work
Aubameyang missed three games in January due to family reasons but soon after returning, he found his goal-scoring touch again. He scored his first Premier League hat-trick in a 4-2 victory over Leeds and bagged a vital brace against Benfica in the Europa League.
It seemed as if the skipper was set to lead the attack in the North London derby but due to him arriving late, club protocol meant he was left on the bench for the duration of the game.
Deeney, who once famously said that Arsenal lack 'cajones', praised Mikel Arteta for how he handled the situation.
'I think Arteta handled it perfectly. If he was late, whether it was 30 minutes or 30 seconds, he was still late.'
'I think he set a statement and said it doesn't matter who you are.'
Although the fallout from the incident was limited off the pitch, the forward seems to be struggling on the pitch. Deeney used a scenario from Arsenal's 3-3 draw against West Ham to show something was wrong.
'I think there was a moment just before he came off where Lacazette gave him the ball on the left. Normally, he'd have a touch and shot and he took one, two, three touches and got caught out.
'That's when you know when someone's not in their normal rhythm. Let's be honest he's a top finisher but normally it's one-touch, shoot.'
The run-in
After poor performances against both Olympiakos and West Ham, Aubameyang now has a break from his Arsenal duties as he goes away on international break for AFCON qualifiers.
Due to their poor start to the season, Arsenal cannot afford to ignore their league position as it is quite frankly embarrassing for the club.
The Gunners' first game back after the break will be against Liverpool followed by the first leg of their Europa League tie against Slavia Prague.
These are two big games for the club and if they want to make something of this season, they will need their star attacker to find the form that knocked Manchester City and Chelsea out of the FA Cup.