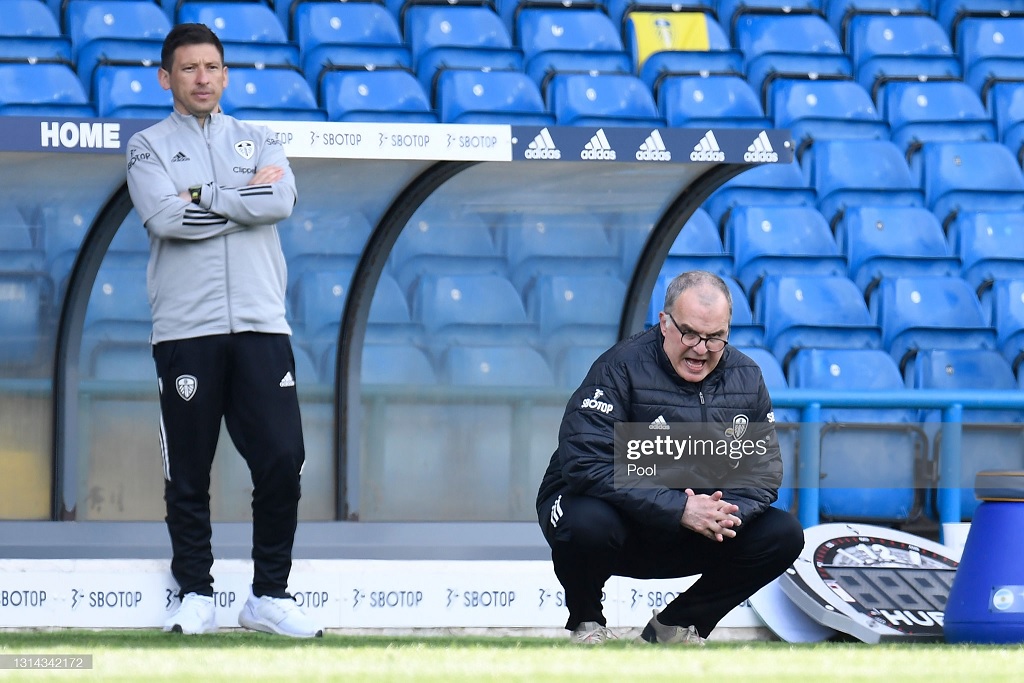 Leeds United held Premier League title chasers Manchester United to a goalless draw at Elland Road on Sunday afternoon.
The Whites who are now six games unbeaten, following their 5th draw of their season so far, moved upto 9th in the table.
How do you feel about that performance?
Both Leeds and Man Utd didn't create any real cut goal scoring chances in the game, however, the biggest chance fell to the visitors when Illan Meslier made a superb save to deny Marcus Rashford from a free-kick.
After the game, Marcelo Bielsa was asked how he felt after the performance against Ole Gunnar Solskjaer's side.
"It was a very demanding game for us," the Argentine said.
"For the game not to become unbalanced the team made a massive effort. This effort allowed the game not to become unbalanced for us.
The game for them came more naturally for them. But even if they predominantly dominated, we managed that the chances on goal were similar, even if they did have more of the ball to attack and they had a lot more attacks than we did.
But I insist I value a lot everything that we did so the game would not become unbalanced." he added.
How impressed are you with what the players have been able to achieve in the past three games?
In the last three games (including the game against Manchester United) Leeds have picked up five points from a possible nine, with a win against Manchester City and then back to back draws against Liverpool and Man Utd respectively.
All three games at the start of the season were considered to be very, very tough by the media and fans and Bielsa spoke on how impressed he's been with the players: "The group of players have constructed a solid group, throughout this time they have made errors and have learned how to correct them," he explained.
"And in the same way, they have learned to avoid errors that are avoidable. I have the feeling that there has been a growth in the maturity in the experience to manage these games." he continued.
How satisfying is it that you can play against these big teams and get results?
Leeds have played five of the "big six" against Arsenal, Man City , Liverpool, Chelsea and Man Utd at home this season and are yet to be beaten, drawing all the games and with Tottenham Hotspur on the arisen in the next couple of games to come.

Bielsa was asked how satisfying is it that the Whites can play against the big teams and get results: "In none of these games against these 'Big Six' sides, apart from the game against Arsenal, were we able to predominantly dominate to be able to go and win the game," he said.
"But the draws against Manchester City, Liverpool and Chelsea are good games to judge the players.
"Clearly, at this moment we can't go into the games to dominate these types of games to think can go and win then, dominating to go and win them.

"At this moment we haven't managed to achieve that, apart from against Arsenal. I am referring to the first half of the Arsenal game, as the second half was with a player more." he revealed.
Performances of Pascal Struijk and Kalvin Phillips?
Bielsa was asked how he felt defender, Pascal Struijk, is developing into what looks like to be a really top-class central defender at the club ,and the former Argentina and Chile manager gave his thoughts on Struijks display: "He played a game exactly how you described it. Exactly what you said, is exactly what I think," he said.
Bielsa also discussed the display of England international midfielder, Kalvin Phillips, against the Red Devils at Elland Road on Sunday afternoon - a display in which he gave nothing to Bruno Fernandes in and around the Whites penalty area and in which he got the balance of physicality just right.
"The observation that you made, I think is correct. To be aggressive and not violent is very difficult and Kalvin managed it very well. He was very important." the Whites boss said.
Confident the players will be able to continue the improvement to a point where they can dominate these teams next season and in the future?
The performances this season considering it's the Whites first season in the Premier League after 16 long hard years away have been superb at times and Bielsa was asked if he was confident the players can continue the improvement to a point where they will dominate these sort of teams next season and in the future.
He said: "I can't affirm this. These things, we have to make them evident, more than describe them."
"But it is clear that there is a margin for improvement that the team still hasn't achieved yet, but at the same time, as a group, it is a group that functions in a very united manner, that they managed to create a base where they go into every game with a fair optimism."