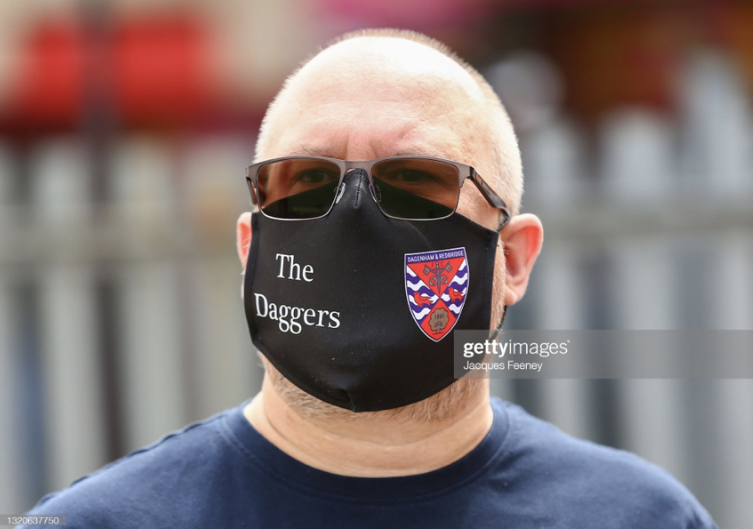 A second half close-range strike from Dagenham and Redbridge striker Paul McCallum sentenced Wrexham to their fourteenth season in the Vanarama National League.
The Red Dragons headed into the final day with their fate in their own hands, but results elsewhere and a vintage performance from Dagenham ended any hopes of League Two football next season for Wrexham.
Paul Rutherford's sending off, just over ten minutes after coming on, didn't help Wrexham's chances.
Ponticelli did equalise late on, but it wasn't enough to save a lacklustre Wrexham team.
1278 Daggers supporters were present today, for their first game permitted back since covid-19 suspended the 2019/20 season.
Daggers gaffer Daryl McMahon opted to make three changes for the penultimate game of the season, as Jamie Jones, Elliot Johnson and George Saunders all dropping to the bench. Captain Angelo Balanta returned to the starting eleven.
Dagenham & Redbridge (3-5-2):
Justham; Wright, Reynolds, Clarke; Weston, Khan, Sagaf, Robinson, Gordon; Balanta, McCallum.
The rich Dragons also made changes, but just the one for Dean Keates' side, as Jay Harris was replaced by former Scunthorpe United midfielder James Horsfield.
Wrexham (5-3-2):
Lainton; Hall-Johnson, Pearson, Vassell, Kelleher, Davies; Green, Horsfield, Young; Omotayo, Ponticelli.
Ahead of kick-off, Keates knew that his side were in the driving seat for the play-offs, and that only they could decide whether their season extends into June:
"It has always been, and I said this a few weeks ago, about being in control of our own destiny. We go into next week's game and if we win the football match, it is irrelevant what happens anywhere else.
"We go down, it is going to be a difficult game, they are in great form and they have finished the season as strong as they can do. We have got to go down there and make the game about ourselves."
However, this game wasn't going to be as straight forward as Keates would've hoped, with Dagenham playing for nothing but contracts for next season, and to make up for last weekend's defeat to Chesterfield. The players were determined, as stalwart Matt Robinson surged down the wing, but his cross could only be fired over by defender Will Wright.
Wrexham weren't going to be phased however, as Jordan Davies fed Reece Hall-Johnson down the right side, who fizzed a ball right across the face of goal, narrowing averting both Ponticelli and the target.
Despite the two clubs contrasting situations, Dagenham & Redbridge were very much on top, dominating possession and forcing Wrexham onto the back foot in this first half. They were nearly rewarded half an hour in, as Callum Reynolds expertly cut inside of his man, before his ferocious shot was heroically blocked from an imminent goal by Shaun Pearson.
The Daggers earned a free-kick just one minute later right on the edge of the box, and up stepped Wright once again, but this time his curling effort blazed into the side netting, allowing the home fans to gasp for a second as they'd thought it was on the other side of the post.
McMahon's dominant spell extended, as Myles Weston had a fantastic strike blocked out for a corner, which was nodded over the line by McCallum, only to be disallowed due to a foul in the build-up.
And on the brink of half-time, Dagenham & Redbridge had their biggest chance yet, courtesy of McCallum. Having missed out on his earlier goal, the towering forward once again got his head on the end of a Balanta cross, but his looping header was valiantly cleared off of the line.
Heading into the second half, Keates clearly wasn't pleased and rightly so, as he replaced Horsfield with Rutherford.
But the change would have no influence, as the Daggers finally broke the deadlock and along with that got what they deserved. Some excellent link-up play between Balanta and Wright down the right side, before the latter had more than enough space to smash the ball across goal into the path of McCallum, who could calmly side foot the ball past the outstretched Rob Lainton.
And Wrexham's day was only going to get worse. Rutherford, who had been on the pitch for little over ten minutes, lunged into a dangerous two-footed challenge on Robinson, forcing the referee to have no choice but to show the forward a straight red card.
Robinson tried to double the Daggers' advantage, as he had a long-range bending effort well held by Lainton.
But Dagenham and Redbridge were relentless, and playing some fantastic football. First came Weston, who received the ball on the left side and created a yard of space for himself before rifling the ball narrowly over. The next to flirt with goal was midfielder Saido Khan, who curled a brilliant effort from 25-yards towards the top corner, but it was just wide of the target.
Wrexham did finally have the ball in the back of the net, as Dan Jarvis delivered a teasing cross in, but Ponticelli was in an offside position as Dior Angus bundled the ball over the line.
The away side were desperate now, knowing that their play-off position was in jeopardy, as Angus once again tested the gloves of Elliot Justham.
But the National League is never boring - as Wrexham nicked an equaliser. Whilst it wouldn't be enough, it certainly blew the play-off race wide open, as Ponticelli calmly placed the ball home after finding space on the left side.
But with Chesterfield defeating Halifax Town and Bromley beating Notts County, Wrexham will continue to play National League football next season for the fourteenth consecutive year.
Dancing Daggers look forward
One team who have been unlucky to not be involved in the play-offs is certainly Dagenham and Redbridge.
A former football league club, the Daggers were excellent today, as they have been for a number of weeks now. Unbeaten in eight before last weekend's defeat, McMahon has got his Dagenham side playing some intelligent, exciting football, and with the correct signings and holding onto some prized assets, they could be a real force next season.
Woeful Wrexham crash out of the play-offs
A lot of the talk surrounding Wrexham has been that of the takeover from Ryan Reynolds and Rob McElhenny, so for the club crashing out of the play-offs is a huge disappointment for a club under the limelight.
Keates will be most frustrated that his Wrexham side didn't have what it takes to secure their play-off position, especially as team never really showed up. But a chance to rebuild in a healthy position, and Wrexham will be desperate to escape the division next season, as the longest National League occupants.
Will Wright
Adding to what has been a fantastic season, former Colchester United prodigy Wright had an excellent outing for the Daggers. Whilst Balanta, Robinson or McCallum could've scooped the accolade, Wright was brilliant in instrumenting attacks, transitioning from defence, and even managing an assists for McCallum's winning goal.