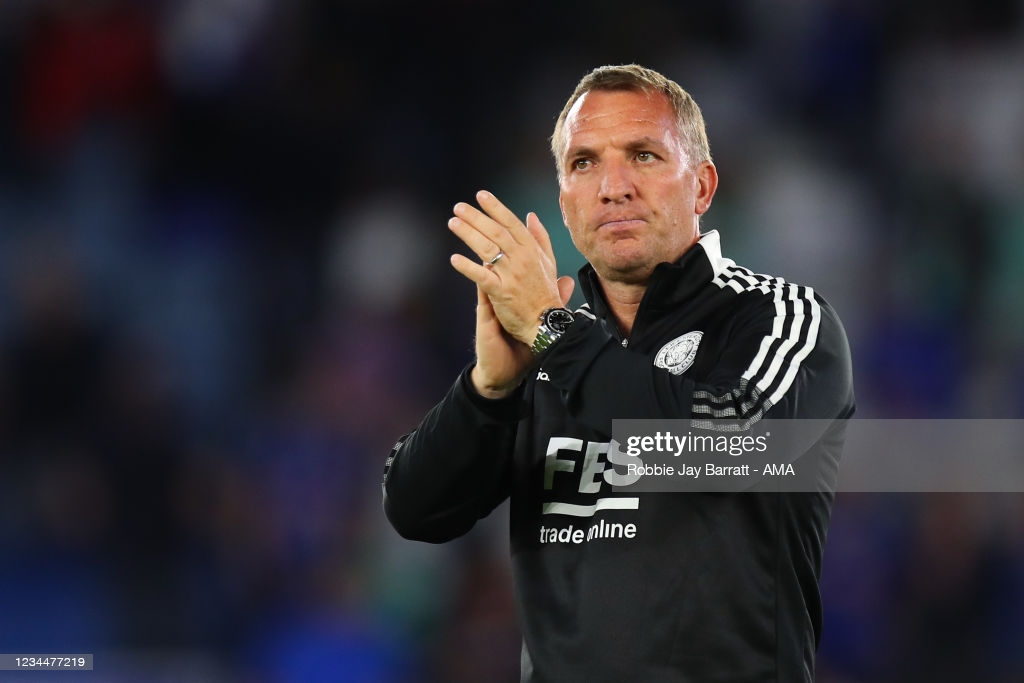 Leicester City face Manchester City this Saturday at Wembley in the Community Shield.
The Foxes make this fixture after winning the FA Cup back in May. Meanwhile the Citizens won the Premier League last season resulting in this tie in the capital ahead of the season starting next weekend.
Brendan Rodgers spoke to BBC Radio Leicester...
This past Wednesday night, Leicester played Villareal at the King Power Stadium. City were 3-0 up, fans were smiling, clappers were clapping. Next, disaster struck. Fer Niño put in a rough challenge on Wesley Fofana, the 20-year-old was immediately in a lot of discomfort. Heads in the hands of players wearing blue. Yellow shirts surrounding the referee. Boo's ringing around the stadium. Ugly scenes. It was suspected straight away that it could be a nasty break.
Here's what Rodgers had to say, after confirming that Fofana had fractured his fibula: "It was a horrendous challenge. Straight away, Unai (Emery) apologised. Afterwards, there was an apology. Once that happens, it takes the shine off it"
"We're devastated for him, he's going to be a huge loss for us. Our medical team were tremendous on the night. Our trauma doctor put his ankle back in place, and then he was rushed to hospital."
With the loss of Fofana now, and Jonny Evans not set to be fit for at least the opening month of the season Leicester will likely turn their attention to bringing in extra calibre in the centre half position.
The Northern Irishman was asked about the centre back market, here's what he had to say: "We're definitely light in the area. Benkovic has done really well. But there's no doubt we're light, and we need to look into it for sure."
There's plenty of centre back options on the market, where maybe a loan would be suitable.
It's a race against time as the Premier League kicks off a week on Saturday. Names have been ringing around the socials, with Ozan Kabak cropping up again, also Gary Cahill's name is doing the rounds after the veteran left Crystal Palace just a few days ago.
James Maddisonhas had his name in the news this week aswell. Plenty of gossip is being thrown around. Rodgers was asked if Maddison will be staying at Leicester: "I believe so. I haven't been told any different. James is a very important member of our squad."
Foxes fans have been sweating on the Youri Tielemans situation since way before the Euro's got underway. The Belgian midfielder has been back training for a couple of weeks now, and there's so much talk of a new contract. Rodgers had his say: "The club have spoken to his representatives, he's very happy here. But there's nothing to add yet."
The Community Shield is sometimes referred to as a glorified friendly, but for a team like Leicester, it is a chance to play at Wembley, and a chance for some early season silverware. This is the second time the East Midlands club will be competing for it. Their last time was after their Premier League win back in 2016, where they faced Manchester United - they lost 2-1.
Here's the bosses thoughts on the game: "We're glad we are there! It's a wonderful occasion, a full house and the chance to hold something at the end of it is important."
"We play in every game to win, and that's what we'll aim to do. It's important, to build our fitness up and to be mentally prepared for the season."
Last season the Foxes missed out on Champions League football on the final day of the season for the second year in a row. Will it be a third time lucky for Rodgers' side?
The boss was asked on goals for this season: "My players have emphatically over-achieved when you look at budgets and everything else. These players have done amazing. Our aims don't change, can we arrive in European positions and can we challenge for trophies?"