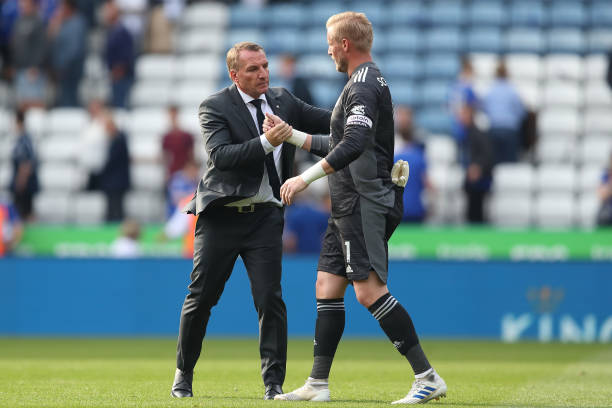 Leicester City host Napoli this Thursday night as they return to Europa League action following their disappointing exit from last seasons competition back in February.
The Foxes come into this one off the back of an unlucky defeat to Manchester City this past weekend. Meanwhile, opponents Napoli beat Juventus in their last game to maintain their perfect start to the new Serie A campaign.
After being defeated by Slavia Prague over two legs in the last-32, fans of the East Midlands side will hope they go a lot further this year, as they come into the competition as one of the favourites.
Brendan Rodgers and Kasper Schmeichel spoke to Leicestershire Live reporter Jordan Blackwell.
Gli Azzuri come into this season's Europa League as the outright Favourites just ahead of the Foxes.
They've had a fantastic start to their domestic league, and will certainly bring a good fight to the King Power Stadium.
Rodgers had his say: "I certainly believe they are a Champions League club. They arrive in the Europa League as one of the favourites. They're full of world-class players. It's such an exciting game."
Schmeichel added: "It's a big club coming to the KP. They have been over the last 10 years challenging some of the best teams in the world. We know they can be dangerous. We will be ready for that."
Leicester have been riddled with injuries over the past couple of seasons, however, at this point in time, it's probably the most packed the training pitch has been for some time.
Rodgers had a word on injuries: "We're looking good on that front. It's just Wesley and James who are unavailable."
There have been recent questions asked of team selection by Rodgers on social media by Foxes fans, where names such as James Maddison's crops up as somebody that has had minimal involvement in games in recent times. Maddison hasn't registered a goal or assist in 15 games.
Rodgers says: "Every player will always go through a period, especially with the rise James had. Injuries have held him back. I've no doubt over the course of the season he will be an important player for us.
He's got a big talent. He's working very hard in training. He will show his worth. The level he has been at, you go through a period where you don't quite hit the heights. But once he gets his rhythm and we improve as a team, he will get that form back."
Rodgers was asked if it's the best squad he's had at Leicester. He responded with: "Hopefully. That was our idea. We've been unfortunate over the past couple of seasons. Touchwood we get the fitness and get the little bit of luck with injuries.
"When you have success and you win, you want to keep on winning, but that's not just about talent, it's about mentality and spirit. The last two seasons have been great, but it's a new season and a new hunger. This competition is very important and we want to go a long way in it."
Without a doubt one of Rodgers' most important players, Youri Tielemans has proved his worth to the club performing at a top-level over the past couple of seasons, so the management staff will be ever so keen to tie him down to a new deal.
The Belgian midfielder's form has attracted interest from many clubs after his FA Cup-winning goal back in May, topping off a fantastic season for the 24-year-old.
Rodgers had this to say about the situation: "I saw what Youri has said and like I always get from Youri, he gave an honest answer. I have a player who is so committed, one of the best professionals I've ever worked with. Talks have been ongoing.
"Every day he comes in, he's a top-class professional. He's shown his importance for me. That won't change, whether he has four years or six months on a contract. It's between his representatives and the club how log he stays. He's happy. I'm delighted he's with us."
He was quizzed on why the deal is taking so long: "I have no idea. I concentrate on the football and making sure he's the best player he can be. It's natural, he's a talented player who is in discussions with the club. There's no drama with it.
"It only becomes a problem if there is a lack of commitment or intensity, but that's never been the case with Youri. I will always give the best to his development."
Club captain Schmeichel also had his view on the Tielemans fiasco: "I think it was the journalist leading him more than anything. Youri is a world-class player. He's shown how important he is. From a selfish point of view, I hope he's here for many more years."