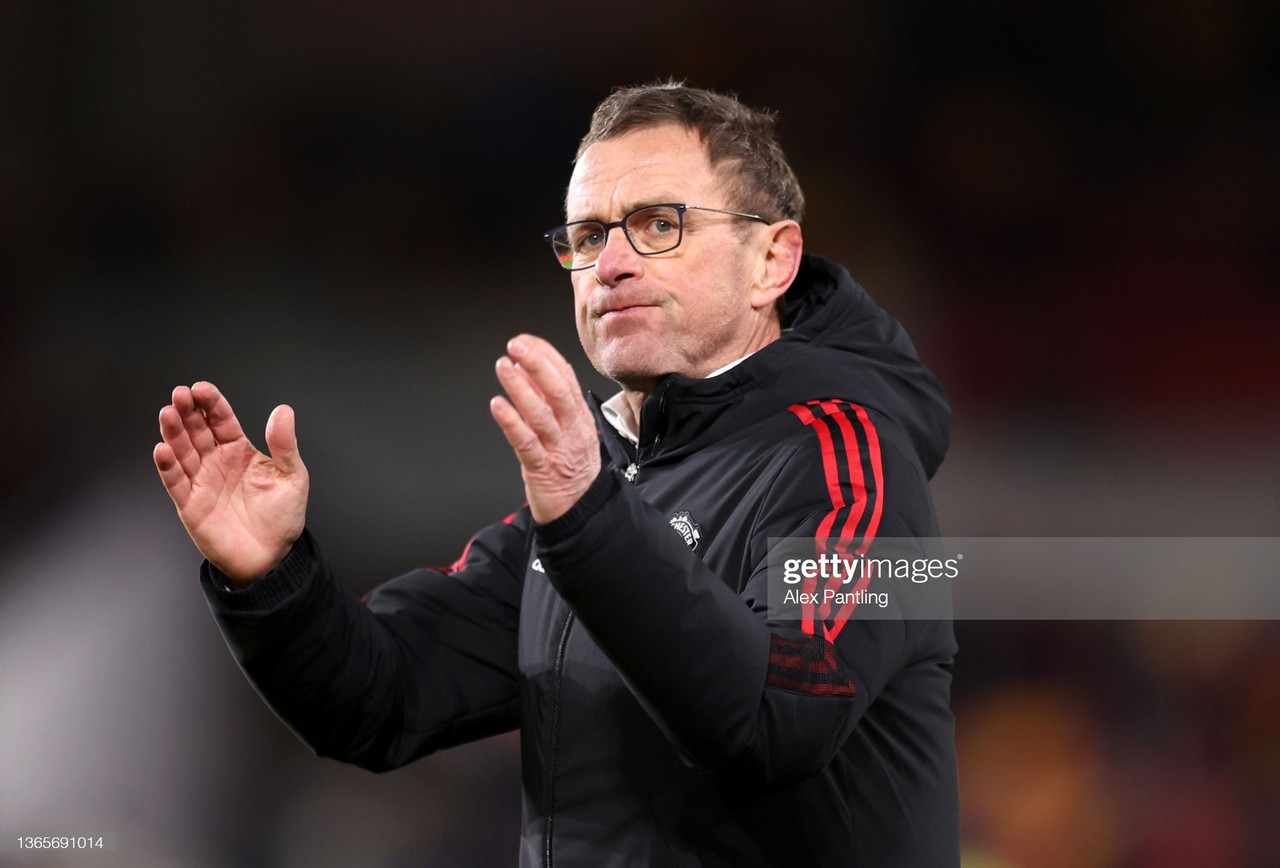 Wednesday night presented another opportunity for Brentford and one of the Premier League's big guns to go toe-to-toe in an enthralling spectacle — but where Arsenal and Liverpool have stumbled, this time Manchester United came out on top.
The visitors rode their luck in the first-half at the Brentford Community Stadium, only remaining level due to both David de Gea's expertise and Brentford's profligacy in front of goal, but three academy graduates won United the game in a much-improved second-half as Anthony Elanga, Mason Greenwood and Marcus Rashford scored.
Interim manager Ralf Rangnick addressed the media after the match — these were his most noteworthy quotes.
On the overall performance
It was a tale of two halves for United: they could and should have been two or three goals down by half-time, but allowed their quality to flourish in a much more confident and competent display after the break.
Rangnick made no mistake about the extent to which his side rode their luck in the first 45 minutes and admitted Brentford made it incredibly tough for them, but was delighted with United's recovery after the interval.
"We have to be honest: without David and his brilliant saves it would have been difficult to have a clean sheet at half-time," said Rangnick "The first-half was not good, we were second best in almost all aspects of the game, but we also have to admit that there was an opponent on the pitch and they played extremely aggressive, extremely high like we knew they would.
"Second-half we did things a lot better, dominated almost all second balls, and then we had our counter-attacking situations and in the end we could have scored four or five goals."
The biggest talking point from the match should have been that it was three former youth-team prospects who claimed United victory here but, true to form, a certain Cristiano Ronaldo stole the headlines once again.
Substituted in the 71st minute having just been involved in his side's second goal, the forward cut a frustrated figure as he trudged off the pitch and was then caught in what looked like a heated debate with Rangnick on the bench.
"He was asking me why I took him off," Rangnick explained. "I have to take the decision in the interests of the team; we had exactly the same situation at Aston Villa, 2-0 up with 15 to go, and we didn't want to make the same mistake so we changed things tactically.
"I didn't expect hum to hug me after being substituted. I know how goalscorers think but I have to make my decisions in the interests of the team. I have no issues whatsoever with Cristiano. The most important thing is that we win games, that comes first."
Signed by Ole Gunnar Solksjaer, Bruno Fernandes arrived at Old Trafford just under two years ago and immediately set the league alight with his goalscoring prowess operating from an advanced spot at the top of midfield.
His role has been slightly more reserved since Rangnick's appointment, dropping deeper into more of a number 8 position, but it's made him no less effective in the final third, with the Portuguese international contributing two assists against Brentford to follow up his brace against Aston Villa at the weekend.
"Most of the top teams in Europe play a 4-3-3. I think for Bruno it's better than being pinned to a number 10 position because he can make himself available in different areas of the pitch, not just the centre; we can sniff moments when we play the ball to him and he can make the most of it."
On Brentford
Rangnick was full of praise for his side's opponents on the night, with Premier League newcomers Brentford proving an almighty task to overcome, particularly in a first-half in which they were far and away the better team.
The interim manager wasn't one bit surprised that it proved so difficult for his players given their previous encounters with the traditional 'top six'.
"They were very proactive and brave, they played with a lot of physicality which we knew they would from the start. It's no surprise they have beaten teams like Arsenal, dominated them."