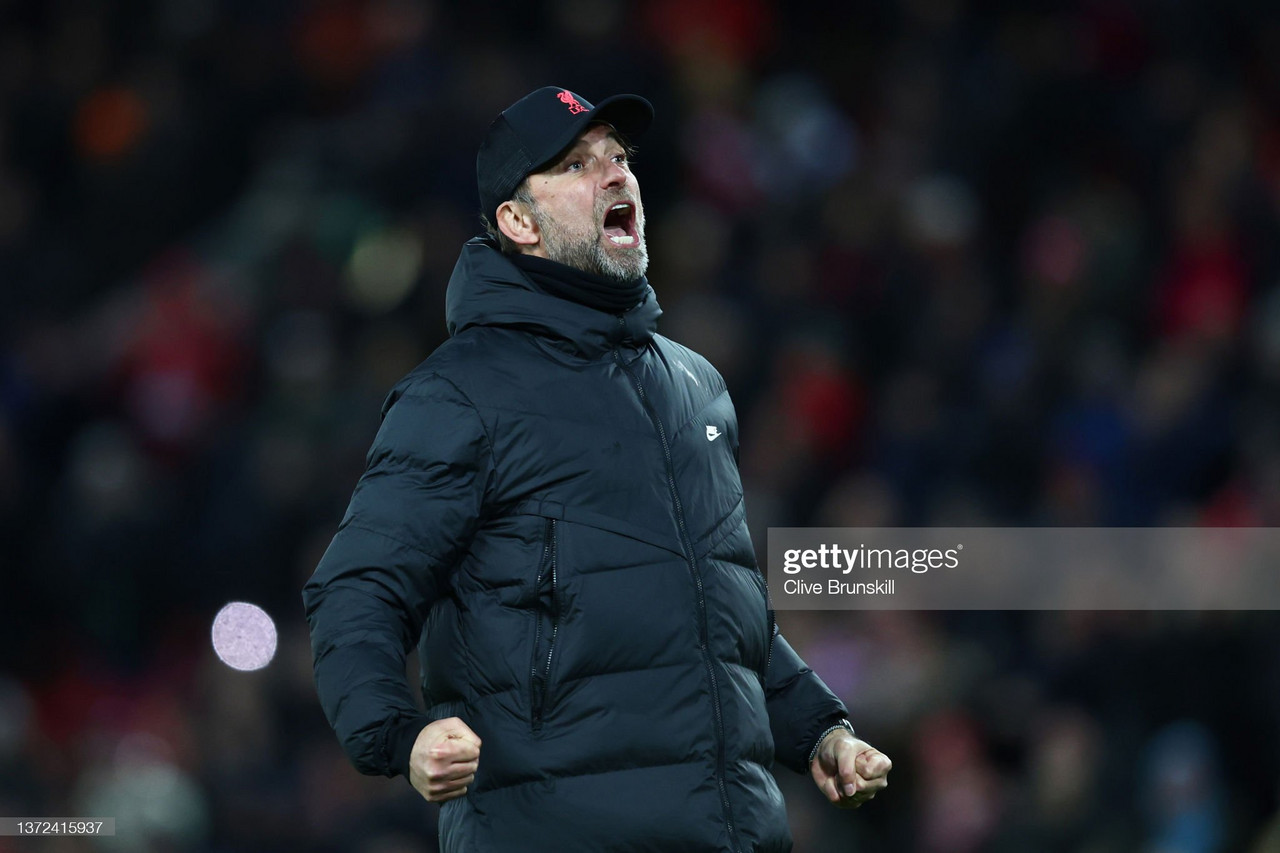 Liverpool manager Jurgen Klopp spoke to the media following his side's 6-0 thrashing of Leeds United at Anfield on Wednesday evening.
Quick-fire doubles from Mohamed Salah and Sadio Mane, along with goals from defensive duo Joel Matip and Virgil van Dijk completed the rout as the Reds sent an emphatic message to title rivals Manchester City.
Here is what the Liverpool manager had to say following his side's latest triumph.
On his celebration
After the full-time whistle last night the Liverpool manager, clearly caught up by his side's excellent performance, ran towards the Kop in his trademark manner before unleashing six of his famed fist pumps.
It was the perfect moment for supporters to revel in following their dominant display, following their dress rehearsal ahead of Sunday's Wembley final against Thomas Tuchel and Chelsea.
Speaking about his dramatic celebrations, Klopp revealed that he in fact regretted his actions and wish he hadn't done it, stating that he himself had been caught up in the emotion.
"In that moment I got a little bit carried away.
"It doesn't happen very often to me now. I really loved how the whole stadium responded tonight. I couldn't be more thankful for the support of the people because a lot of things happen because of them!"
On the title race
The Reds' win on Wednesday evening took them to within three points of Pep Guardiola's side, with both sides having played the same amount of Premier League games.
In recent days, all eyes have been hovering towards the clash between the pair at the Etihad on April 10th, a tie that many think will decide the fate of this year's league title.
Though, despite ramping up the pressure on their Manchester rivals Klopp insists that he and his side are fully focused on their own fixtures, not those of Manchester City.
We don't chase City, we just try to win our games. The thing is now, we have the cup final, City play? I don't know who exactly but they will probably win. We don't have to count these things, we just have to win our games."
The slaloming runs of Cameroonian have been a constant of Liverpool's season so far. Though, the only difference on Wednesday evening was that Matip finally rounded one off with a finish, an incredibly composed one too.
When prompted for his thoughts on Matip's trademark move, after briefly donning a broadening smile, Klopp name-checked the fixture against the Whites from back in September.
"Remember Mo's goal from Trent's cross at Leeds? Similar situation, it gave Joel on that right side to step in, that was his duty. He did that this time and it was absolutely great."