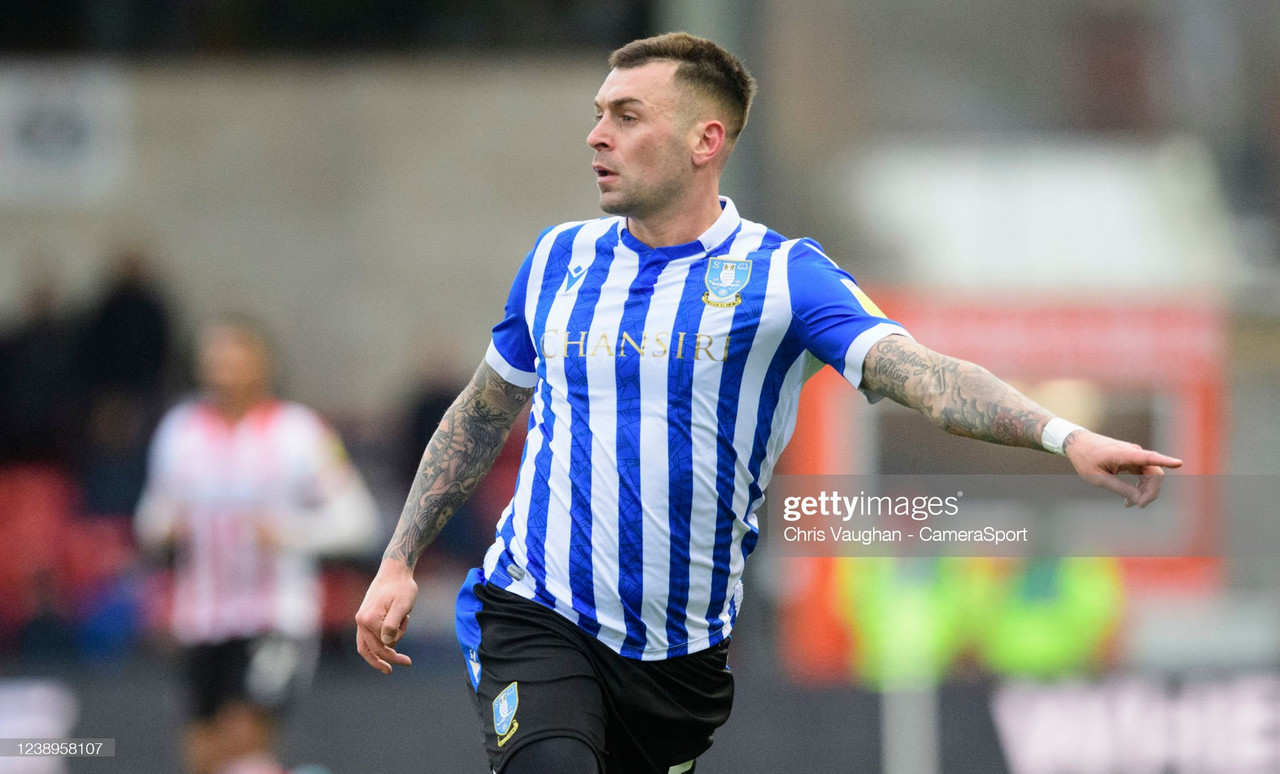 Sheffield Wednesday right wing-back Jack Hunt believes that the Owls do not fear anyone as his first goal for the club helped his side come away with a 4-1 victory over Cheltenham Town.
Goals from Massimo Luongo and Lee Gregory helped cancel out Alfie May's opener before Hunt's first Owls strike in 146 games gave them some breathing room, with George Byers' 87th-minute effort confirming the victory over the Robins.
It was a cultured finish from the 31-year-old, who volleyed home from Marvin Johnson's delivery towards the back post, and the strike begged the question as to why it has taken this long to register his maiden strike?
That first goal feeling! @Hunty32 😄 pic.twitter.com/pmqAqaJZ0u

— Sheffield Wednesday (@swfc) March 26, 2022
"It has been coming in the sense of I have been getting the opportunities in the right places, I just have not been taking my chances and today I did," explained Hunt. "It was an incredible feeling, and it gets a weight off my back.
"I have been getting some stick but up until probably the Accrington [Stanley] game, I've not really thought about it too much.
"I am a right-back playing at wing-back and when you're at right-back, you're not really expected to score as much but at wing-back, you're expected to chip in, so the last couple of weeks I have felt that I need to chip in and hopefully, I can get a few more up until the end of the season.
"I did get a few at Bristol [City] and I cannot put my finger on it as I have been getting in the right places, it just hasn't really been falling for me and you could say that you just need a little bit of luck and I've maybe not had that.
"They [the fans] have supported me for a lot of games over two spells since I came here, so if I could send people home with smiles on their faces then that's all that matters to me.
"I did one similar on Tuesday in training, so that is what the jokes were about inside [the changing room].
"My family were close in the corner as well, so it means a lot to me. I wear my heart on my sleeve every time I step on the pitch, and it does mean a lot to me, so I am thankful."
Making Hillsborough a fortress
Saturday's victory means that the Owls have picked up 44 points from a possible 60, making them the best performers on home soil in League One.
Defeats against Oxford United and league leaders Rotherham United are their only losses in S6 this year and, arguably, those two games should have ended in Wednesday's favour, something that Hunt agreed with, saying: "You could argue that we should be undefeated at Hillsborough this year but that's football – sometimes you do not get what you deserve.
"The size of the pitch [is what makes us strong at home]; we're used to it and no one else is.
"We have beaten teams in the first 15-20 minutes at times and then also the last 10-15 minutes we have destroyed teams. We have had a little bit of luck with Bailey [Peacock-Farrell]'s fantastic save and Harlee [Dean]'s great block – I thought he was brilliant coming back into the team today – and then bang, bang and the game was over in that last ten.
"Everyone that comes here will have a difficult time with the crowd and with the team that they are playing against.
"We fancy anyone to come here and really struggle against us. It is just another game for us, but we appreciate the support and hopefully, we can get another three points [against AFC Wimbledon].
"We have a really good squad, and we hope the manager has a headache for the right reasons and not the wrong."
Hunt's play-off aspirations
Saturday's three points took Wednesday back into the play-off places after failing to take advantage of their games in hand following disappointing draws with Accrington and Gillingham.
Hunt has had previous success at Wembley, as he was part of the Huddersfield Town side that beat the Owls' Steel City rivals Sheffield United in the 2011/12 League One play-off final. He has also had back-to-back play-off finishes with Wednesday that saw him lose 1-0 in the final against Hull City and on penalties against Huddersfield in the semi-finals the year after.
The 31-year-old claimed: "We don't want to think too far ahead but it would be a massive, massive underachievement if we don't [finish in the play-offs].
"We do the cliches and we take it game by game, so we cannot really come away from that.
"It is tight, and no one is going to win every game until the end of the season, as long as we can get enough wins to get us into the play-offs, that is all we care about at the moment and when we are in there then we can hopefully do the business and we believe we can.
"I think our form since December has been good and that's what we can really take moving forward.
"For me, I don't have the best play-off record if I am being honest with you. I think we got there three times with Huddersfield and got promoted once and not been promoted here, so I think I am one in five.
"It is an incredible feeling at the home of English football and hopefully, we can do it. It was a good day [the play-off final win against Sheffield United] and I have a good penalty record too.
"But just get us there and then I fancy us against anyone; I think it is more disappointing that we are not closer to the top two, but we cannot change that. We must look at ourselves and put it down to not being consistent enough this season.
"For me, pre-season would have been a different one if we had this group of players. I think I signed seven or eight days before the start of the season and I think I was the third through the door and a lot of the lads who played today came in behind me, so it does take time for players to bed in and build relationships."
Hunt on Hutchinson and Bannan's milestone
Sam Hutchinson and Barry Bannan made their 200th and 300th respective appearance for Sheffield Wednesday against the Robins.
Hunt has spent all of his time at the club with both of them and the wing-back was full of pride for his teammates.
He added: "Hutch has had to retire before and he has come back and played 200 games for a special football club, so I am delighted for him.
"I am also really close to Barry and 300 games for any club's unbelievable, so it is a credit to him.
"I would be surprised if both of them don't go on to play many more games for the club because they are great players and there's no way that they're done yet at this club."