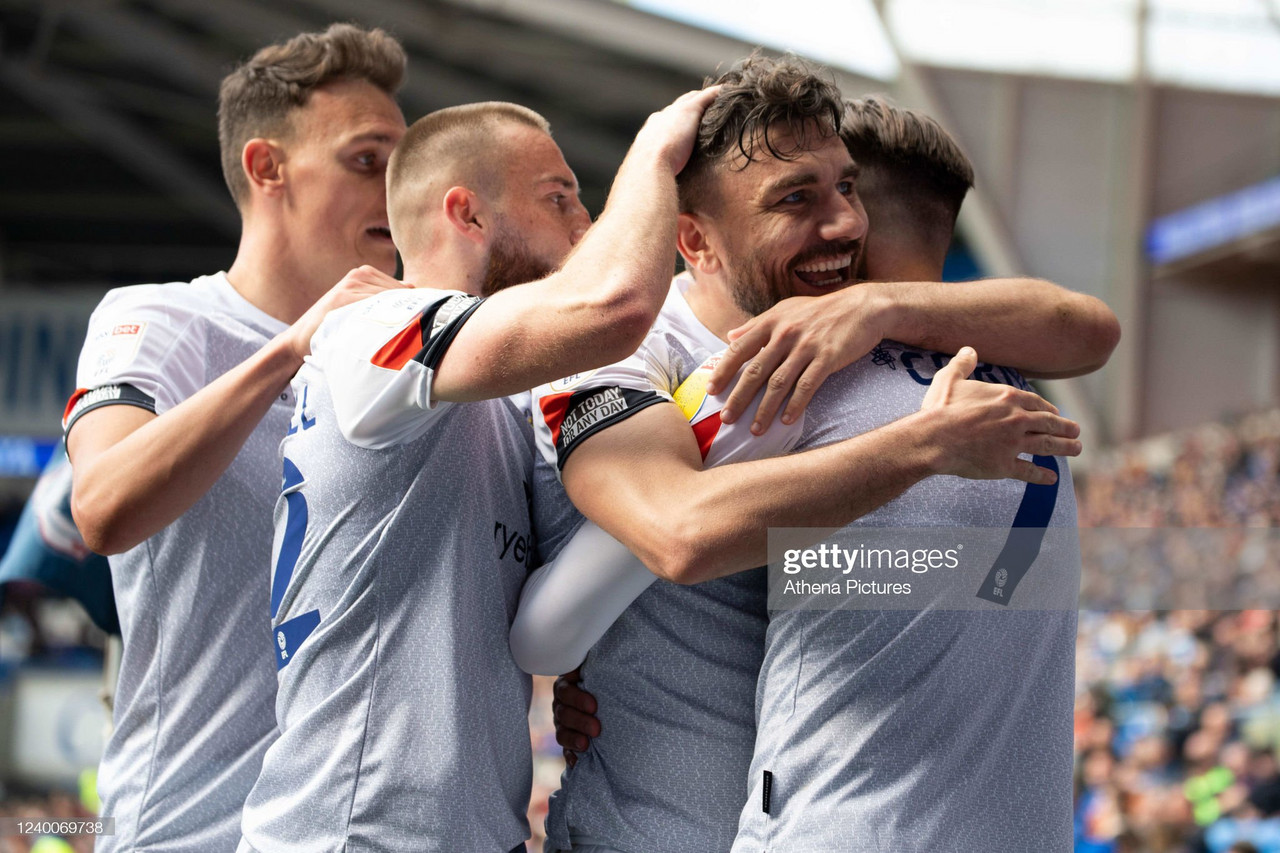 Luton Town's busy Easter weekend was concluded in great fashion as Nathan Jones' side beat Cardiff City 0-1.
Harry Cornick's 12th goal of the EFL Championship season was enough to see off the Bluebirds and send Luton back to Bedfordshire with some vital points for their play-off bid.
Nathan Jones was delighted to mark a strong Easter period with another win although more injuries are providing a bit of reality check in this crucial spell.
Wins coming at a cost as yet more injuries plague Luton
Luton lost three more key players in today's win, as James Shea, Fred Onyedinma and James Bree had to withdraw. Jones has yet more planning to do with vital games looming and a squad that can't stay out of the medical room.
"It comes at a cost all the time. We're at our limit at the minute but we're somehow finding a way to win games. Two 1-0's over Easter, six points over Easter and we're at our limit."
Jones provided an extensive breakdown regarding the injured players.
(On James Bree) "It's an absolute diabolical challenge. I've had a go at the linesman. They've got one job to do. All he's got to do... he's eight, nine yards away. To see he's crossed it and he's absolutely gone through him. Just do your job, that's a diabolical challenge and we've suffered for it."
(On James Shea injured in collision) "He's gone over on his knee unfortunately. If something can go wrong, it will at the moment. I'm scared to get out of bed. What else can we go through?"
It was lighter news regarding Fred Onyedinma's substitution in the 61st minute, as Luton look to be making smart subs trying to pre-empt any injury.
"He was just a precaution, his groin was stiffening up. We can't afford to lose anyone else. Now we're not making tactical substitutions for games - they're not subs any more, they're plasters. We're literally just plugging wounds."
The main matter of the day is Luton's victory and Harry Cornick's deciding goal. Jones was full of praise and mentioned that discussion prior to the game had a hand at getting the best out of the pacey forward.
"I pulled him yesterday and asked 'how do we get the best out of you?' He's been fantastic for us. He toils,, he works so hard, massive shifts with everything he does. He didn't get near anyone the other day so we had to go a different way.
"We said 'let someone else toil and you can come on and hopefully get the benefit' and it worked out well. We got the win, that's fantastic. And I'm happy for Harry - he's a tireless worker and unselfish in everything he does."
One foot in the play-offs? Looking forward and a comment on the league
"If I were other teams I'd be thinking something different about Luton Town but when you're the manager and the stakes are so high, you don't allow yourself the luxury. We need probably four points to guarantee everything, so let's see."
Looking forward to Luton's next game against Blackpool, Jones was quick to mention just how unforgiving this division is.
"It's relentless. We probably need a bit of help from the EFL with the five subs and stuff if I'm honest. This is the most brutal league in the world, it really is. With technique, athleticism, relentlessness of games, travel - absolutely everything."
As said, it's Blackpool next for the Hatters as they return to Kenilworth Road on April 23.