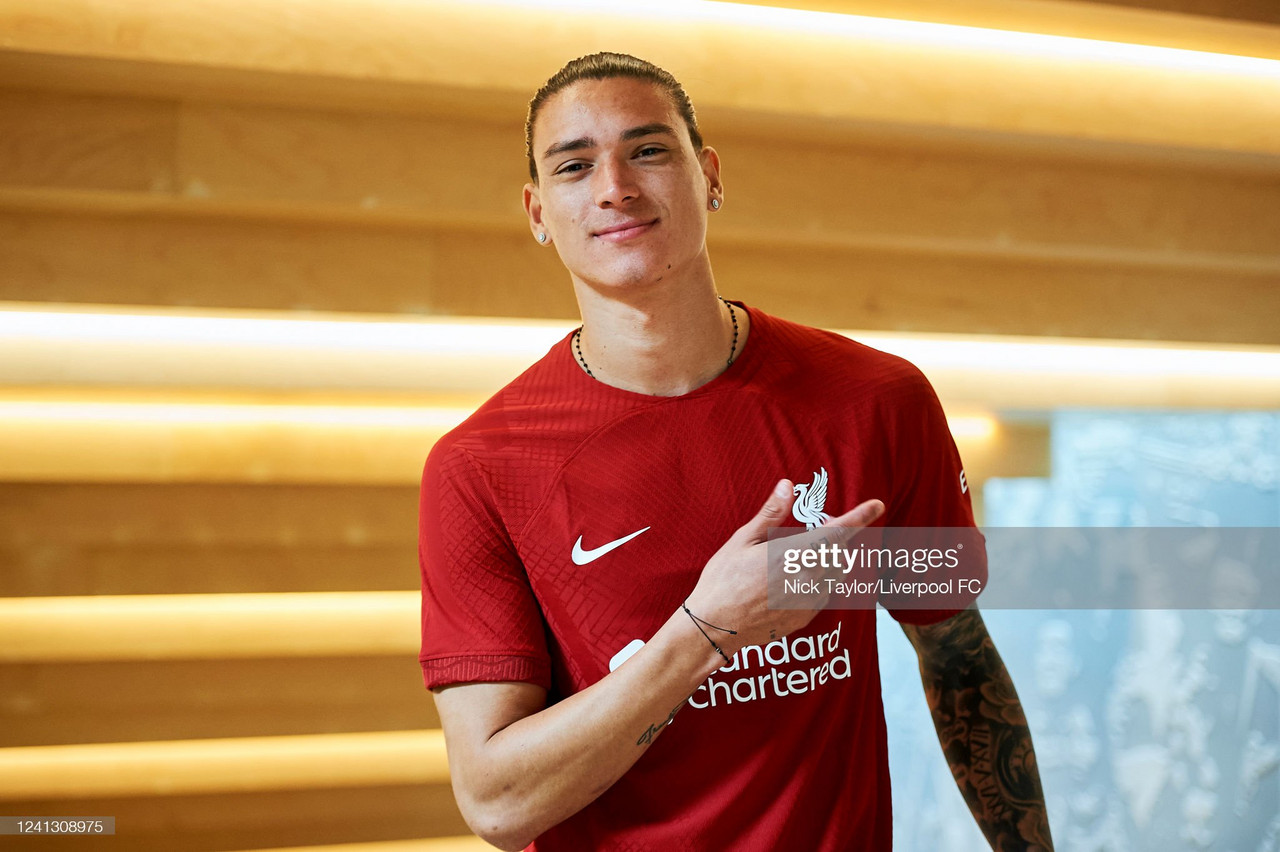 The Uruguayan has signed a long-term contract on Merseyside after finalising terms and completing his medical at the AXA Training Centre.
Nunez becomes Liverpool's second summer signing after the Reds confirmed the signing of Fabio Carvalho from Fulham last month.
Nunez netted 34 times in 41 appearances last season for Benfica as he put himself amongst one of the most wanted strikers on the market.
Speculation from across Europe drew to a close as Nunez opted for Anfield, with his eagerness to work under Jurgen Klopp being as great as Klopp's admiration is for the youngster.
With Divock Origi departing from Anfield this summer, Nunez is will take the number 27 shirt.
Shortly after confirmation of the transfer, Klopp expressed his excitement to manage Nunez next season.
He said: "He has all the pieces we look for. He can set a tempo, he brings energy, he can threaten space from central and wide areas.
"He is aggressive and dynamic with his movement. He plays without fear, he's powerful. I know he will excite our supporters."
The 22-year-old arrives in Liverpool with eyes firmly on bringing more silverware to Anfield. In his first interview after signing for the Reds, the striker made it clear he wants to contribute to adding to an already impressive trophy cabinet.
Nunez said: "I want to win a lot of trophies at Liverpool.
"When I arrived at the training ground, I was really surprised to see the set-up and the structure and all the trophies here.
"You can then imagine yourself winning more trophies and then later on when you come here again and see the trophies on display, you can say, 'Look, I was a part of that, I was there at that time, winning trophies."
From Artigas to Anfield, Darwin Nunez certainly has the potentially to be the new star on the Kop. The Uruguayan was one of the strikers Virgil van Dijk noted as his toughest to play against with Liverpool having faced Benfica on their journey to last season's Champions League final.
Nunez netted in both fixtures against Liverpool last season despite the Reds progressing to the semi-final.
With an impressive goalscoring record from youth level to present day, Nunez will be hoping to reach and exceed the heights of Liverpool's last Uruguayan striker, Luis Suarez.
Suarez was a fans favourite during his stay on Merseyside as he smashed the Premier League golden boot record and picked up a PFA Player of the year award before his move to Barcelona.
Suarez has sent Nunez a classy message after signing for the Reds wishing the forward the best of luck and hopes he can surpass his goalscoring legacy in red.